Talking Brand, Growth Strategy & Sex with Tech CEO Caroline Spiegel
A wave of women-led brands caught my interest lately, especially those in the technology space. Specializing in tech marketing over the years, I've worked for few (zero) women tech founders. So I was pretty excited to come across Quinn CEO & founder Caroline Spiegel and get the opportunity to interview her about marketing and brand strategy.
At a high level, Caroline's story reads like it came straight out of the quintessential tech founder handbook.
She dropped out of Stanford, where she was majoring in computer science, after coming up with a wild idea.
Struggled to get investors on board with her vision.
But still managed to launch something at only 22 years old that has all the promise of disruption.
(Tech entrepreneurship isn't new to her family. Caroline Spiegel is the younger sister of Snapchat CEO and co-founder Evan Spiegel.)
However digging deeper reveals some really fascinating and unique points that make Caroline one to watch in the future.
First off, her industry of focus.
Quinn is an audio erotica platform.
The team works with a community of creators to curate a library of audio tracks in a range of titillating categories.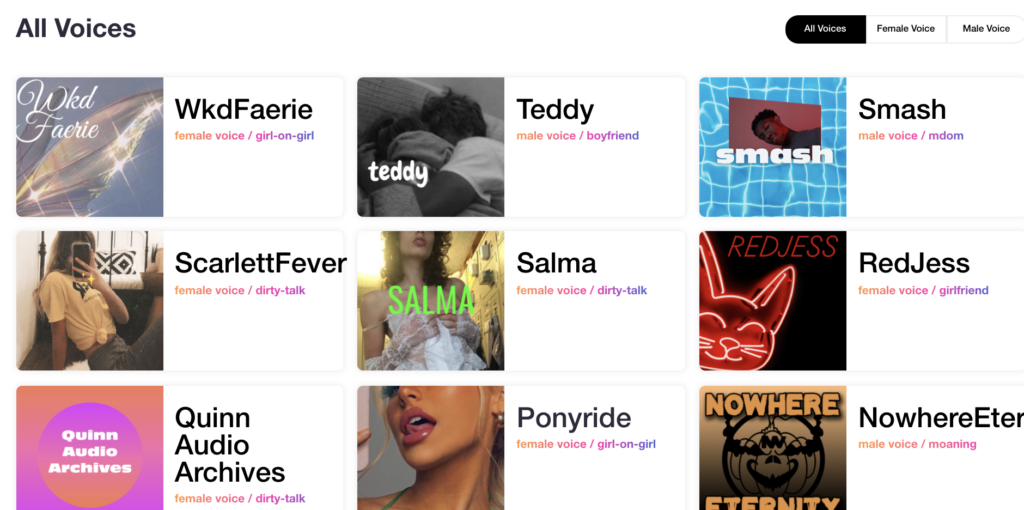 And they're in full-on startup mode.
There are still a small number of full-time employees but already boasts thousands of users and creators.
Caroline serves as CEO and CTO, plus manages finances.
Her brilliant tech background and studying systems means she's able to better understand and take part in shaping the underlying tech framework.
Basically Caroline hypothesized that millions of women need a channel that acknowledges and celebrates their sexuality. She cites herself as one of many who faced challenges over the years in feeling free to explore this topic.
It ties back to an industry-wide conversation about the dominance of the male gaze in marketing and advertising.
"Women are seen as sex objects rather than people who have desires and want things," Caroline said in a recent interview.
"I want to make a product for women that takes women and their needs seriously."
In this interview, we talk about:
The social responsibility of brand marketing and messaging (Victoria's Secret, Goop, Savage X Fenty!),
Managing brand communities,
Choosing the most effective growth strategy,
And much more about tech, sex and marketing.
Here are some highlights.
Brand Marketing & Self-Identity: Victoria's Secret, Goop, Dove, & Savage X Fenty
Caroline doesn't deny that sex (or more so, our desire to be desirable) sells.
But she does say there's a responsibility that comes with the impact brand marketing and advertising can have on audiences, especially young women.
"As a young woman, [Victoria's Secret] was the epitome of aspirational marketing."
"It was, 'I want to wear Victoria's Secret because I want to be hot. And if I get the sweatpants that say Pink across the butt, I'll be a big girl.' You know? So that emotion is almost visceral."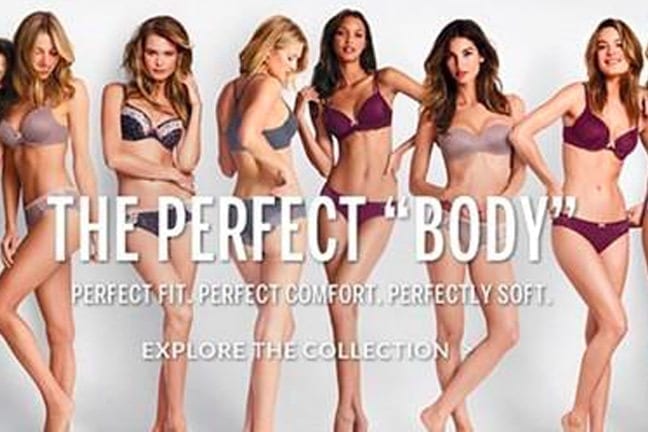 "And then you think about the flip side of it. What negative effects did Victoria's Secret have on growing up in like 2013, 2012? I definitely felt crippling pressure to have the perfect boobs and the perfect butt and be tall and look like Candice Swanepoel."
Caroline points to modern brands like Rihanna's Savage X Fenty as having a much more fun, balanced brand take on sexuality.
"Savage has been so successful because they've harnessed body positivity, but it's not like Dove, True Beauty. It's more, 'Fuck it. Let's have fun, let's be ourselves, let's party.' It's glam."
"And I think that's resonating with people."
"It's about brands picking, 'What is the responsible [aspirational] goal for young women to have for themselves, body-wise?'"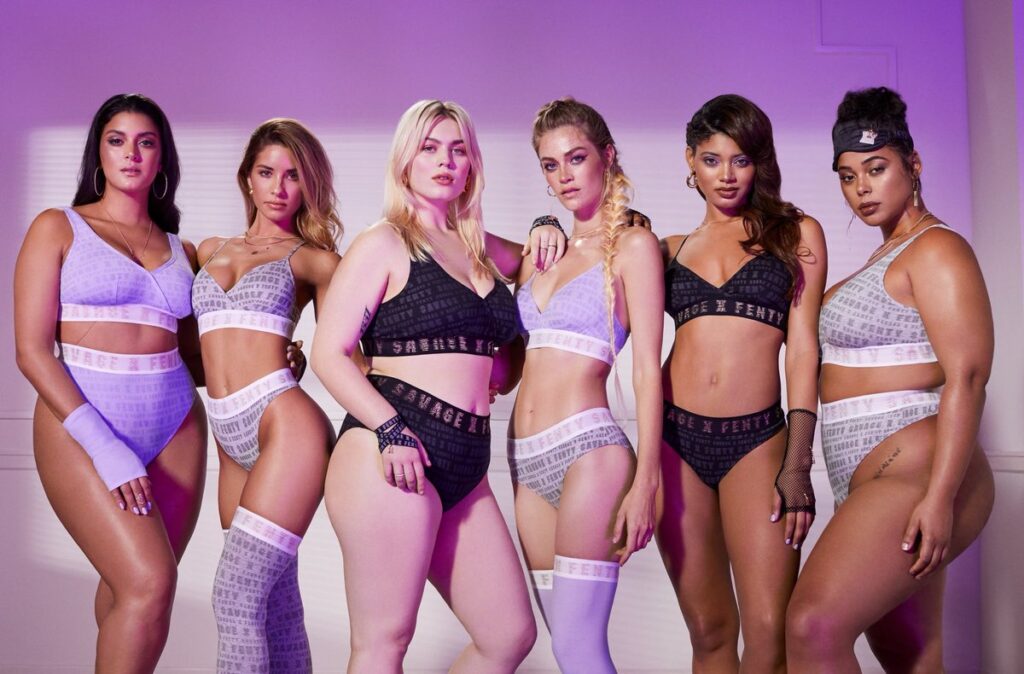 For the brand building behind Quinn, Caroline says she wants to find the right mix of aspirational and lightheartedness.
"I think the magic is in merging those two."
"How can we give people aspirational content that's also resonating with them on a funny, authentic level."
User & Marketing Data to Inform Business Decisions
Caroline says although the target users are women between 18 and 24 years old, the range of users surprised her. People older than the Gen-Z tag or who don't identify as women also frequent the site/app.
"We really, right now, are focused on 18- to 24-year-old women in America, but I think it's accidentally resonated with older women, with men, with people who don't identify as women or men."
"Ultimately I believe Quinn can be for everyone, but it will always be made for women."
As to the specific data points measured?
"We monitor the plays on every audio. We also have this thing called Crazy Egg, great analytics tool."
"I literally will watch how a random user uses Quinn, see where they're clicking."
"We basically have a sense of what creators are performing the best and which of their audio is performing the best."
Once the team has gathered relevant metrics, Caroline says they iterate on what's working to create stronger content for their audience.
Adjusting Brand Based on Community Feedback
The iteration is key to finding the right path for the brand, according to Caroline.
She's already made major brand and product adjustments based on community feedback, from both creators and users.
"There was a time with Quinn when I was like, 'We should be a creator-first platform.'"
"And that was great, but it became sort of like a Reddit. There was so much going on. A lot of the kinkier voices became more prominent. It basically was just totally user-generated content, any creator could post, and it was a free-for-all."
"And creators loved it because they had all these tools, and they could just easily go on and upload."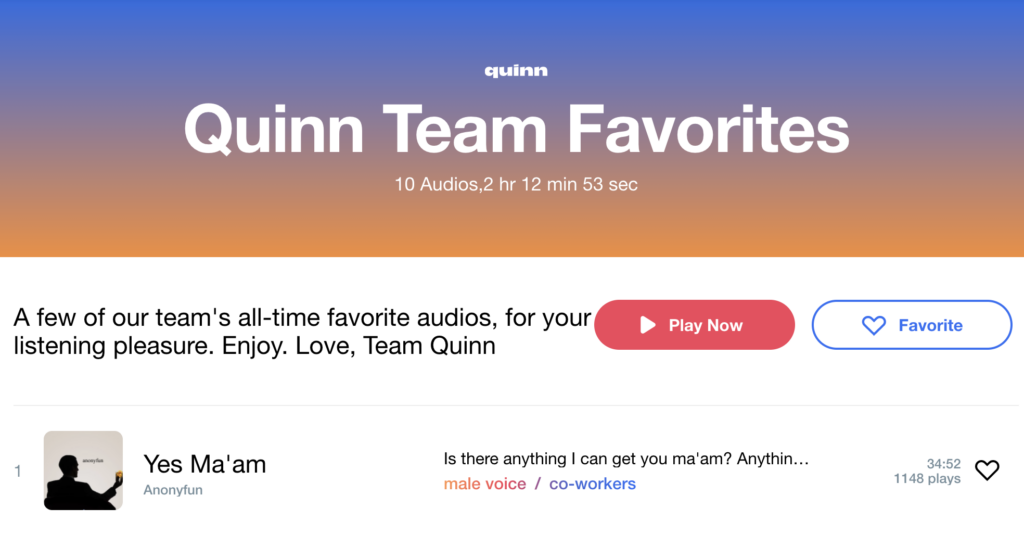 "But users felt like, 'This isn't very curated. I don't know what's going on.' It was confusing."
"I just had to go back to, what is Quinn's mission?"
"And what actually did I want to build?"
"And that wasn't about creators. That was about young women listening and wanting to have more curated, easy-to-understand content."
"So that's why we shifted to, now we have a smaller, more curated [creator] group. And we really work with that to build their platforms on Instagram or Patreon or wherever they're, growing their social following."
Viral Content & Community As Growth Strategy
Of course I asked Caroline to walk me through the early-stage growth strategy.
It was awesome to hear how much content and community centered on the plans for Quinn, rather than paid acquisition like with many tech startups.
"With Quinn, we don't do any paid advertising. I would definitely consider it in the future. It's just right now it doesn't really make sense."
"I think the best way for us to grow is viral content in terms of audios that are so hot that girls need to share it with their friends."
"And so, that's basically the strategy. Our goal in the next six months (I probably shouldn't say this because it's so much pressure), but it's to have viral audio."
"I remember talking to my friend two years ago when I started this whole thing. He was like, 'All you need is one 50 Shades of Gray or Bridgerton type, and that's what will make it mainstream.'"
"That's our entire focus now, just iterating the content. What's working, what's not, what's too X-rated, what's too PG. And just trying to get that hit."
Watch the full interview with Caroline by clicking here.
Interested in getting more content like this? Sign up for my newsletter and get fresh insight delivered to you weekly.