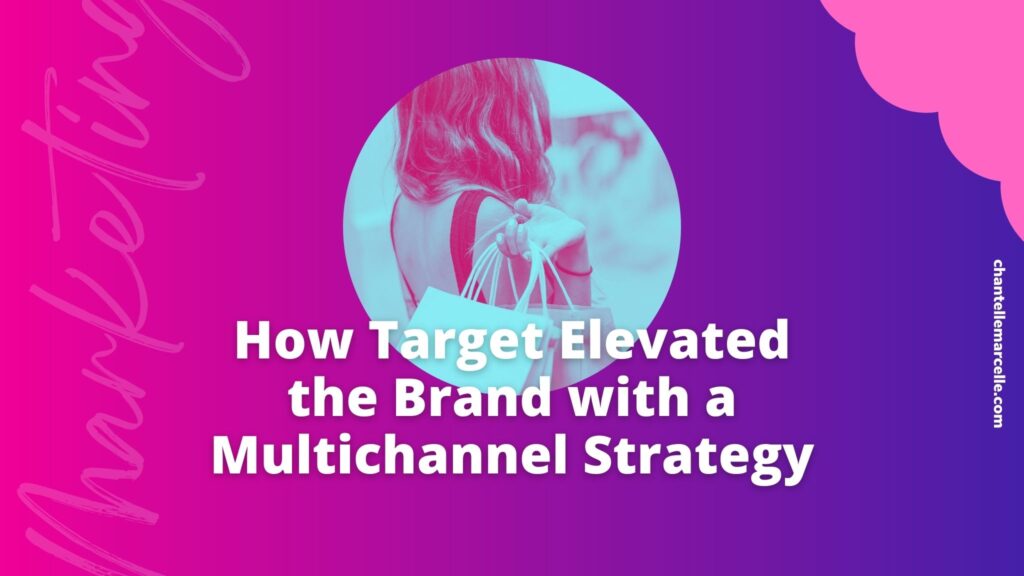 How Target Built Resilence with an Omnichannel Brand Strategy
In This Article:
Three out of 4 people in all 50 US states live within 10 miles of a physical retail Target store.
But in 2021 the brand became a top-10 ecommerce retailer for the first time.
Here's how the brand drove 1,300% sales growth in 2 years with a multi-channel sales and marketing strategy.
Retail Reliance on Brick-and-Mortar Presence
For years Target relied heavily on foot traffic in thousands of physical retail stores.
An impressive 75% of the US population lives within 10 miles of a Target.
But recent failures of once-staple brands proved the danger of a business model that doesn't support the modern customer journey. Customers have pushed back on stagnant brand experiences that ignore digital innovation. Anyone remember Toys "R" Us or Blockbuster? The fall of those brands happened relatively quickly due to the competition from online businesses.
But DTC and online businesses also struggled to maintain momentum gained during the pandemic.
About 90% of ecommerce brands fail within 120 days after launch.
And ecommerce became more volatile following the release of new Apple privacy measures, which impacted success of digital advertising.
Meanwhile Amazon continues to account for an ever-growing share of the ecommerce market. In the U.S., consumers spend nearly $5 of every $10 online on Amazon. The ecom giant secures almost 10X the digital dollars as the second biggest ecommerce retailer, Walmart.
Creating a Balanced, Omnichannel Brand Strategy in a Digital World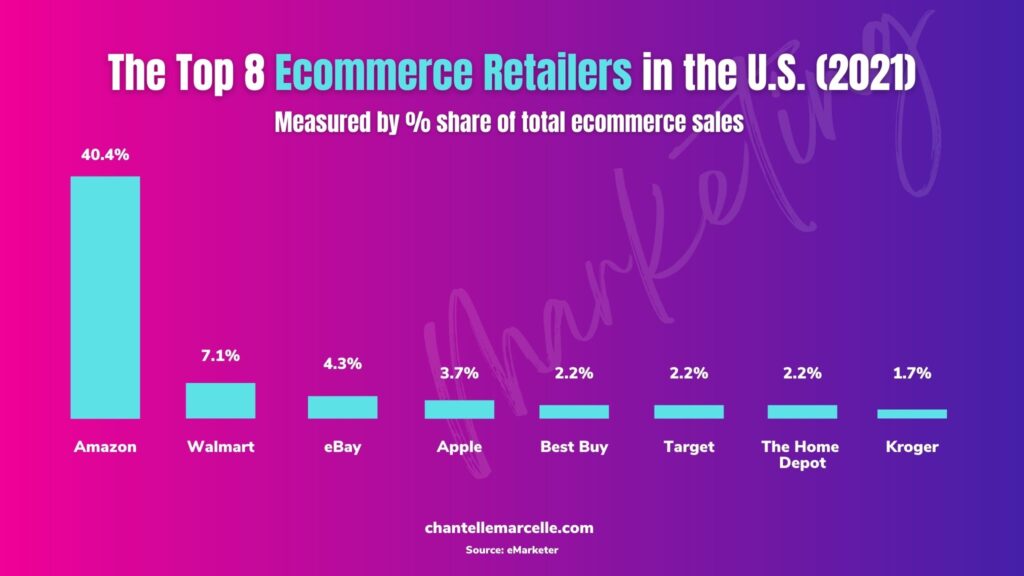 In order to remain competitive, Target searched for the right mix between offline and digital. That resulted in investment of $7B dollars for an overhaul of their CX, which went toward:
➡️ Streamlining supply chain
➡️ Improving ecommerce experiences
➡️ Creating desirable brick-and-mortar destinations
One of the most important factors was making sure online and offline channels connected into one seamless journey.
Expansion of curbside + in-store pickup and same-day delivery accounted for huge growth of Target ecommerce business in 2020.
Maximizing Demand Capture with New Sales and Marketing Channels
The introduction of a mobile ecommerce app, acquisition of delivery app Shipt, and simpler return processes further contributed to digital customer engagement.
Notice how growth of channels to capture demand factors into this narrative. Target opened up multiple options for customers to engage. And consumers crave that flexibility.
A survey by PwC revealed consumers still opt for in-store shopping most often.
About 40% shop in-store at least once a week versus 27% who shop online at the same frequency and 10% who shop via mobile app.
Diversifying Inventory with Unique, Third-Party Partnerships
Target also launched a 3rd-party platform named Target+ to feature products from other vendors.
It aims to feature more limited approvals and stringent regulations than other marketplaces.
The goal is to distinguish Target+ as a space that customers can trust for high-quality, exclusive goods.
The increase in ecommerce traffic means new opportunity as well. Target can build its media focus through an owned digital ad network to compete with Amazon, Walmart and others.
Omnichannel Brand Strategy Innovation: Offline and Digital CX
Despite the success of its ecommerce segment, the brand hasn't ignored efforts to make the in-store experience truly compelling.
Shoppers tend to spend an average of $50 more per order in physical stores versus online.
Physical stores are essential to Target's growth strategy, especially considering 90% of online order fulfillment is actually handled there. This alone cuts fulfillment costs by 30% and gives a competitive leg up.
The brand plans to continue store renovations to create one-stop, all-inclusive spaces where customers can do it all.
Remember when we all headed to the mall or a department store to make a variety of purchases at one time?
Target aims to replicate that, but with more efficiency.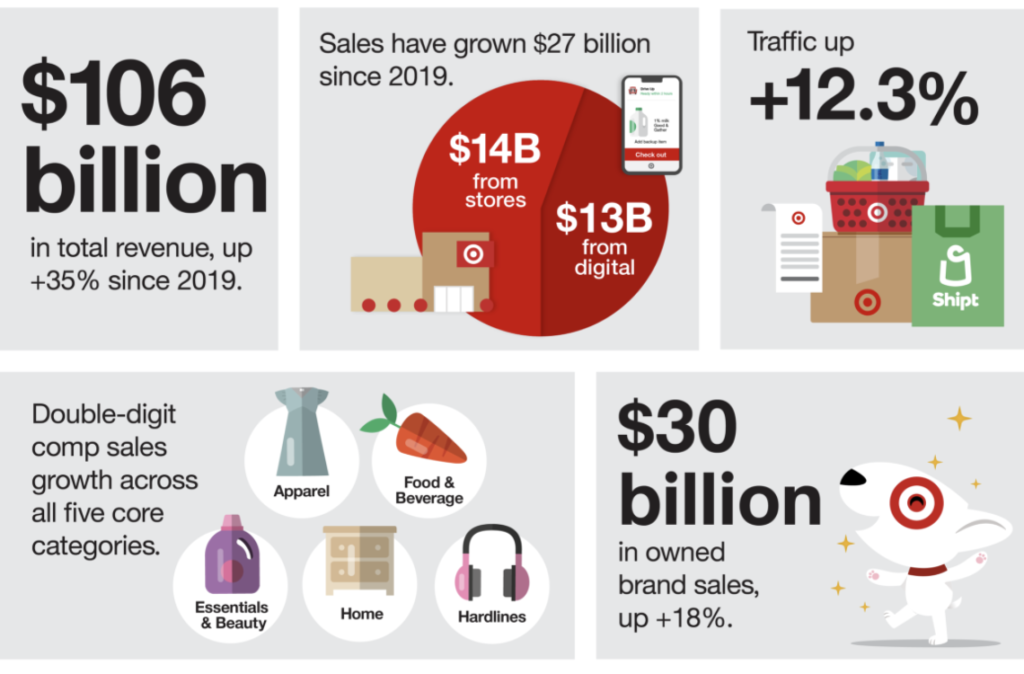 Target CEO Brian Cornell predicts consumers will want to make fewer in-person shopping trips as they feel the impact of rising inflation. That means developing a place they can make broad purchases at the same time could prove more desirable. It also could continue driving up ecommerce shopping.
Partnerships with both exclusive brands and those typically found at department stores – like Levi's and Ulta Beauty – help Target grab market share from these traditional shopping spaces.
You can also buy groceries, home goods, or even pick up a cup of Starbucks, all at your neighborhood Target, as an in-store or drive-by order.
The impact of these efforts already appears in recent reports.
In the 2021 holiday season, Target secured more foot traffic among shoppers across the U.S. than both Walmart and Best Buy, driving up growth in sales performance.
It's a testament to the overall omnichannel brand strategy: Staying true to the attributes customers appreciate about Target while also innovating to keep up with modern consumer behavior.
Key Takeaways:
Target ecommerce now accounts for $1 of every $5 in the brand's sales
Physical stores support ecom growth by cutting fulfillment costs by 30%
In-person AOV tends to be $50 more than digital orders, proving the ongoing value
In summary: A modern, resilient brand needs a multi-channel strategy that supports demand capture in multiple spaces.
Interested in learning more about the best B2B newsletters? Sign up for my newsletter or subscribe to the Brand & Marketing YouTube channel to get fresh insight delivered to you weekly.