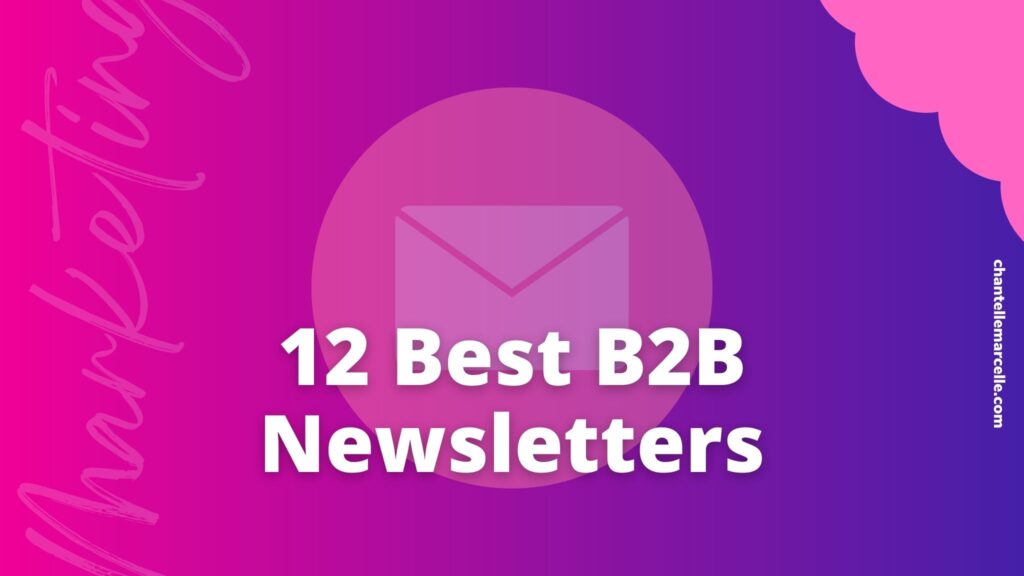 12 Best B2B Newsletters You Should Subscribe To Today
In This Article:
Newsletters offer a fantastic way to build your brand reputation and form relationships with a target audience. This marketing tactic establishes your expertise within a designated topic while allowing you to distribute curated information to subscribers via email. B2B newsletters in particular have become increasingly popular.
About 77% B2B companies send a regular marketing email newsletter. So let's dive into why 8 out of 10 B2B marketers believe in the success of email content distribution. And you'll also find a list of some of the best b2b newsletters that you can use as an example of what successful formats look like.
Before going to the list of the best examples, let's answer some basic questions and outline key facts you need to know.
What is a B2B Newsletter?
B2B newsletters can be categorized as an extended branch of email marketing tactics. And they're the most commonly used form of B2B marketing content.
A B2B newsletter primarily offers a way for your business to connect with your existing customer base and any other potential contacts that may be interested in what you have to offer. This newsletter is usually sent through email with several general business goals in mind.
Unlike newsletters from B2C or ecommerce brands, which aim to promote specific products or seasonal sales, a B2B newsletter usually supplies content such as thought leadership material, industry reports, or key business updates.
B2C marketers often directly attribute sales to specific newsletter campaigns, while B2B newsletters aren't as often last-click revenue generators.
Benefits of B2B Newsletters
Nurture relationships with existing and prospective customers.
Promote your marketing content and campaigns.
Create new business opportunities.
Contribute to growth and retention of your CRM contacts.
B2B newsletters play an essential role in marketing. The benefits you can attain by sending this type of communication vary depending on what your overall goals are.
Here is a rundown on some of the benefits of B2B newsletter campaigns for brands:
1. Nurture relationships with existing and prospective customers.
One of the main objectives of a B2B newsletter is to nurture brand relationships, which 1 in 3 marketers attests to. The best B2B newsletters don't just dump sales or product promotions on subscribers. They share curated content that will provide value to the audience. Everything in them focuses on information relevant to the needs and interests of the persona the brand wants to attract.
2. Promote your marketing content and campaigns.
B2B newsletters are generally intended to contain information about your brand and business, while aiming on hard, direct sale of specific products. This distinguishes them from other marketing, sales or product emails sent by your brand.
3. Create new business opportunities.
B2B newsletters often cater to a more niche demographic than B2C newsletters. A pool of subscribers interested in purchasing most kinds of consumer goods is likely more broad than buyers who subscribe to a B2B company's communications. That usually results in higher possibility of generating new business opportunities.
4. Contribute to growth and retention of your CRM contacts.
B2B sales and marketing teams know there's tremendous value in a CRM full of contacts who are actively engaged and aware of your brand. Better still if they demonstrate an enthusiasm to hear from your business. Using an email newsletter as a lead magnet to grow and engage your brand contact list serves as a strategic way to accomplish this.
The Best B2B Newsletters You Should Subscribe To
1. HubSpot
HubSpot is one of the preeminent authorities in the world when it comes to creating an email newsletter. You can sign up for either the Marketing, Sales, Service or Website themed versions. Each issue contains articles, webinars, reports, resources and more.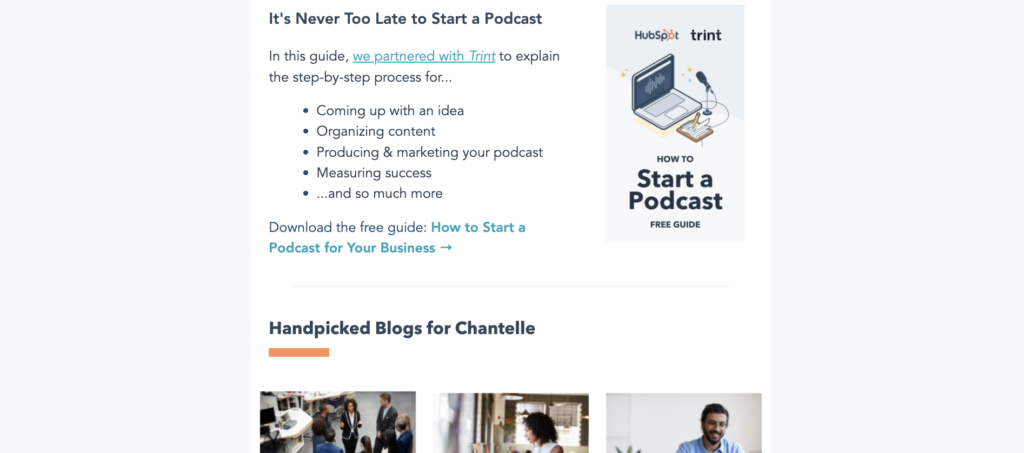 What makes it good?
Not only does it showcase a model for best practices, it also shares content to help you improve your business. If you're looking for a B2B newsletter that not only provides a great example but also useful information, this would be it.
You can subscribe to the HubSpot newsletter here.
2. Adobe
The Adobe & You newsletter keeps you aware of leading digital marketing and design trends, news and information. It also gives tips on how to make the most of Adobe tools and software, if you're already a customer.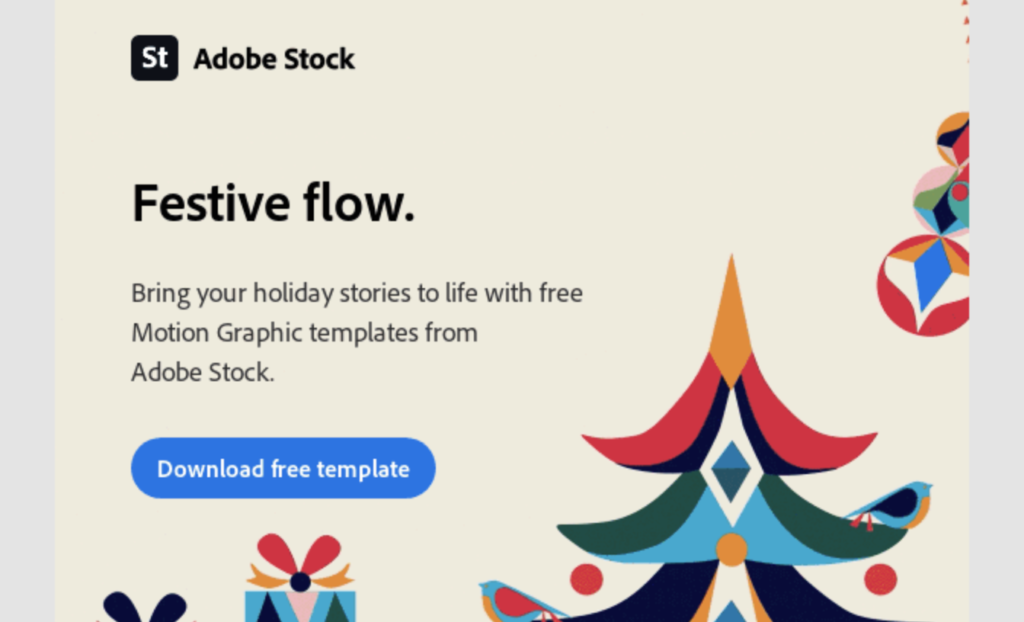 What makes it good?
Adobe shows how to create a good mix of both thought leadership and product-focused information. They don't make it seem like they're being overly self-promotional but still offer use cases and announcements to build interest.
You can subscribe to the Adobe newsletter here.
3. Salesforce
Salesforce offers a role-based B2B newsletter that lets subscribers tailor the content they receive. Whether you're a CEO, IT professional, or commerce expert, you'll find something for you.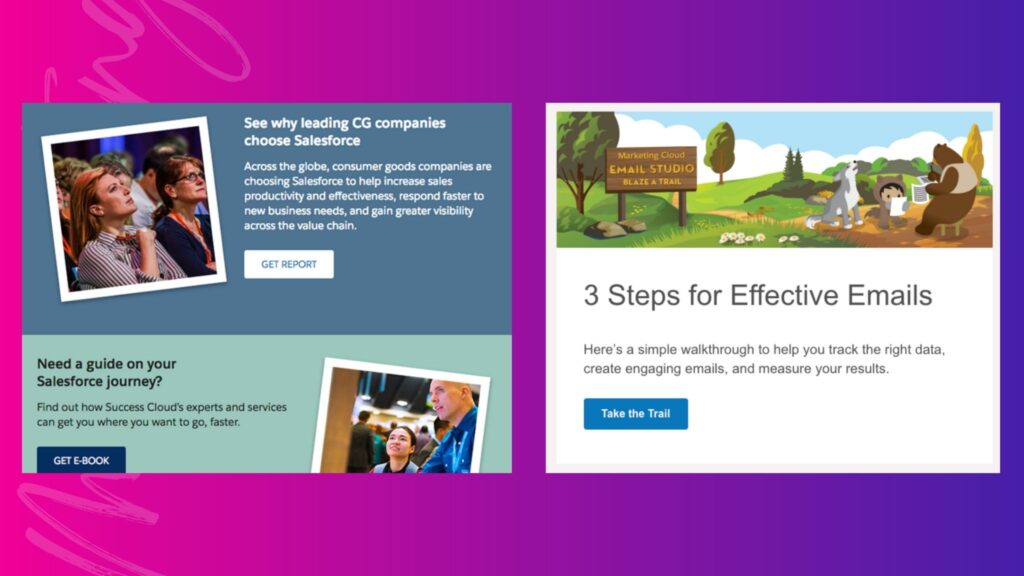 What makes it good?
Salesforce exhibits success when it comes to establishing a strong, well-loved brand
Subscribe to the Salesforce newsletter here.
4. Zenefits
Human resources technology platform Zenefits sends a B2B newsletter that's targeted to its ideal customer persona – small business owners and HR professionals.
What makes it good?
Zenefits knows their target audience, which is reflected in how well they've adapted the content and voice of their newsletter. There's a reason this newsletter has grown to over 65,000 subscribers. Join their mailing list to discover their formula for success.
Subscribe to the Zenefits newsletter here.
5. Inside
This newsletter is packed with trends, analyses and news that make it worth your while. Almost 300,000 professionals subscribe to receive it.
What makes it good?
Media company Inside offers multiple newsletters that specifically focus on certain topics. The range includes business, artificial intelligence, politics, current news and even cryptocurrency. You can simply subscribe to the ones you're most interested in and get what you're looking for.
You can subscribe to their newsletter here.
6. MarketingProfs
MarketingProfs publishes their newsletter once a week and makes it worth every bit of the wait. The newsletter covers a diverse array of marketing topics. So if your interest is to keep up with the latest in that field, this is your go-to.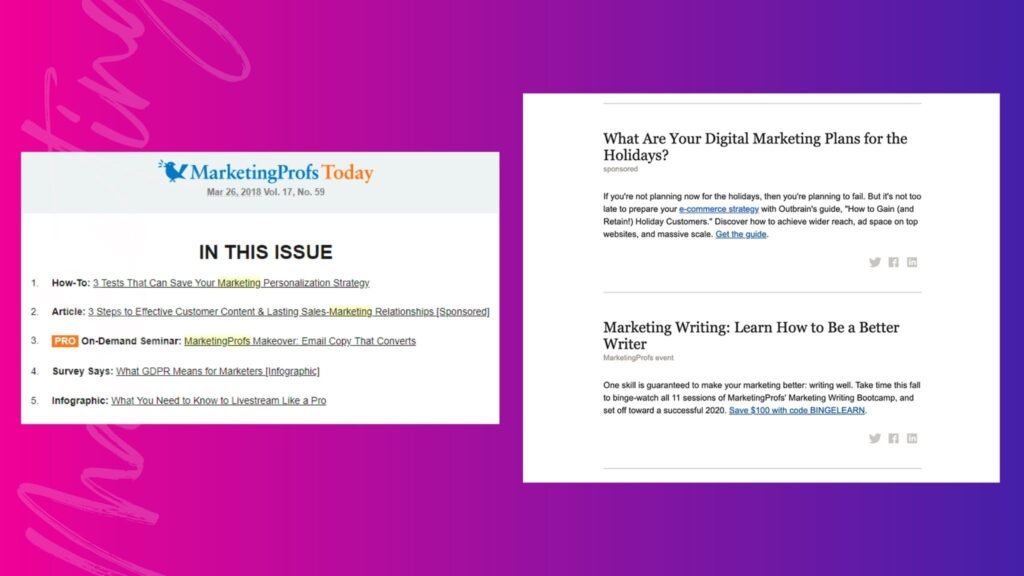 What makes it good?
The diversity of topics covered is what makes this newsletter stand out. They cover almost everything, from COVID-19 and its lasting effects on market trends to business strategies that you should adapt to in order to take your game up a notch.
Diversity of content aside, they also have many past issues available for free, which is more than enough to keep you well informed in the space.
Another exceptional feature – the table of contents at the start of the issue. It helps readers know what to expect and allows them to quickly get to what interests them, rather than having to go through the entire thing. Timesavers are always a plus for busy readers!
You can subscribe to their newsletter here.
7. AMA (American Marketing Association)
As the website says, this company aims to provide marketing solutions for today and tomorrow. The newsletters are separately published (like Inside), and they are tailored for multiple topics. AMA Today focuses on daily business news, AMA worldview that analyzes the marketing trends from a global market point of view, and B2B Marketing that focuses on the needs of the business marketing crowd, among other topics.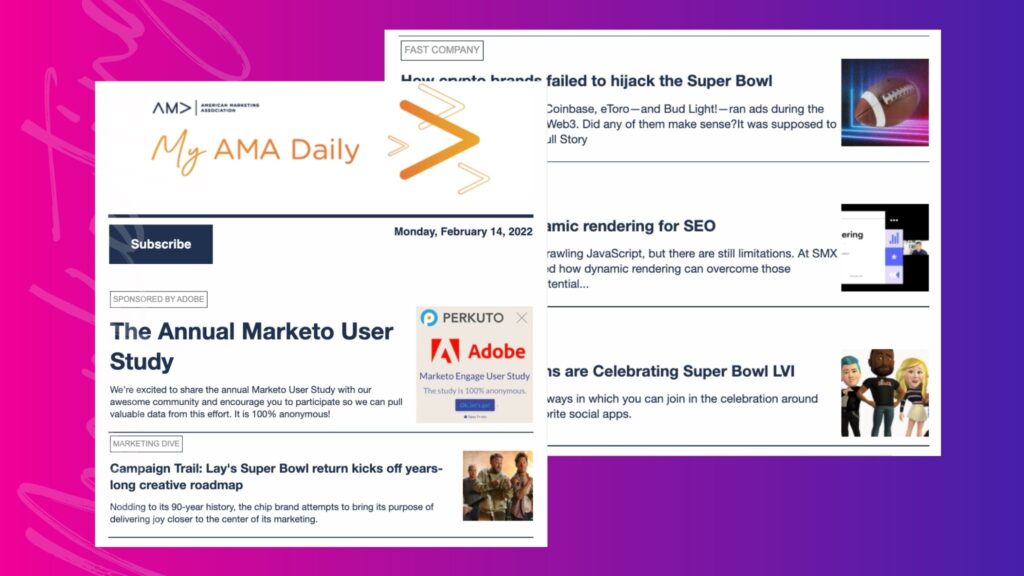 What makes it good?
The content is quite insightful, and you can pick the topics you find interesting. The newsletter service is also free of charge – you just need to register an account and sign up for the newsletter. The feed is AI-driven, so the more you use them, the more personalized your content will be.
You can find your way to their newsletter subscription here.
8. CMO
CMO focuses on analyzing the market trends, and their analysis comes straight from the experts. This newsletter has how-to guides, interviews, and analytical pieces written by Chief Marketing Officers to help out people who are already in business.
What makes it good?
The analyses they offer are very much data-driven, so you know what you are getting is the most solid scoop in the market.
Click here to subscribe to CMO newsletters.
9. Think with Google
As you can probably tell from the name, the insights provided in this newsletter are heavily backed up by data from Google. They offer solid explanations of market trends that are supported by recent reports or studies.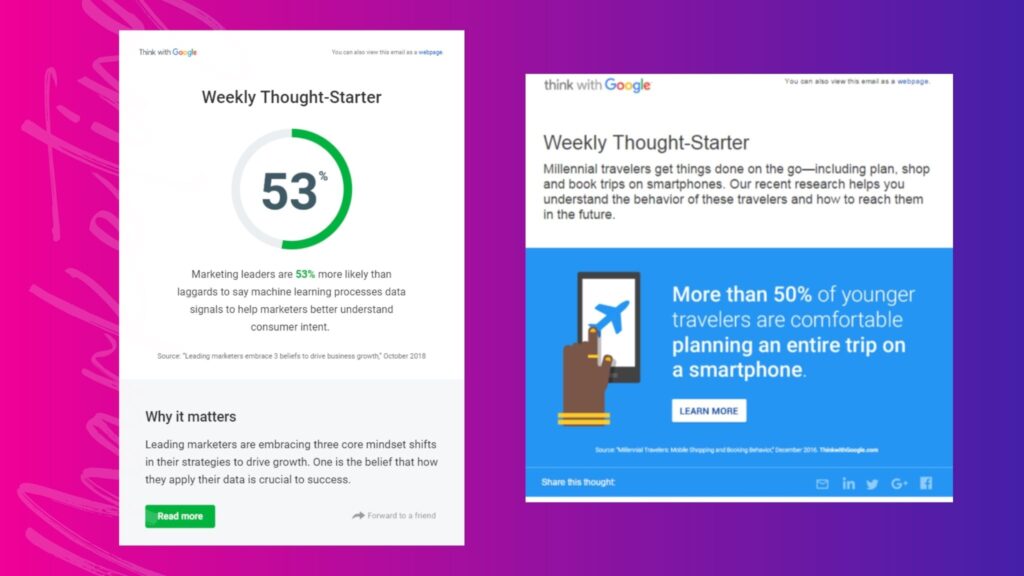 What makes it good?
Their explanations come with strong research-based support, and the delivery is always done in a compelling way. The content they offer is short and written in a way that is easy to understand, even if you're not a pro in the field.
Subscribe to their newsletter here.
10. Lab Manager
Appearing next on the list of best B2B newsletters, Lab Manager focuses on the latest scientific discoveries, advancements and studies. The newsletter mainly targets the scientific community, but anyone can read and enjoy it.
What makes it good?
If you're more of a science-minded person, Lab Manager can be your go-to resource. They package the content in a short and precise manner, while also making it fun to read.
Here is their subscription form for newsletters.
11. Marketer Hire
Marketer Hire focuses on matching businesses with the marketing freelance support they need, and their B2B newsletter, titled Raisin Bread, provides content around topics that fit that niche.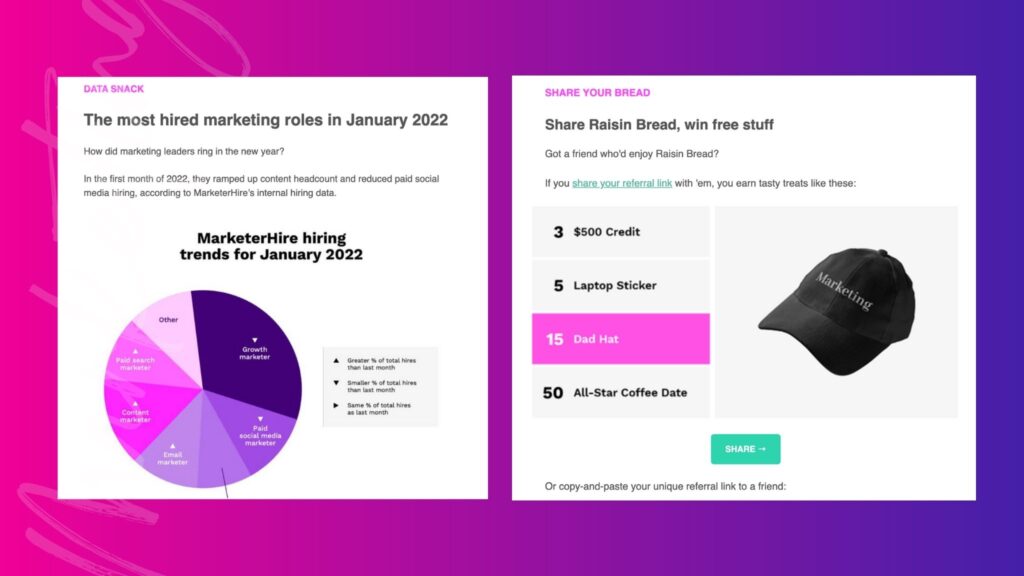 What makes it good?
What's awesome about this newsletter is not only the actual email, but also how they frame it. They make it clear in the landing page that each newsletter only requires five minutes of your attention. For most subscribers, that's extremely appealing, considering how stuffed most of our inboxes are. The newsletter referral program they feature in every issue also carries a lot of appeal. Incentivizing your readers to share your content for you can lead to greater long-term growth and retention.
You can subscribe to the newsletter here.
12. eMarketer
Industry leading website eMarketer built a reputation over the years as an exceptional resource to find the latest research and data. They have awesome charts and more to help you gain a big picture view of top trends related to a variety of areas, including ecommerce, digital consumer behavior, and more.
What makes it good?
It can be overwhelming to wade through the large assortment of data and research released by this website. This B2B newsletter condenses the information and delivers it directly to you. You can then review it as you choose at your own pace. They even have an option for you to receive one chart a day.
Here's where you can sign up for this newsletter.
Interested in learning more about the best B2B newsletters? Sign up for my newsletter or subscribe to the Brand & Marketing YouTube channel to get fresh insight delivered to you weekly.