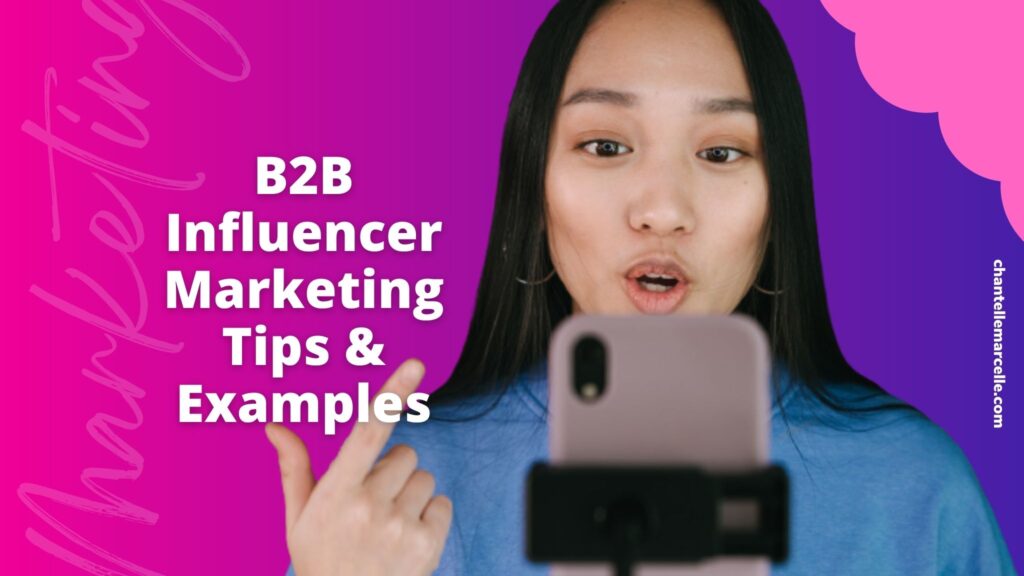 5 B2B Influencer Marketing Tips & Examples For Success
In This Article:
B2B marketing moves a little differently than it does in the B2C world. Hardly anyone would debate that. And I say this as someone who has switched from B2C to B2B to D2C over the past decade plus.
But a lot of the core principles remain unchanged.
One of those principles is that almost no channel exists that holds the same power as word-of-mouth marketing. Statistics show word of mouth impacts 91% of B2B purchases.
Both B2C and B2B influencer marketing are essentially an offshoot of this. Most people who think of influencers recall images of Charli D'Amelio doing a trendy TikTok dance or a Kardashian wearing a waist trainer while drinking fit tea.
But the definition of influencer marketing allows for more versatility these days.
Especially as we're seeing more people rely on the opinions of specialized nano- or micro-influencers rather than just the recommendations of Instagram quasi-celebs promoting consumer goods.
This shift is part of what makes B2B influencer marketing primed for action.
Whereas influencers were once associated with consumer goods, we're now seeing the definition of "influence" become more realistic.
Everyone, no matter which channel they're using or how many followers they have, possesses the potential to influence the buying decisions of others.
B2B Influencer Marketing Statistics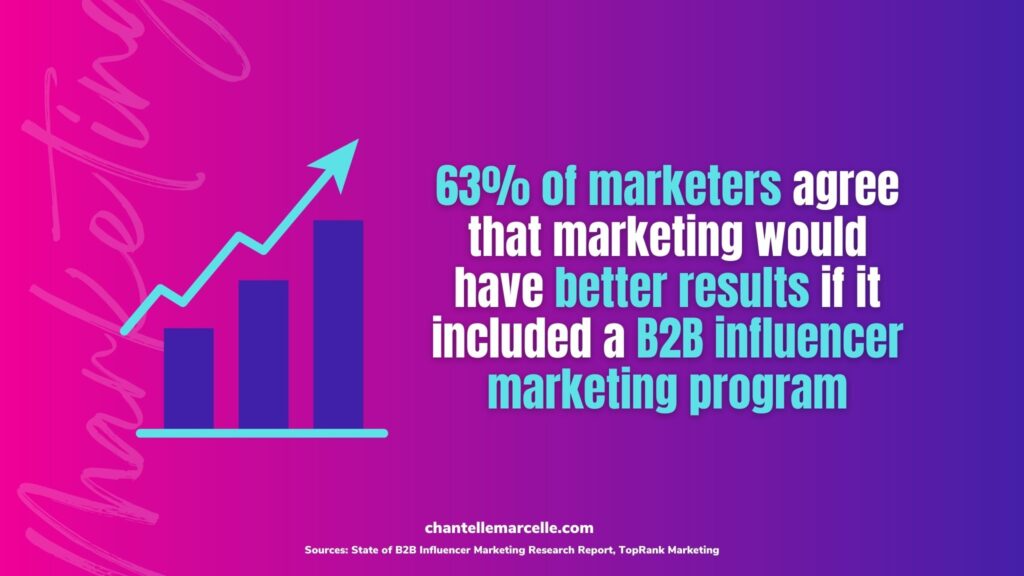 Use of B2B influencer marketing grew tremendously, particularly since the start of the 2020 pandemic.
Total brand influencer marketing spend is expected to reach $15B in 2022
Nearly half of B2B marketers plan to test influencer marketing
63% of buyers trust influencers more than what brands themselves publish
Over 6 out of 10 B2B marketers believe influencer marketing would improve the ROI of their overall marketing strategy
90% of marketers integrate B2B influencer marketing campaigns with social media content, while nearly a third of marketers integrate B2B influencer marketing with ABM strategies
Figures like these reveal the incredible opportunity that B2B influencer marketing presents for businesses over the next few years.
B2B Influencer Marketing Strategy Tips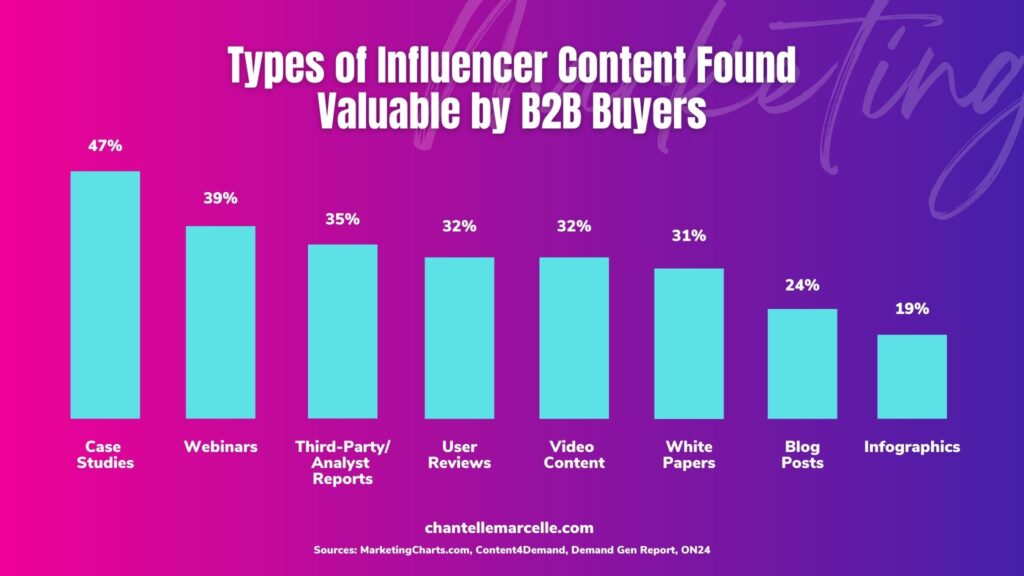 One of the primary challenges that B2B businesses will face when it comes to B2B influencer marketing is figuring out the right strategy. It can't look exactly like the model created by B2C brands.
Identifying the right B2B influencers, determining the right budget, finding the best influencer marketing channels. These will all be things B2B businesses will experiment with in the near future as this becomes a more common element in all marketing strategies.
A survey of B2B buyers revealed they are receptive to the right influencer marketing content. Nearly half of respondents found B2B case studies to be valuable, while: 39% pointed to webinars, 35% to third-party reports, 32% to users reviews and video content respectively, 31% to white papers, 24% to blog posts, and only 19% to infographics.
With that said, here are a few other tips and facts to help you get started with launching or scaling your B2B influencer marketing strategy.
1. Supplement your existing digital strategy by targeting influencers across channels.
I've had plenty of conversations about why this platform or that just isn't a fit for B2B marketing.
Ultimately, B2B marketers need to champion the point that LinkedIn isn't the only viable channel anymore.
The point of B2B influencer marketing shouldn't be immediate lead generation.
It's about building relationships within communities that overlap with your ideal customer persona (ICP).
And your buyers aren't just logging into LinkedIn.
They're also spending time on every other channel.
Yes, that includes TikTok. (Even if it's just to see what all the hype is about or make sure their kids aren't posting anything crazy.)
Partnering with content creators is a great way to supplement your brand's own content strategy without having to dedicate resources and time to entering that space yourself.
I've seen content creators on TikTok who post information about marketing, sales, science and more. There are people speaking to your audience and sharing content that would appeal to and is being consumed by your ICP.
Not to mention, don't forget your own employees. Many of them are actively involved in a variety of communities and posting on social media.
Employee advocacy not only increases visibility of your brand, it also provides a face for your culture in a way that most other B2B content alone could not.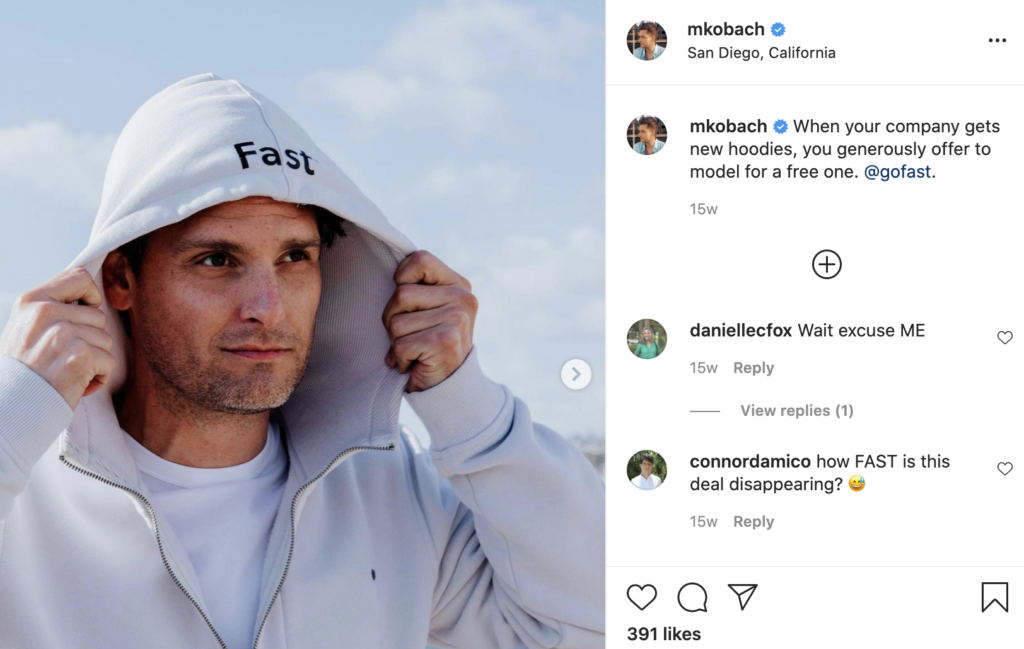 Encouraging and empowering employees to share about the brand online can yield phenomenal results. And it can also be more cost-effective than macro-influencer strategy.
2. Get creative by repurposing B2B influencer marketing content, such as reviews and product walk-throughs.
B2B influencer marketing doesn't just have to live on social media channels.
When you see great quotes or reviews on aggregate sites, pull those and incorporate those into all of your other marketing materials.
Your website, sales decks, product sheets, newsletters. Share your accolades everywhere. They generally come across as much more authentic than blind case studies or statements from your own executives.
Just be sure that you're not publicly reusing influencer content for commercial use without consent. For example, you can't take an organic post that an influencer posts to their own social media account or website and use it in a paid advertising campaign. You'll need to reach out to them to work out an agreement to set the terms of use and compensate them fairly.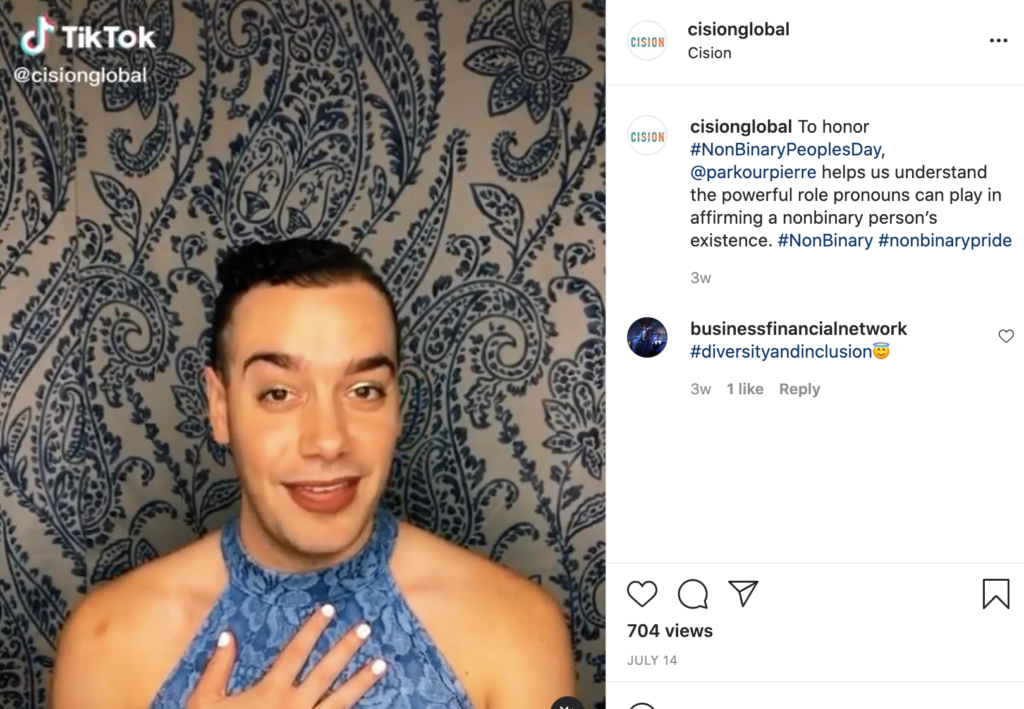 Some tips on making the best use of social proof content from B2B influencers in this Adweek article:
Use testimonials that emphasize the value of your products.
Highlight key statements instead of showing lengthy reviews.
Add callout quotes or links to articles if you use a press mention.
3. Create B2B influencer marketing strategy that leaves room for the content creator's expertise.
The B2B brand – influencer relationship provides the foundation of a strategy.
It's why choosing the right influencers is so important.
Gracey Altree, Partner + Influencer Marketing Associate at American Giant, shared this advice: "First, if you are just starting to work with influencers it's best to work with people who speak to your core values. If your brand cares about sustainability, find low-to-zero waste influencers. Don't sign on just any influencer with a big following – ensure they're specific to your audience and make a positive impact online."
If you've selected influencers who you can trust and can speak about your brand or product authentically, you'll worry a lot less.
You can trust them to create content that aligns with your brand.
And it'll be perceived as more genuine than having voices speaking about your brand using a script or from a place of unfamiliarity.
Most influencers establish their own personal brand in the way they'd like to position themselves. So ideally they're going to prefer having freedom to create content that promotes your brand but doesn't seem out of place on their channel.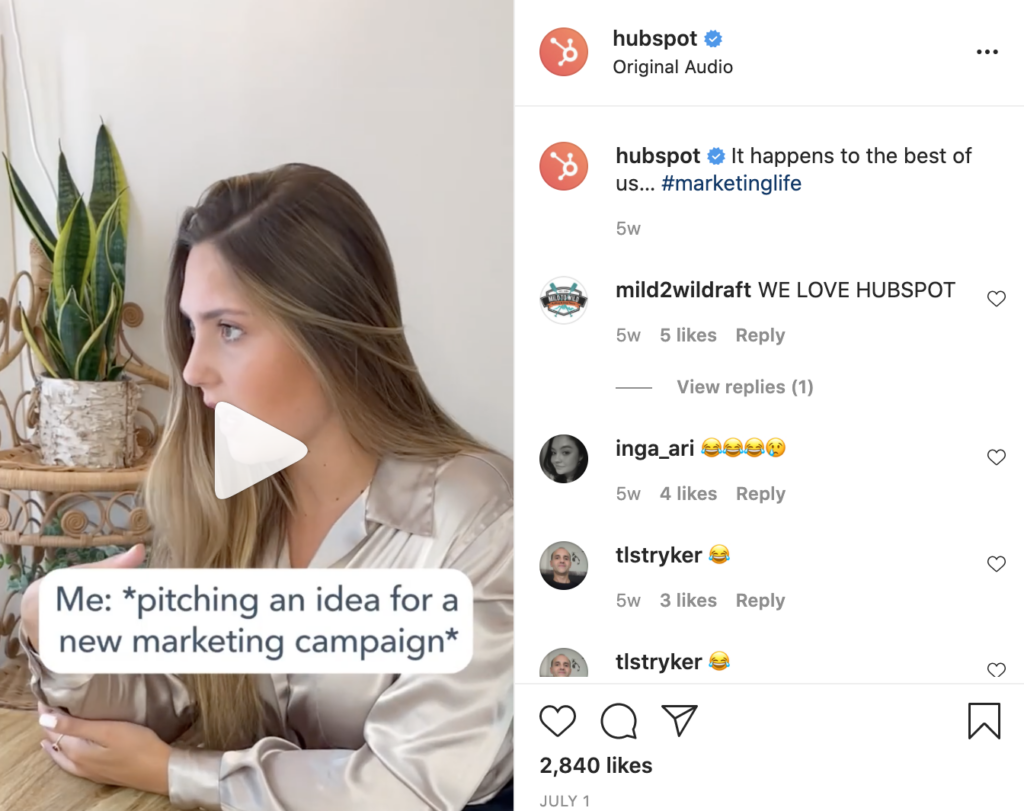 I recommend creating a brand guide for influencers that will share general information without making the collaboration restrictive.
Sharing clear expectations at the start helps avoid confusion or damage to the relationship down the line. But you also have to be open to having a two-way dialogue that offers flexibility and understanding on both sides.
4. Set realistic KPIs to measure success.
The emphasis here falls on the word 'realistic.'
Influencer marketing isn't a hack. It's about relationship building and brand awareness.
But you should absolutely establish metrics you'll track to help determine if your program is meeting your needs.
Some of the most common data points to track include:
Impressions or reach
Sponsored content likes or shares
Click-through rate or engagement rate on posts
Website traffic (this can be tracked effectively by creating specific affiliate tracking links or utms)
Sales (you can use affiliate codes to measure this)
ROAS
There should be a lot of flexibility here, though.
Performance can be unpredictable when it comes to influencer marketing. Lots of factors impact outcomes.
Sometimes the benefit can be the additional touchpoints with potential customers or the introduction of your brand into a community by a trusted member.
5. Be prepared to play the long game rather than judging success only immediate results.
Influencer marketing isn't about immediate gains. It probably categorizes more accurately as a brand building exercise. You're leveraging the influencer's standing in a community to introduce or build credibility for your brand and products.
In many cases you'll see benefits compound over time in addition to other effective marketing done on a variety of channels.
You'll want to build out a view of the customer experience through the sales funnel.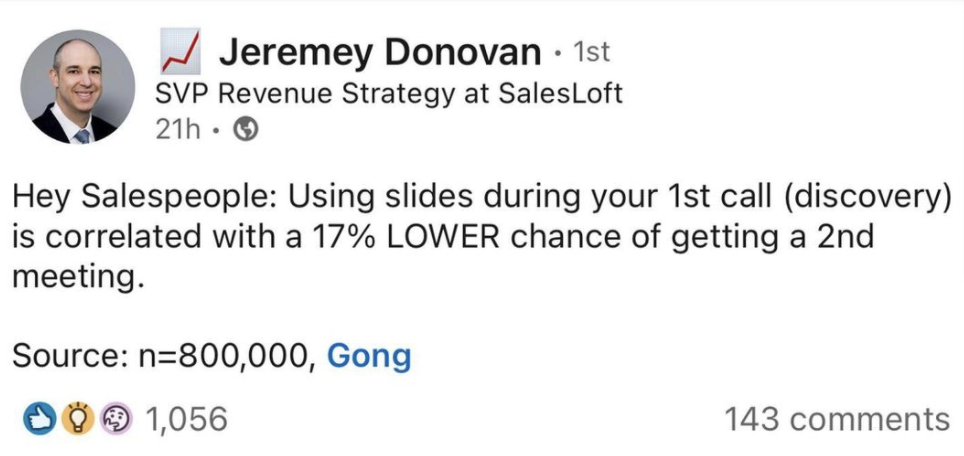 Influencer marketing will have potential to impact each stage of the customer journey.
But not everyone who engages with influencer content is at the decision-making stage of the customer journey.
The expectation is that when they are, your brand will be higher on the list because of the recommendation from another member of their community.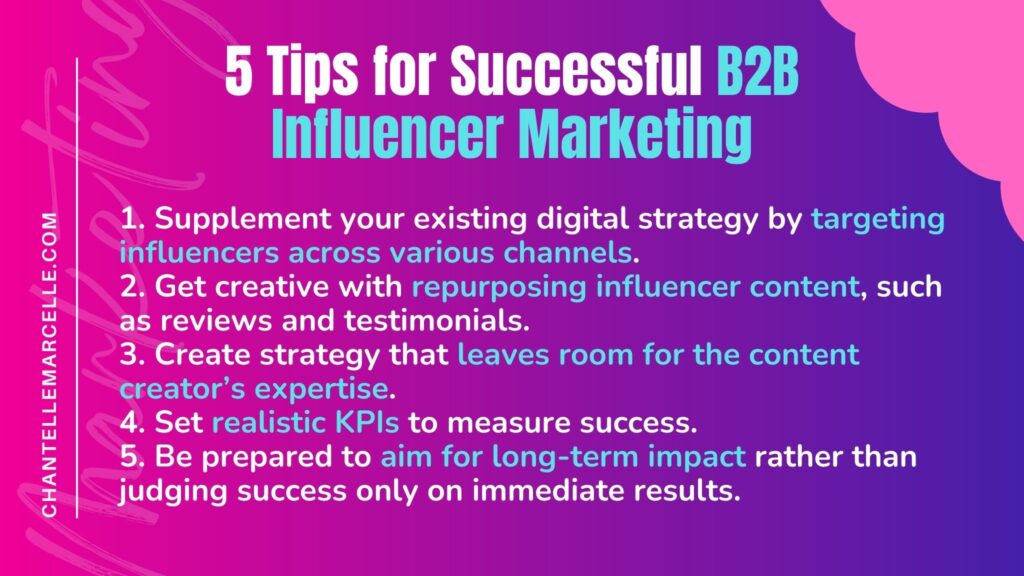 Creative B2B Influencer Marketing Examples
There have been a growing number of stellar examples of B2B influencer marketing campaigns lately.
HubSpot
CRM and marketing automation tool HubSpot has hired a number of community building experts to grow its advocacy and influencer program.
They've hired a number of community management and growth experts to lead strategy. That includes creation of a HubFans Council and Customer Advocate Board that both directly connect the brand to feedback from customers, while also encouraging these evangelists to share externally about the platform benefits.
The hashtag #HubSpotAdvocate has grown as a result and united a lot of the organic content promoting the brand.
Klaviyo
Email marketing platform Klaviyo is another brand that has been pointed out numerous times for smart B2B influencer marketing.
Their 2021 "Less Stalking, More Talking" campaign got marketers talking. Especially when the brand launched out special swag packages as part of influencer seeding.
While seeding is most commonly seen as a tactic among consumer-facing brands, Klaviyo showed how powerful this can be for B2B marketing as well.
Sending gifts to buyers and customers generates positive feelings in association with your brand. It also increase the odds that the recipient will post about the gift experience and your brand publicly.
Swpely
Content curation platform Swpely achieved tremendous traction at launch through a number of tactics targeted to leverage influencers.
First, a number of high-profile social media users who fit the brand's ideal customer persona (ICP) were tapped for early access to the tool.
They were then provided with a special code that they could share with others to allow them to "skip the waitlist" and get immediate access to the tool.
And everyone who signed up for the tool was encouraged to share a templated message on social media channels that announced they were now users. This move reduces the lift it requires for people to come up with their own copy and reminds them to post.
Fast
Heard of Fast?
The SaaS brand does a tremendous job of getting people talking about them across social media.
Most notably they sent out swag (especially the infamous Fast branded hoodies & T-shirts) to a variety of social media users.
And also ran a campaign where they created new branded versions of people's profile avatars. The response was tremendous. It spread the brand across social media directly in people's profiles.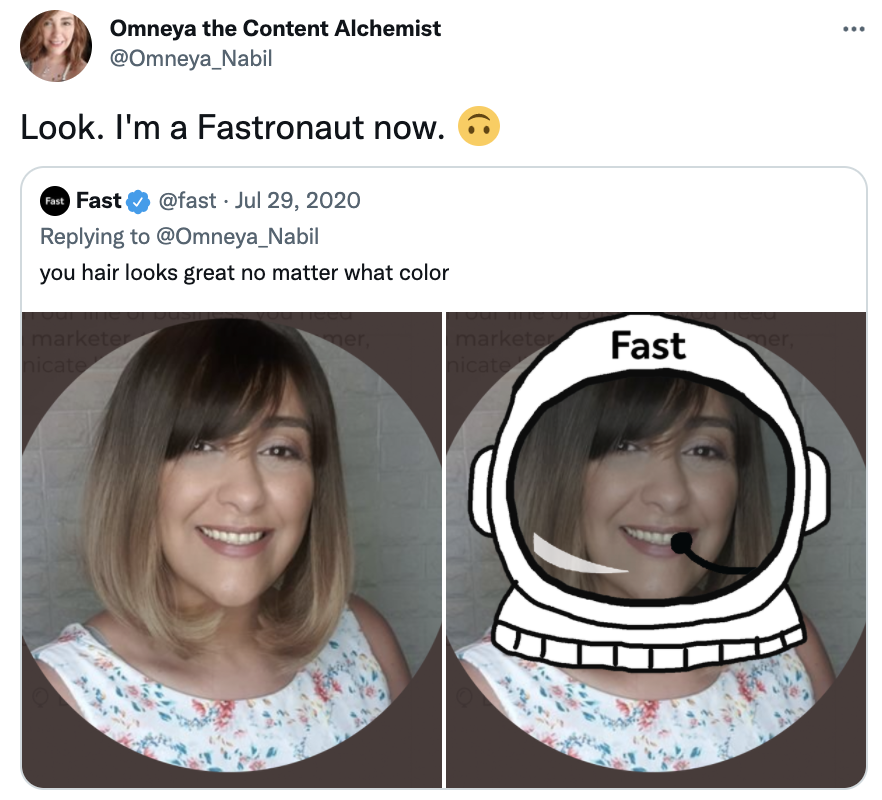 These examples show that there isn't any one-size-fits-all approach when it comes to B2B influencer marketing strategy.
And that it's OK to get creative as a B2B brand. It's not just D2C or B2C brands that can have all the fun!
Interested in getting more content like this? Sign up for my newsletter or subscribe to the Brand & Marketing YouTube channel and get fresh insight delivered to you weekly.