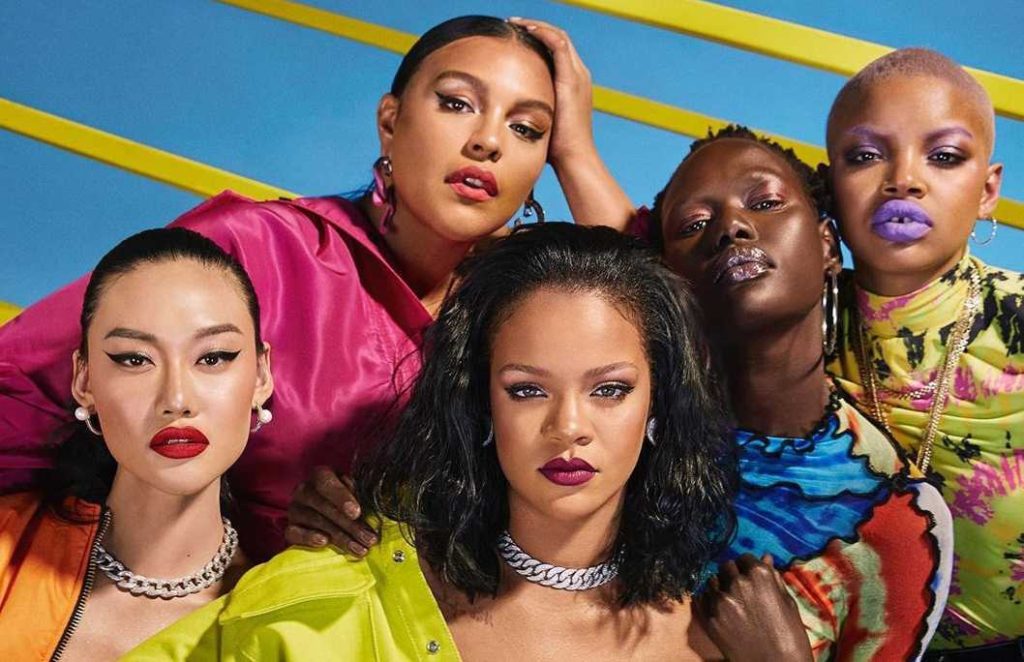 Lessons on Inclusive Marketing and Brand Authenticity from Rihanna
If there's a modern celebrity who's created a more celebrated personal brand than Rihanna, I'd love to see their stats. Because Rihanna nailed win after win in recent years when it comes to strategic business decisions that monetize her following.
Beyond music, she began creating an empire that spans a number of different industries.
Her highly engaged relationship with her fan base serves as a major driving component behind it all.
Rihanna's fans are reportedly 3.7x more likely to buy her products than other celeb's fans, and they also spend more by a factor of 5x.
Yes, Rihanna is beautiful, talented, wealthy, and famous.
But part of her incredible ability to turn popularity into profit lies with the sense of total authenticity behind everything she gets involved with.
Untapped Revenue in Beauty
In late 2017, she introduced her own cosmetic line, Fenty Beauty, in partnership with luxury brand LVMH.

(Fenty is her surname, for anyone who isn't part of the #RihannaNavy, as she's nicknamed her loyal fandom.)
Plenty of celebrities and influencers release beauty lines, but the attachment of a famous name doesn't immediately spell success.
Rihanna's line was carefully thought out, as with everything she does in association with her brand.
Most notably, it became one of the most (if not the most) inclusive cosmetic line on the market with 40 different shades of foundation. Not only were a wide range of darker skin tones widely catered to, Fenty Beauty also provided options for people with more pale skin tones who are also often overlooked.
Her prioritization of inclusivity created a celebration across the Internet. Here was a brand that left almost no one out of the party.
And beyond just flaunting her celebrity status to get sales, Rihanna created a brilliant marketing campaign that represented the inclusivity the entire brand stands for. She selected a diverse group of models and influencers to participate in ads and promotions that resulted in millions of dollars of earned media coverage and social media impressions.
The message was: You're seen. You're included. There's something for everyone with Fenty Beauty.
The reward?
Revenue generation to the tune of $72M in the first month alone (5x more than what Kylie Jenner's cosmetic line earned during this period). Stores completely depleted of all Fenty Beauty merchandise.
Sales shot up to $578M by end of 2018, and Fenty Beauty now reports a total worth of $17B.
And to ice the cake, Fenty Beauty won the distinction of appearing on Time's 25 Best Inventions of 2017 list for moving the needle on inclusivity in the beauty industry.
Opportunity in Undervalued Markets
Fenty Beauty shined a light on a forgotten segment of the market that was waiting for a brand to pay attention and fill a need. By creating a deep connection with and simply listening to her audience, Rihanna not only identified an opportunity, she captured it.
Just to give you some frame of mind as to how successfully Fenty Beauty has connected with its target audience:
Fenty Beauty customers spend $438 / year on makeup
Buyers of Kylie Jenner beauty products spend $198 / year
And Kat Von D cosmetic buyers spend $365 / year
But Rihanna's golden touch didn't stop there.
In May 2018, she launched her lingerie line, Savage X Fenty in partnership with Techstyle Fashion Group (also behind Kate Hudson's Fabletics). Her line debuted with only 40 pieces and not only crashed the brand's website, everything sold out in less than an hour.
By mid 2019 total sales neared $150M.
Again Rihanna put a huge focus on inclusivity, something most lingerie brands didn't previously pay attention to.
For one, Savage X Fenty offered 7 different shades of nude, whereas many fashion lines define "nude" as only one color that matches white skin.
And also made available were sizes from XS to 3XL, and bra cup sizes up to DDD.
Inclusive Marketing on Repeat
The marketing around both Savage X Fenty and Fenty Beauty parallel each other pretty closely.
From a marketing perspective, Savage X Fenty and Fenty Beauty receive an enviable amount of traction from social media alone.
Tons of user-generated content accompanied both brand launches. The element of FOMO along with the scarcity of product drove extra demand. Getting your hands on these sold-out items as one of the first customers was a status symbol.
Beyond that, Rihanna always features diversity first as a marketing strategy.
One of my favorite sayings is, "The best marketing doesn't feel like marketing." And that's true for Rihanna. She can effectively associate diversity with her brands because it doesn't feel like a marketing gimmick.
Rihanna comes across as an authentic champion of diversity and inclusion naturally. As a woman of color and an immigrant to the U.S., but also just in the content she creates, causes she backs, and products she promotes.
Take into account the faces selected to represent Savage X Fenty, including at the brand's fashion event streamed on Amazon Prime. Many noted the inclusion of models who wouldn't ever have been picked for a Victoria's Secret Fashion Show. Or any traditional fashion show at that.
Plus-size models, models with gaps in their teeth, people of all colors and sizes.
Rihanna commented, "When I imagine something, I imagine everyone I know and love being a part of it. I want to make stuff I can see on the people I know, and they come in all different shapes, sizes, races, and religions."
"I didn't think it would be such a talking point after the fact; the only thing I could think about was including everyone."
Inclusion Pays Off
What's funny is, Savage X Fenty is actually pricier than many other lingerie options.
The pieces cost $43 on average, while Victoria's Secret pieces cost an average of $31.
The success of Rihanna's marketing messaging around diversity and inclusion is having a dramatic impact on the beauty and fashion industries.
At one point Victoria's Secret was the ruler of the lingerie scene, nearly a third of market share. I'm sure you remember the trademark marketing campaigns starring svelte supermodels boasting a single body type. The one only seen on runways and far removed from the average lingerie buyer.
But times have changed. The body positive movement took social media by storm, and now most consumers are looking for brands that are relatable and inclusive in scope.
Studies indicate the number of size-inclusive lingerie lines featured in US/UK retailers went up by 34%.
And the Victoria's Secret brand has struggled to adapt. Although it still claims the largest piece of the lingerie market (24%), that number continues to be chipped away by competitors like Savage x Fenty that are representative of the modern buyer.
Victoria's Secret sales fell 7.6% in Q3 2019 and were followed by announcement of plans to close 250 stores in 2020. Overall the stock price continues to drop, decreasing 40% from 2018 – 2019 alone.
The cosmetics and beauty industry also evolved as a result of witnessing the incredible response to Fenty Beauty's inclusive marketing and product positioning.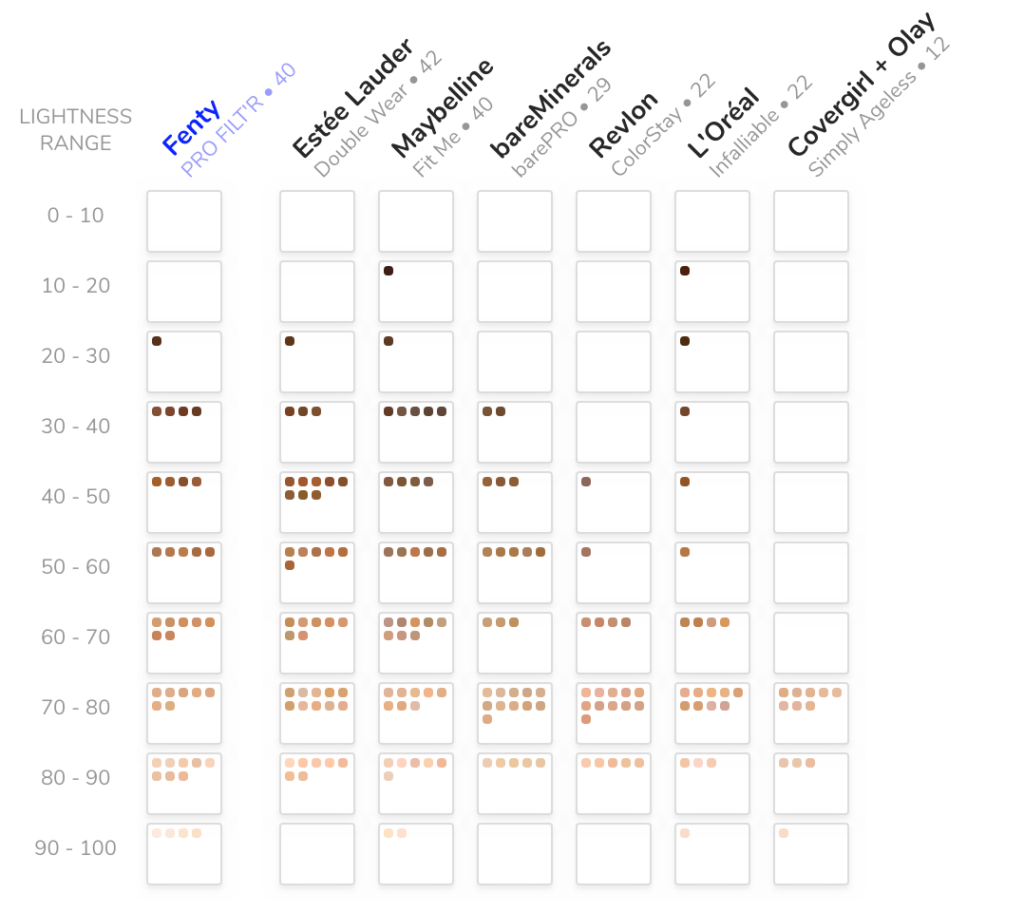 CoverGirl, Maybelline, Dior and MAC all increased the number of shades to accommodate a broader range of skin shades and undertones.
So was it building brands based on authenticity and inclusion of even the most ignored and abandoned market segments that catapulted Rihanna to the status of world's richest female musician?
Not necessarily.
But it certainly didn't hurt.
Want more marketing case studies? Follow me on LinkedIn to see my daily content. Or sign up for my newsletter and get marketing insight delivered to you weekly.