How B2C and B2B Brands Created Coronavirus Marketing Strategy for Recovery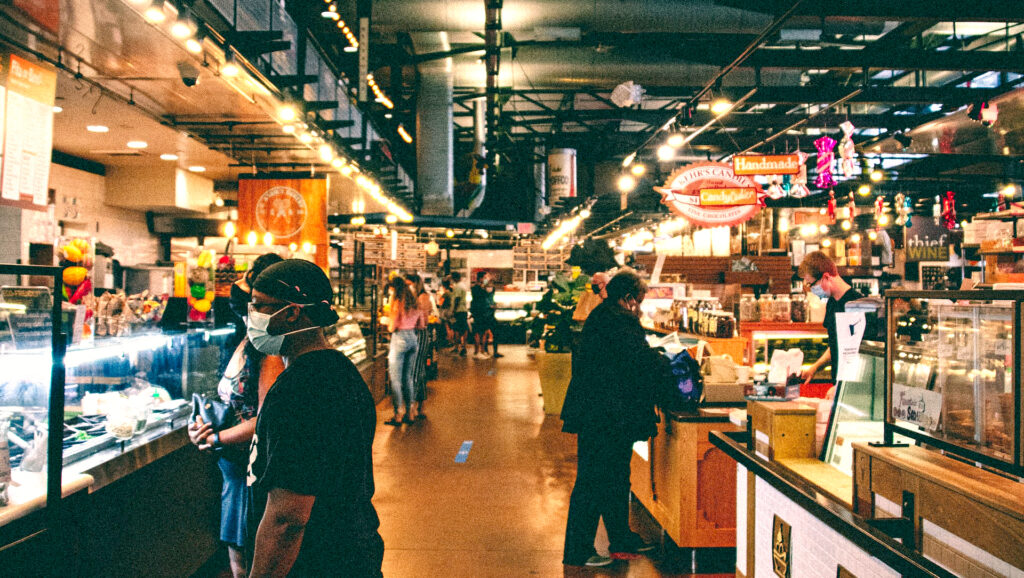 This was originally released as a newsletter. Subscribe here.
The 2020 pandemic resulted in the need for businesses to quickly assess and realign their customer experience (CX) and marketing strategy to focus on brand recovery and crisis management.
It felt like a year of constant change and evolution.
For instance, buyer behavior shifted dramatically to align with the new times. We focused more of our spending on the things that matched our new needs. Online grocery shopping, cleaning supplies, comfort food, in-home entertainment. These categories all flourished on the B2C side:
Proactive health-minded buying (purchasing preventative health and wellness products).
Reactive health management (purchasing protective gear like masks and hand sanitizers).
Pantry preparation (stockpiling groceries and household essentials).
Quarantine prep (experiencing shortages in stores, making fewer store visits).
Restricted living (making much fewer shopping trips, limited online fulfillment).
A new normal (return to daily routines, permanently altered supply chain).
On the B2B side, investments in technology soared, especially tools that better enabled remote work, selling and customer relationship management.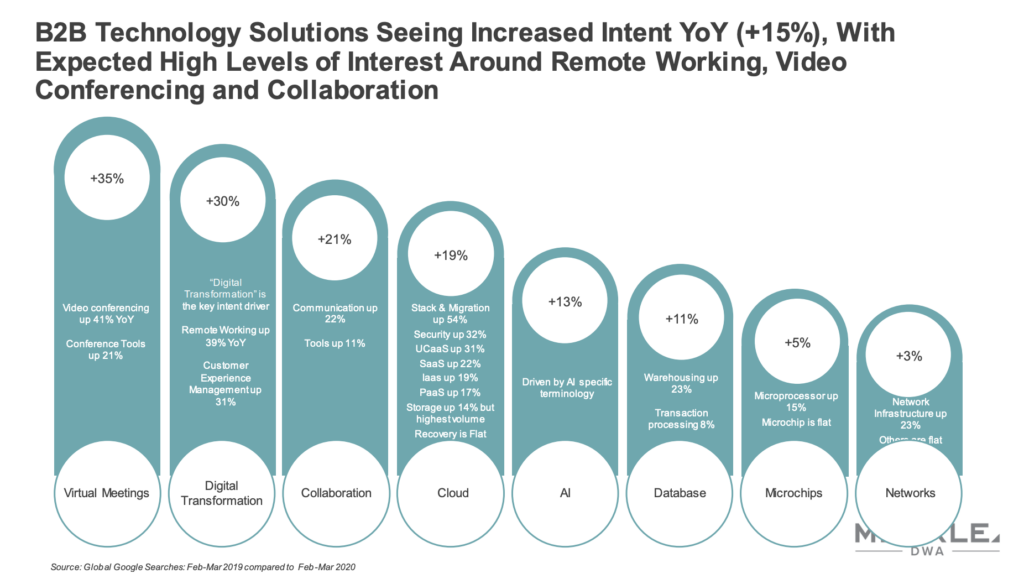 And across the board, many went into safekeeping mode, much less willing to spend on things that didn't feel like a good fit within the new pandemic lifestyle.
(As evidence of this, Black Friday – Cyber Monday 2020 usually represents the pinnacle of annual spending. But according to the National Retail Federation, shoppers spent an average of about $312, down 14% from what we spent in 2019 ($362).)
But despite the challenges, new opportunities also presented.
Many realized the significance of investing in digital transformation.
And in creating more resilient strategies and practices to allow for quick adjustments regardless of uncertainty or crisis.
This list comprises some of the essentials of resilient CX and marketing strategy for surviving the pandemic and what comes next. And I offer examples of brands that have risen to the occasion this year for some stellar sales and marketing wins.
Make it easier to buy from you online.
The end of 2020 was forecasted to be the largest holiday shopping season ever. Projections predicted a year-over-year (YOY) increase of nearly 40% in ecommerce sales alone.
And in the end, we Americans spent a record-setting $10.8B online only on Cyber Monday 2020, a 15% increase from 2019. That made Cyber Monday 2020 the biggest online shopping day in U.S. history (per Adobe Analytics).
But in-store shopping during Thanksgiving 2020 fell 55% compared with the previous year and also fell 37% comparatively between Black Friday 2020 and the previous year.
Which means you possibly need to shift your priorities. And your customer experience strategy needs to ensure buyers aren't leaving money in the virtual cart.
By that I mean both B2C and B2B businesses should be reviewing their website to make sure it's easy and convenient for buyers to navigate and make purchases.
Too often B2B websites in particular are overly complex and make it difficult for buyers to get a fast response. Sales development and revenue teams don't provide immediate response to inquiries that come in. Or their responses are generic and not specific to what the person is searching.
Look at chatbot conversational marketing company Drift.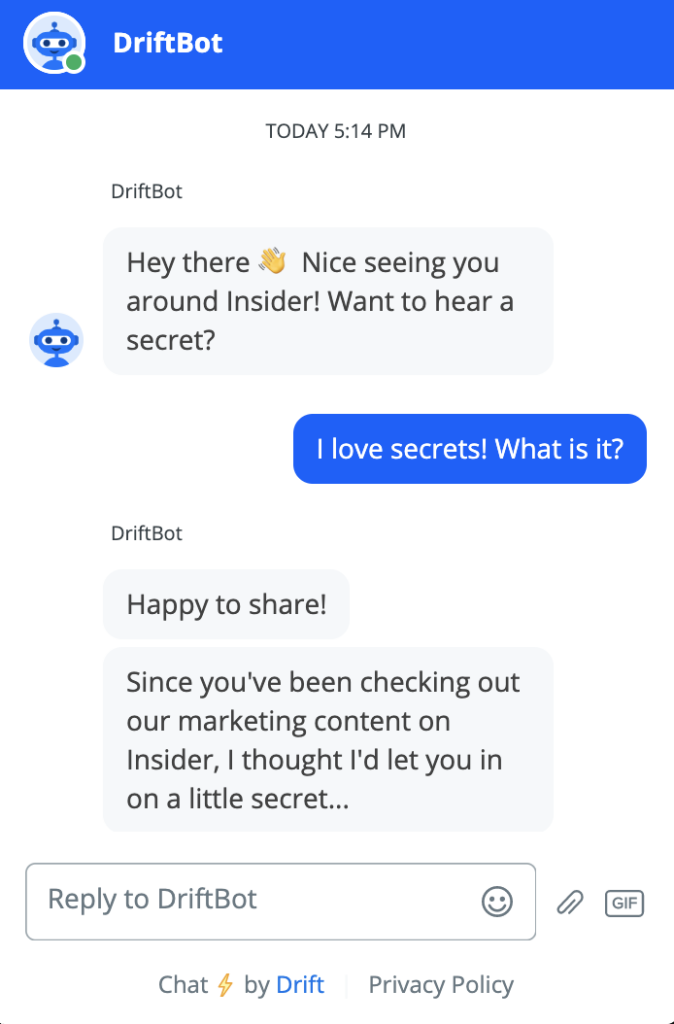 Last week I landed on the B2B company's website. And the Drift chatbot window popped up immediately to ask how to help. But I wound up closing the website window before I'd finished my interaction with the chatbot after getting distracted by something else.
About 5 minutes later I got a direct email from a real human who worked at Drift asking me if I needed any help since I'd logged off abruptly.
The flow of that interaction felt exceptionally well done. I didn't feel any sort of pressure. I said "no thanks," and that was it. But the level of attention in this example provides a great model for the rest of us, whether you're B2B or B2C.
Is there an app for that?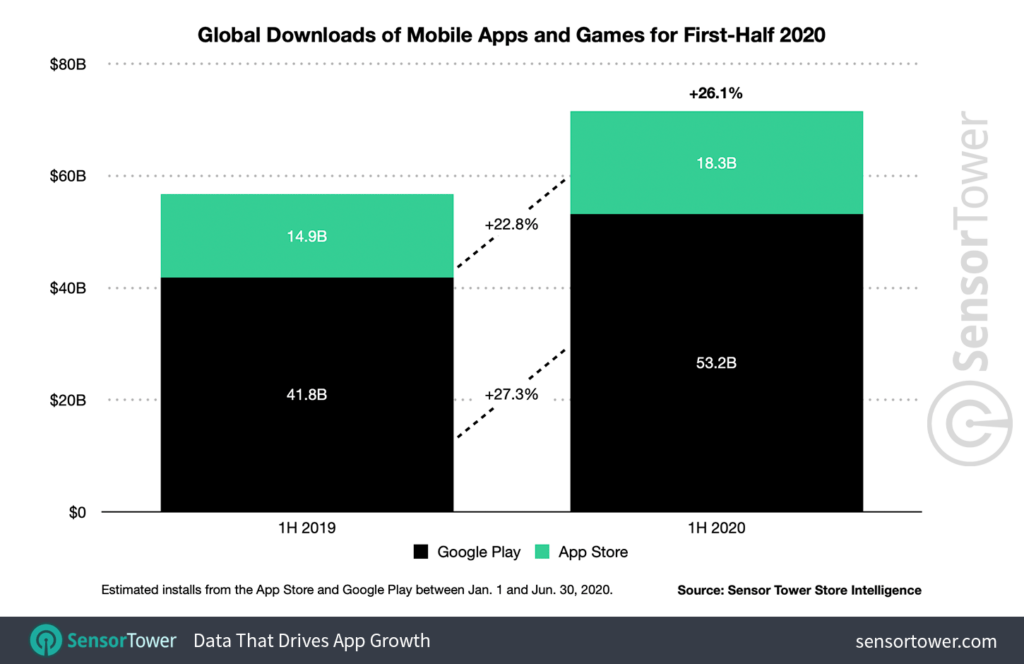 There were clear winners that emerged from the dust of the 2020 economic havoc. And many of them shared a common theme.
Consumers expressed strong preferences for brands offering digital and mobile access.
For instance, Amazon experienced jaw-dropping growth this year. The brand shared the 2020 holiday season has been the most profitable of any in its 26 years of existence.
Mobile users spent 23.4% more on apps for both Android and Apple devices in the first half of 2020 (over $50B). And they installed 26.1% more apps for the first time ever than in 2019.
Even if you aren't in a position to consider developing a brand app, the underlying benefits of an app should be a focal point.
Convenience.
Going to the customer rather than expecting them to come to you.
Businesses perform better these days that are able to leverage digital channels to (1) connect with customers and (2) offer convenient, easy-to-use ways to engage, communicate and purchase. This won't change after the pandemic ends.
This is especially true for industries like retail, food & beverage, hospitality, but that doesn't count out any other industry or B2B companies.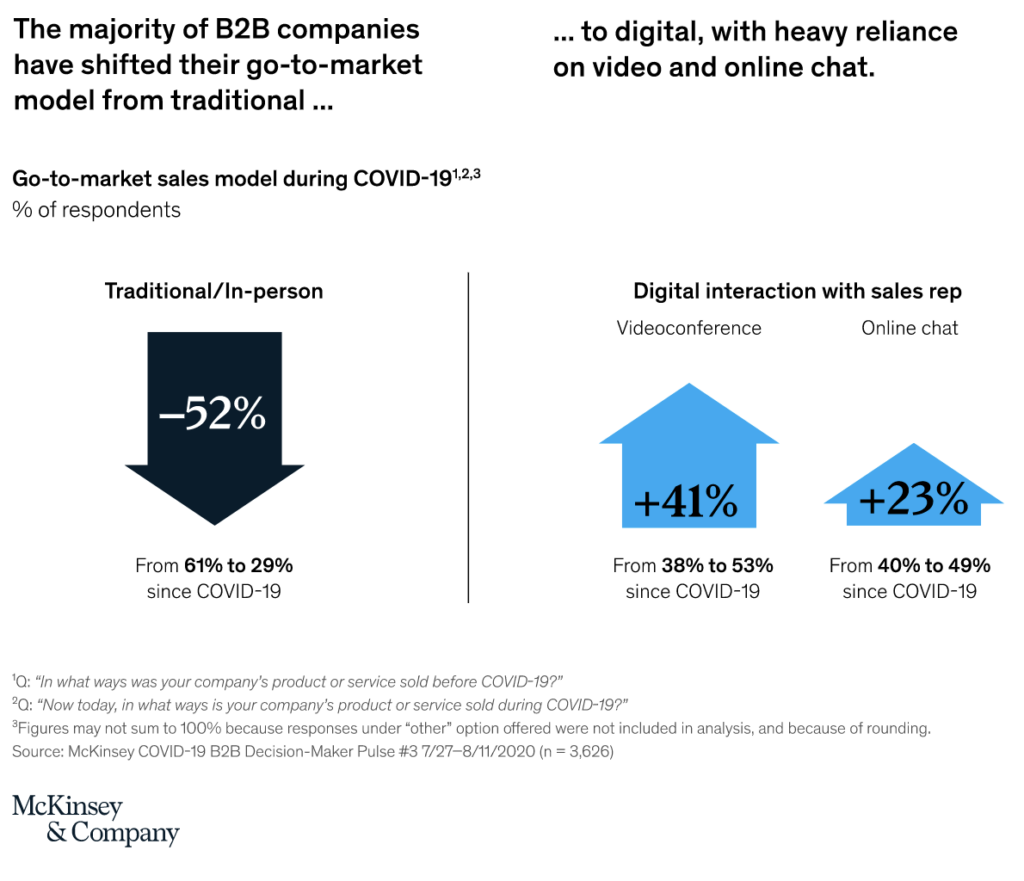 Buyers want options. Whether it's an app, your website, social media, a hotline to call, an email inbox.
They want to be able to reach you when they're ready in the way that they want. And sometimes you've got to position yourself to be accessible even when they're not ready. So they see that you're available and committed to serving them and their needs, rather than being pushy about serving your own interests.
In fact, B2B businesses that have exceptional or superior digital customer experiences double their chances of being chosen as a primary supplier.
Create a responsive customer experience model.
We can't definitively make any conclusions about how 2020 will change business in the long run, but buyer behavior already shows signs of a shift.
There are emerging patterns based on gender, geography and age.
For instance, Millennial and Gen-Z buyers (96%) express concern about the economy and report they have adjusted their purchasing patterns as a result by "cutting back on spending, stocking up on items, and spending less on experiences."
And across the board, buyers are heading online to do business. Online spending increased between 10% and 30% depending on the B2C industry.
Meanwhile, B2B buying models were impacted, too.
About 75% of B2B buyers and sellers said they "prefer digital self-serve and remote human engagement over face-to-face interactions."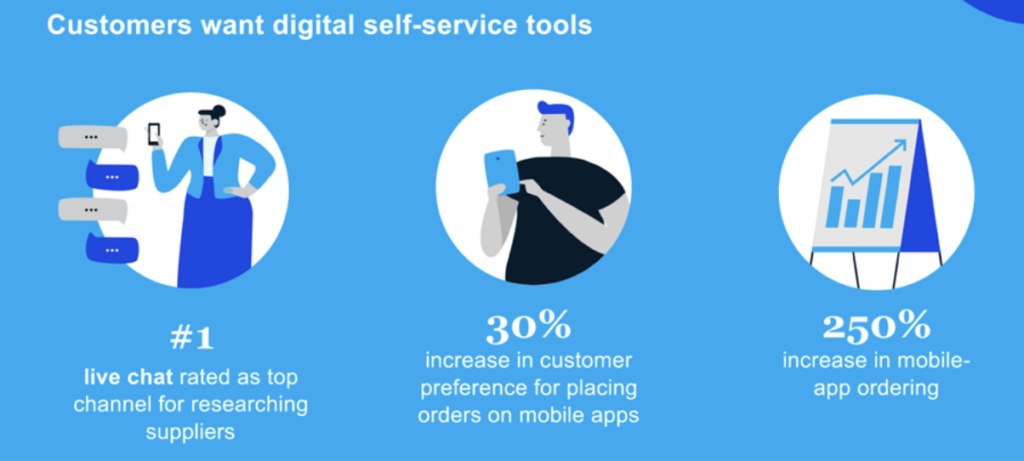 With brick-and-mortar businesses, 2020 was a crucial time to quickly implement convenient, no-contact models of customer interactions. Including curbside, delivery, drive-thru, mobile or digital communication, and online ordering.
In a recent interview with Gary V, Shark Tank entrepreneur Barbara Corcoran discussed how one business she works with completely turned things around in response to COVID-19.
Cousins Maine Lobster, a large franchise of lobster trucks, modified his practices quickly. His revised strategy expanded to leverage contactless pickup, broadcasting the location of his food trucks, and moved his trucks to less heavily trafficked areas away from his usual spots.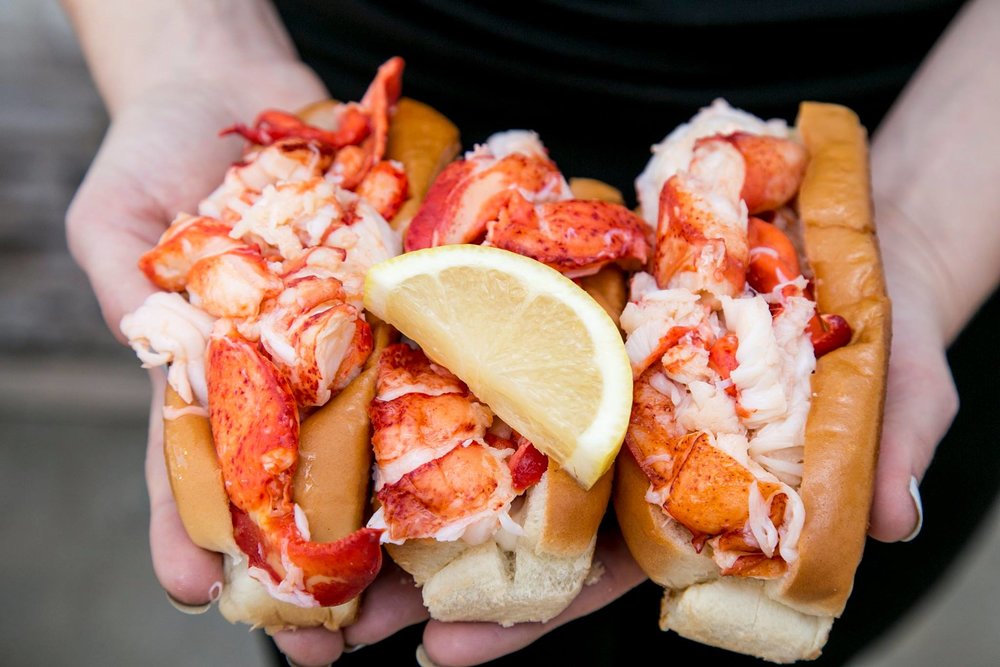 Sales increased within a month and a half. They understood they had to go to where the customer was comfortable, not expect the customer to come to them.
Barbara says safety is now top of mind for everyone. So some things, like wearing face masks or looking for convenient methods to engage with businesses, are going to become fixed parts of our culture.
Get social with your customer.
Speaking of Shark Tank investor Barbara Corcoran, she said she won't invest in a company if the pitching entrepreneur isn't a "social media genius."
It's where your customers are. It's where they want to connect.
Among Gen-Z and Millennials, 62% are spending more time on social media than before 2020. But guess what? Older generations (42%) are, too.
If you haven't invested in bringing a social media expert on board to support your marketing efforts, you'll want to consider it asap. Because it's not as simple as opening an account to say that you have one. Effective social media marketing requires strategic planning and nuanced content creation.
It's also a matter of being in the right place at the right time.
Crocs, a footwear brand introduced in 2002, made the 2010 TIME Magazine list of 50 Worst Inventions. AskMen called their products "some of the ugliest shoes ever invented."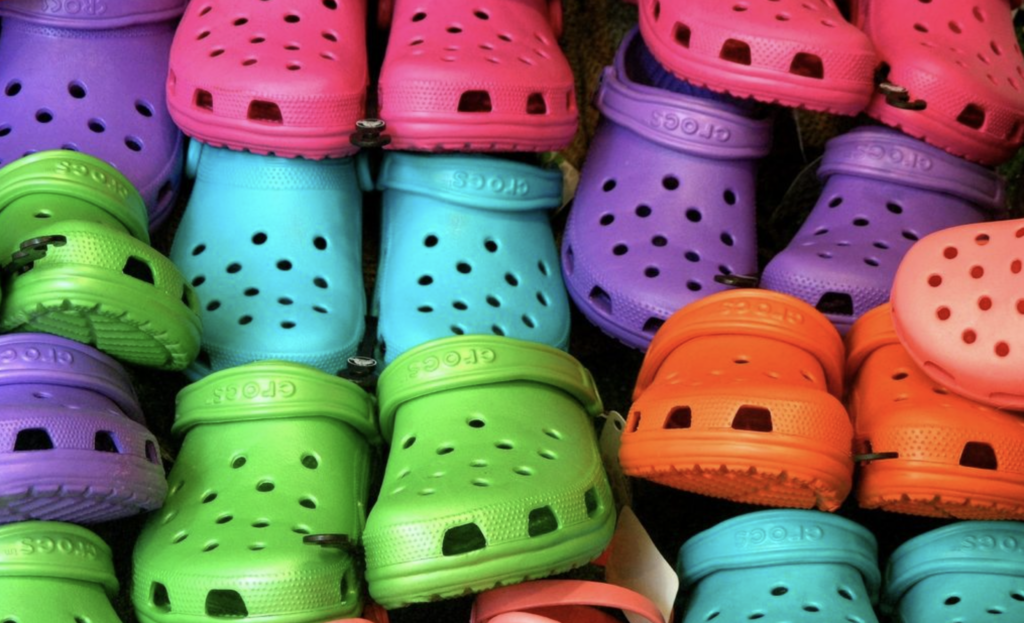 But they've enjoyed a resurgence in popularity since the start of the pandemic thanks in part to some smart positioning with young social media users.
They not only partnered with celebs who appeal to young consumers like music artists Justin Bieber and Bad Bunny, they also encouraged informal content from social media influencers and general users.
This strategy allowed to create a more authentic sense of community where it didn't feel like the brand was trying to puppeteer its buyers. But rather, the brand played a supporting role in helping social media users and influencers tell their own organic stories.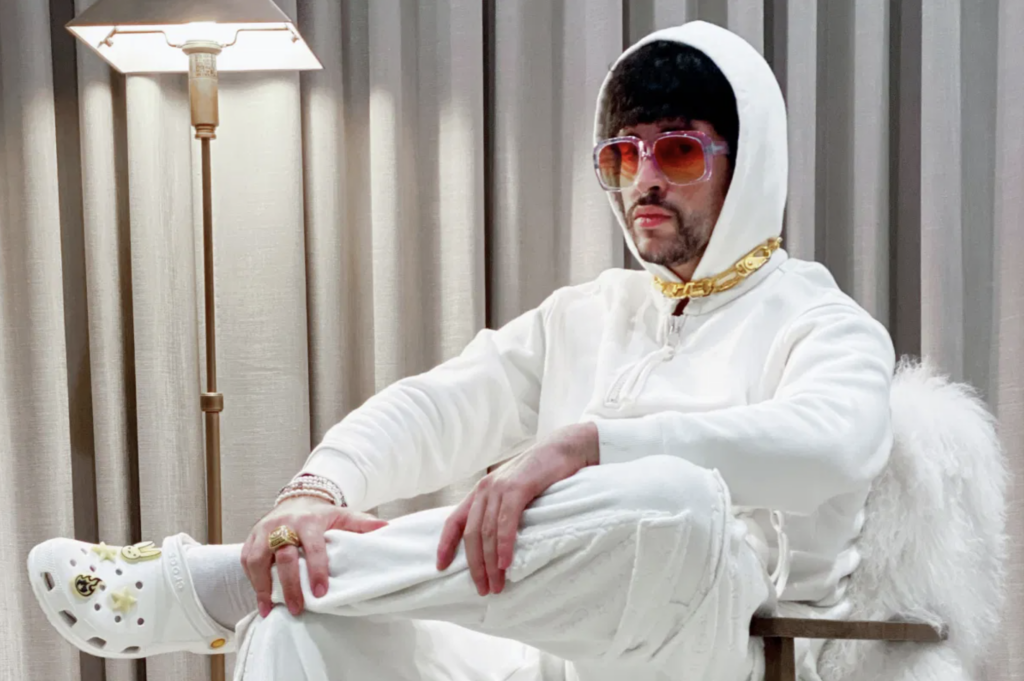 "While other brands develop these [influencer] partnerships to create aspiration, Crocs seems to have developed them to grant permission — permission for people to go ahead and wear the shoe they want. They're not saying, 'Wear these shoes, and you'll be like Bad Bunny,' and instead [are] saying, 'If you were worried about wearing these shoes, don't worry because Bad Bunny wears them,'" said Amy Rogoff Dunn, a consulting agency partner.
In the end it proved incredibly powerful.
Crocs revenue increased all year (up 15.7% over 2019 by October), with a 35% increase in digital sales.
Be willing to try new things and to have fun.
This might seem small, but it's a big point, especially for B2B businesses. It's OK to be lighthearted, creative and experimental with your brand and marketing strategy. Even following a crisis, like a global pandemic.
Many brands were hesitant to deviate from a very conservative marketing playbook early on in the pandemic.
But according to a new report, about 1 in 3 consumers started "using a new brand as a result of the innovative or compassionate way [they] responded to the pandemic."
KFC is the world's second-largest restaurant chain by sales after McDonald's, located in 150 countries. But a number of factors started to drag sales and marketing down in modern times, including competitors like Chick-fil-A, which surpassed KFC as the top chicken-focused fast-food restaurant chain in the U.S. Forbes magazine called the brand "aged and uninviting," and that the chain "hasn't introduced an exciting new food item in ages."
Channeling the energy of original founder Colonel Harlan Sanders (who famously dressed up to exaggerate his persona as a Southern Style gentleman to help create a memorable brand), KFC revamped its marketing efforts.
They've launched a number of fun, wild, bizarre campaigns in recent years. And in 2020 their antics turned heads more than once.
They teamed up with Crocs to release the co-branded KFC version of the shoes (which sold out in presales).
And in December 2020 they generated viral buzz on social media with previews for a new Lifetime TV romantic mini-movie starring Mario Lopez as a sexified Colonel Sanders.
KFC sales fell in Q1 2020, but began to rebound after that, especially after a push to focus on contactless service and delivery options (25% of orders are expected to come in via digital sales as a result of the 2020 brand shift).
"We are deliberate about finding new places, and new groups of people, new audiences that we have a right to win with," said KFC U.S. director of brand communications George Felix.
"We try to be self-aware, and that's part of the tone of voice we've established. At the end of the day, we are advertising, and most advertising is not something people look forward to. We'll be over the top but we'll also be self-effacing with humor and I think people appreciate that."
Meghan Farren, CMO, KFC UK and Ireland, said the brand is trying to focus on building an "emotional connection" with consumers while maintaining the traditional brand identity. "That's a good reference point, where people are still familiar with your product and then you add something new. And that's how you innovate – it's 80% familiar, 20% new."
"Convenience and value are at the heart of what we do. I don't see that changing. But we obviously want to stay relevant."
The question you need to ask yourself is, what are you willing to do to ensure your own brand stays relevant and survives post-COVID-19?
Want to discuss more about brand and marketing strategy? Connect with me on Twitter or sign up for my newsletter and get marketing insight delivered to you weekly.