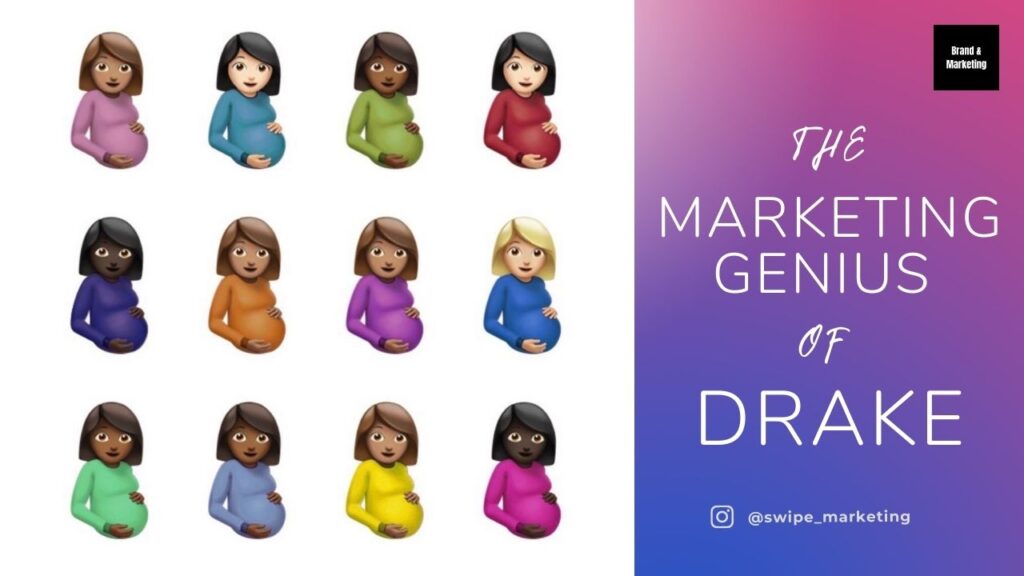 The Marketing Genius of Rapper Drake
Drake's new album, Certified Lover Boy (or CLB as it's been coined on social media), became the most streamed album in a single day on both Apple Music and Spotify on Sept. 4, 2021.
He broke his own record, as his previous album, Scorpion, held the crown before this.
With Drake, it's not just his ability to continue to reach the peak with every new release of his work.
(Although that is certainly very impressive. In March 2021 he became the first artist to debut 3 tracks into all 3 of the top spots on the Billboard charts at one time. In September 2021 he broke the record for most top 10 features on the music charts.)
You could be a fan. Or have no interest in his work.
What you need to recognize is his extraordinary ability to adapt his marketing strategy to the fast-paced speed of digital culture. He's kept up for almost two decades to be one of the leading trend-setters of the Internet.
And he always achieves virality.
Here are a few lessons you can learn from Drake marketing tactics that you can add to your own brand's digital strategy.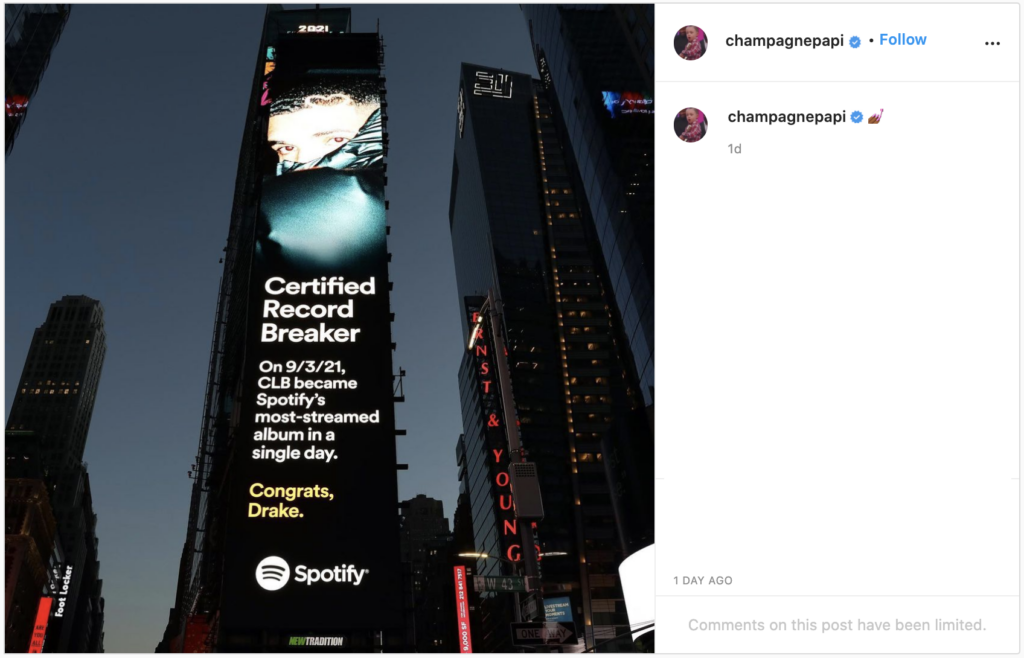 Snackable Content
Drake's work famously appears in countless numbers of social media profiles, videos, quote graphics, etc.
Listening to the first few tracks on his album, I thought to myself, "Wow, I could extract any number of lines here, and they'd stand on their own as a clever quip."
You don't need to listen to his full album or even pay close attention as you're listening. He doesn't make it mandatory to gain value.
You can consume his work in pieces, and that's essential in today's environment.
Content needs to be skimmable, easily broken down into bite-sized pieces that can be shared within the character limits of posts across social media.
That is part of the key of virality.
And it's something that brands are increasingly trying to figure out as they realize making content that encourages sharing provides longevity like nothing else.
Meme Culture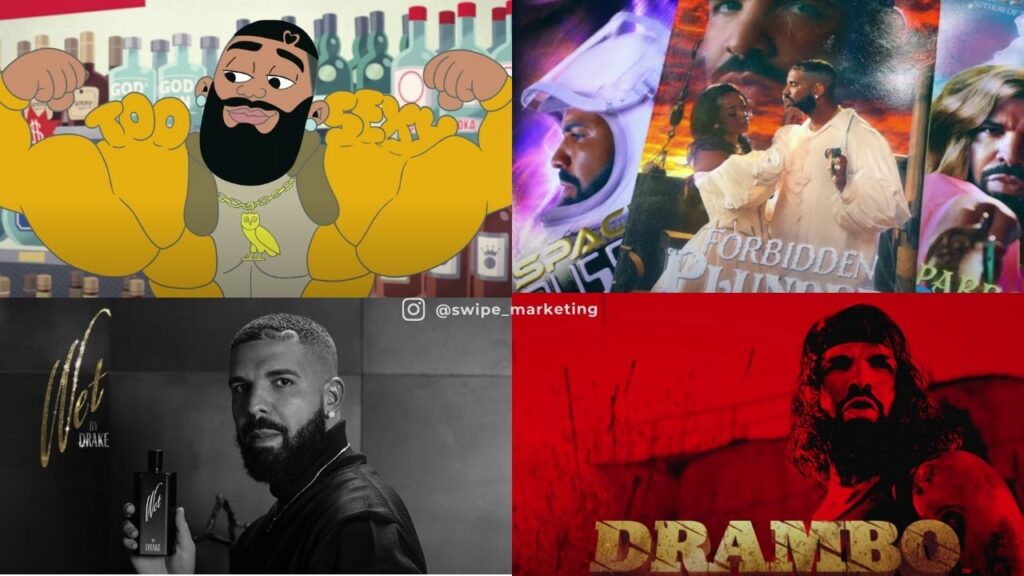 Drake has long had the uncanny ability to read the room. And by that I mean he not only recognizes cultural moments, he also knows how to join them in a way that feels authentic.
For example, Drake engineers his work to be easily meme-ified.
In doing so, he provides the Internet with the building blocks needed for virality.
Look at the cover art for his new album.
A series of emoji. It's like a clean slate designed for the Internet meme-ologists to salivate over.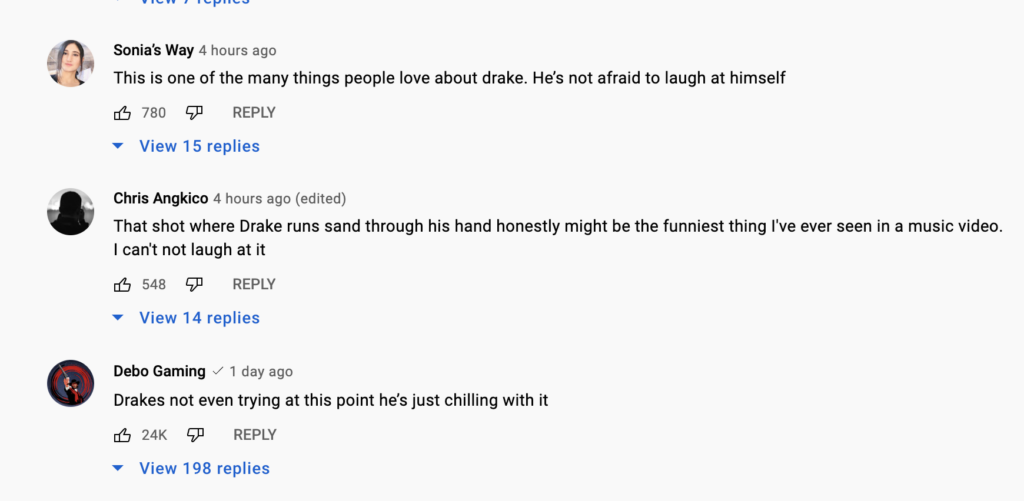 And it's representative of a key part of the Drake marketing strategy. He learns the language of the broader Internet communities he wants to penetrate, and then writes his work in a voice that completely matches and expands upon it.
Years ago he essentially laid claim to the acronym YOLO, which catapulted into all reaches of our society to the point where grandmothers were crowing it into deprecation.
(For the record, he didn't invent the usage of the term, although its origin is debated. But by introducing it to the top of our notice through the popularity of his music and clever lyrics, he definitely can be identified as the reason it became part of so many of our consciousness.)
He isn't afraid to laugh at himself or set others up to be able to expand the joke.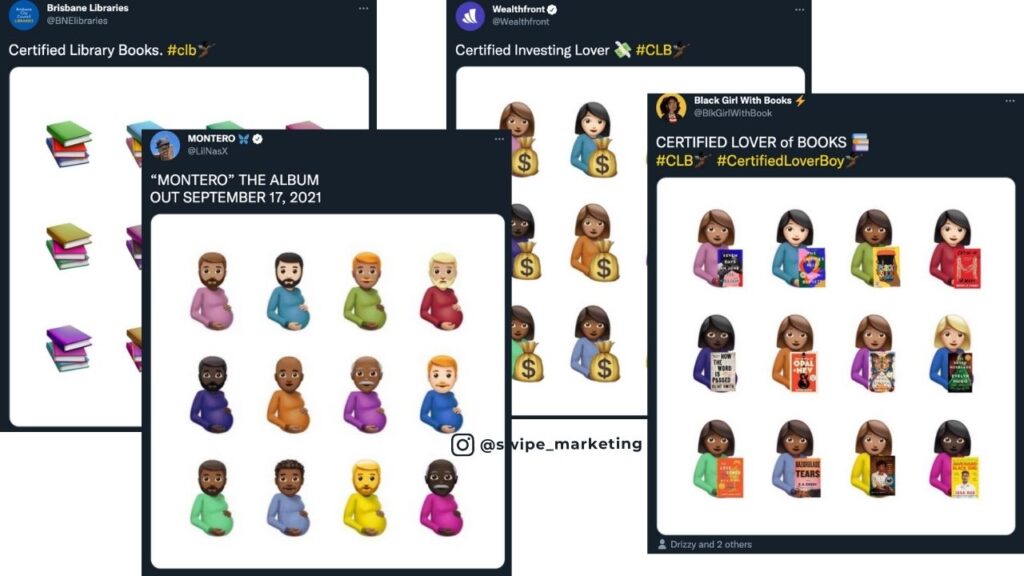 Strategic Partnerships
The reach of two is better than one.
Drake consistently makes use of numerous connections to capture attention, increase his reach and create better content.
Yes, every artist does this to an extent. Album features and collaborations are nothing new.
And that's why Drake's approach is notable.
He doesn't just partner with leading names in music. He also partners with up-and-coming artists who are hyper-relevant with young people or with particular regions.
For example, many credit his features of international artists like Nigerian singer Wizkid with providing Afrobeats a spotlight in the U.S. and beyond exclusive musical circles.
He continues this pattern of providing a spotlight for fast-rising multicultural artists by featuring Afrobeats musician, Temilade Openiyi (known as Tems), on the Certified Lover Boy album.
He also partners with smart influencers and content creators who can translate his work for new mediums. (He's known for becoming a top trend by having online personalities create dance challenges to his music.)
Modern Takes on Traditional Means
Drake knows not to limit himself to only digital channels. Beyond the actual content, the memes, the social media posts, the collaborations with influencers and artists, the music videos, and other digital activations. He also still makes use of more traditional marketing channels. The ones I've seen many roll their eyes at. Billboards, for instance.
Drake got significant attention for his latest album by posting teasers on billboards in key cities highlighting that prominent local figures would be on his album. The move showcases Drake's understanding of focusing regionally to build traction.
The artists featured on his album enjoy tremendous support in specific localities, and Drake looks to harness that support to fuel buzz. Some of his top "snackable" lyrics have also been highlighted on billboards, as well as his album achievements.
PR Is King
Every brand wants more media coverage. But not every brand knows how to gain media interest.
New music comes out every day, and by top artists. People's attention span quickly pivots because of the nature of the modern music industry.
Streaming services, TikTok trends, and general digital consumption all mean a quickly shifting landscape when it comes to what's top of mind for consumers.
Drake well knows how to remain relevant, and part of this is by staying in the headlines.
His awards and achievements certainly warrant coverage. But Drake also captures attention by stepping outside the box and by association with leading trends.
Take for instance his extravagant charitable acts.
In 2018, as part of the filming of the music video for his song "God's Plan," he donated almost $1M to various members of the community. That included a $50,000 scholarship to University of Miami student Destiny James. In 2021 Destiny shared news of graduating with her master's degree, to which Drake added a comment of congratulations.
It's a mission-driven brand strategy that lends itself to years of returns. And acts like these not only cement Drake's position as a community leader, but also add purpose to his brand that goes beyond just "product."
This section wouldn't be complete if I didn't also mention Drake's propensity for "beef."
His ongoing feud with fellow rapper Kanye West has brought plenty of additional attention to his album release. It also keeps people talking about him in between music releases, but strategically, Drake seems to know how to fan the flames to coincide with the schedule of his work.
Conflict drives substantial engagement and attention online these days, and Drake is a master at creating conflict-centric storylines.
Interested in getting more content like this? Sign up for my newsletter or subscribe to the Brand & Marketing YouTube channel and get fresh insight delivered to you weekly.