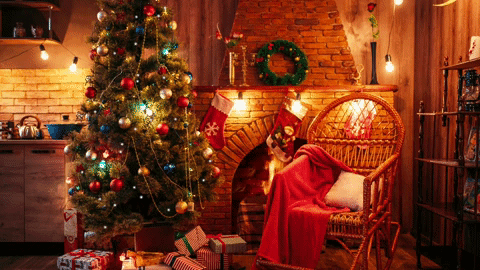 Holiday Marketing Campaigns: 40+ Inspiring Ad Examples (Updated in 2022!)
This was originally released as a newsletter. Subscribe here.
Or click here to scroll directly to the list of holiday ad examples.
Every year excitement builds around the holiday season.
To be frank, this is largely due to the success of holiday marketing and advertising campaigns in creating visions of sugar-plums dancing in our heads and playing on our need for a Bing Crosby White Christmas.
I'll spare you a complete analysis full of fancy consumer behavioral science and marketing psychology terms. But most importantly, it's a critical time of year for business sales in many industries.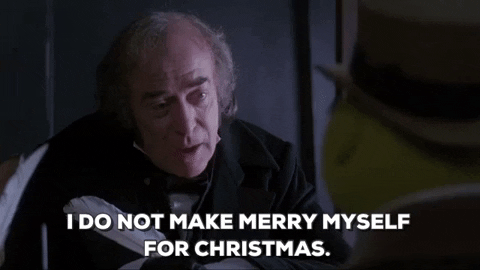 Holiday Marketing and Sales Matter More
The end of year marks when most brands anticipate spending to reach new heights.
Retail sales during the 2021 holiday season grew 14.1% year-over-year (online sales grew 11.3%), with the most growth being seen for clothing (33.1%) and sporting goods (20.9%). Even more significant growth is expected in the 2022 holiday and Christmas shopping season
Almost $1 out of every $4 spent during the 2021 holiday shopping season was spent on ecommerce purchases
Nearly 1 out of 3 retailers started holiday marketing and advertising in July through August 2021, while another 27% launched holiday campaigns in October
In 2020, Twitter reported 59% more impressions for holiday-themed tweets than 2019
US shoppers are projected to spend $190B+ online during the holiday season, 35.8% more than in 2019
The Black Friday-Cyber Monday (BFCM) weekend, from Thanksgiving Day to Cyber Monday, will account for about 20% of total holiday shopping, 39.6% more spend than last year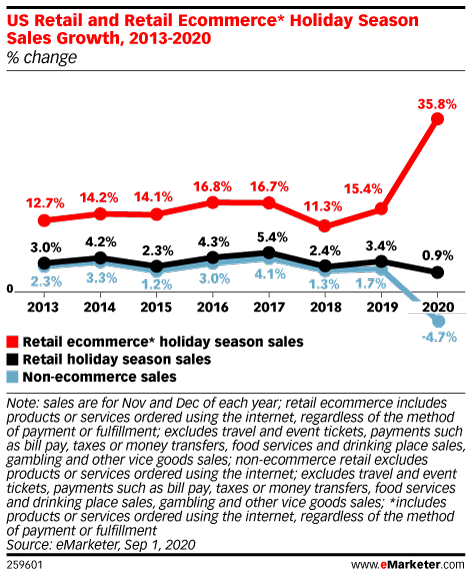 The Q4 stakes generally stand pretty high for businesses, especially those in retail. Because the holiday season offers an opportunity to offset losses incurred throughout the rest of the year. The pandemic, starting in 2020 and with each subsequent resurgence), hits many industries hard. Black Friday-Cyber Monday poses a make-or-break opportunity for economic recovery and resilience. For other brands (like Crocs, Amazon, etc), it's just an opportunity to drive already record-high revenues through the roof.
Of course, that means brands need to nail their holiday marketing.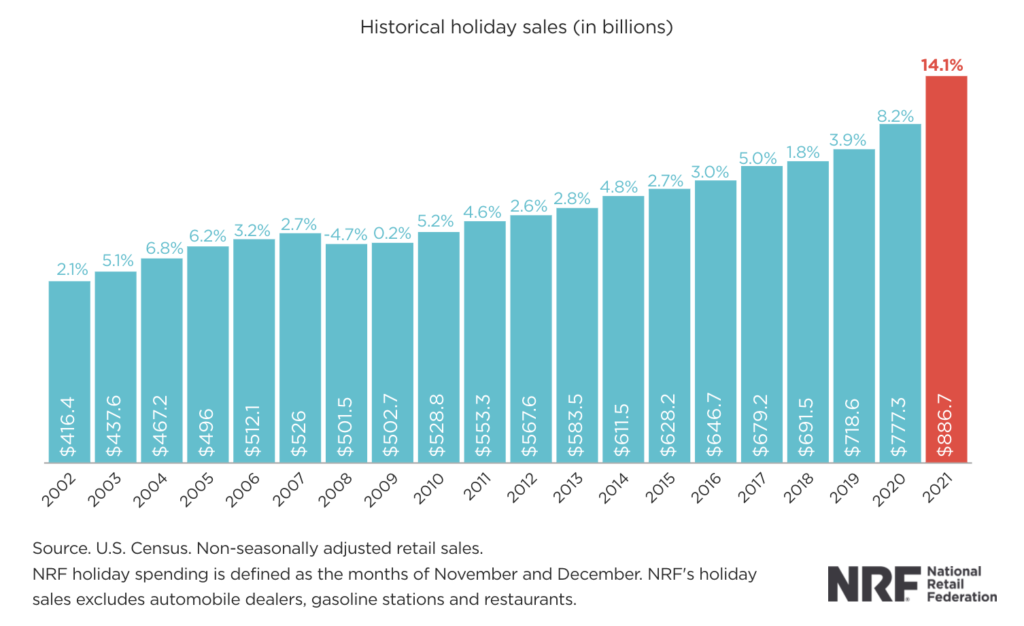 Seasonal Marketing Themes
Every brand aims to avoid coming across as insensitive or money-grubbing, but rather leans into the general sentiment of generosity and cheer associated with the season.
The holidays present the perfect chance for brands to connect and build customer relationships. And also to turn goodwill into gold coins.
Most brands remained remained fairly tame in their ads and campaigns in 2020 as a result of pared back marketing budgets and the need to be conscious of general loss experienced by many consumers. This holiday marketing trend continued into 2021. But 2022 could mark a rebound from the more reserved marketing strategies we saw in recent years.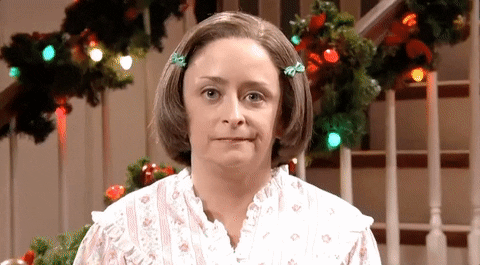 I thought it would be fun to look at a few examples of holiday brand marketing campaigns, both successful and not.
Some (fairly predictable) common themes seem to emerge among holiday marketing campaigns across the board.
Most recently these have been driven by our response to the era we all live in:
Nods to our feelings of stress and isolation.
Our desire for emotional connectedness.
Acknowledgement of "unprecedented times."
In 2021, we started to see a return to some normalcy, with fewer face masks making an appearance in holiday advertising. And in 2022, face masks no longer maintain such a common presence in most communities.
Another notable trend, holiday ad campaigns appear to be running a bit earlier than usual. In 2021 that resulted from concerns over shipping and supply chain disasters.
Holiday Campaign Examples
Let's jump right into the examples.
Here's a rundown of how various brands rose to the challenge and served up holiday goodness.
United Way: The Doorbell

(2022)

United Way leans into the theme of "goodwill toward all [humankind]" with this 2022 ad.

Shot from a creative point of view (a doorbell camera), we in the audience watch a very realistic portrayal of a family's holiday progressing. They receive packages in the mail, lug their Christmas tree into the house, and invite guests over for a get together.

But in the background we also spot something out of place.

Check it out for yourself. Definitely pulls at the right heartstrings and makes a point without being overbearing.
LEGO: Rebuild the world!

(2021)

In 2021, LEGO stayed true to brand with an imaginative holiday ad that appeals to both kids and the young at heart.

They've got Stormtroopers, dragons, castles, fire trucks, luxury sports cars, rocket ships, bright colors! Oh, and there's an appearance by LEGO Santa at the end, of course.

All with a revamped version of the song Build Me Up, Buttercup playing in the background.

Basically they've got every element possible to get your imagination revved up.
John Lewis & Partners: Unexpected Guest

(2021)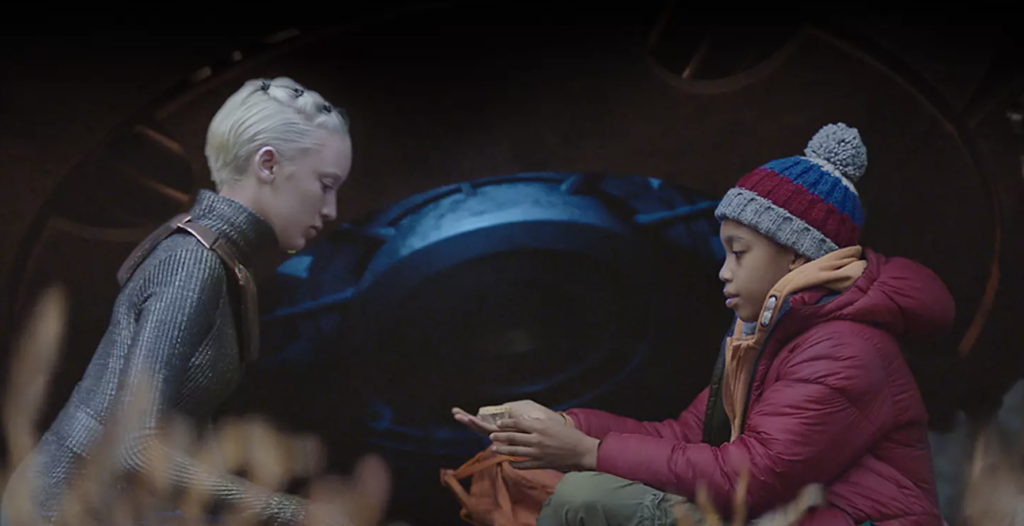 The release of the John Lewis Christmas advert is an event in itself each year.
As someone who isn't involved in the ad world, maybe I should feel some sense of shame to admit I had no idea about this until I started tracking holiday ads.
In any case, the John Lewis & Partners 2021 holiday ad campaign is out of this world. (Forgive me, I know that pun was awful, but I had to do it.)
It sees the magic of the holidays shared with a little stranded alien and renewed for a hospitable young Earthling.
Even cooler, they created an entire experience around the campaign. Complete with a behind-the-scenes guide and an interactive game.
And in true 2021 holiday fashion when every brand seemed to opt for remakes of popular songs, the track in the background is a remake of 1984's "Together in Electric Dreams." British singer-songwriter Lola Young sings this version.
John Lewis & Partners: Man on the Moon

(2015)

Another entry on the list from John Lewis & Partners. Because they know how to craft a really memorable, heart-wrenching Christmas ad. They're also apparently really into outer space themes.

In this 2015 advertising campaign, we see how lonely it might be for the man on the moon, particularly during the holiday season.

But one little girl not only sees him, she cares.

With a delightful musical track playing in the background, lots of Christmas lights, and an adorable main actress, it's hard to not feel this one stir something in your soul.

It also provides a good reminder to call any elderly loved ones or neighbors who might be feeling isolated or lonely throughout the year.
Gap: All Together Now

(2021)

Seems the 2021 holiday marketing campaigns were all about the classic remixes. Similar to LEGO, Gap presents a new take on a familiar, sweet song.

Superstar songstress Katy Perry stars in this ad and lends her voice to a modern rendition of "All You Need Is Love," originally popularized by The Beatles.

There are some subtle holiday touches here, but the main focus is a message of unity. The ad ends with a kiss by a diverse group of couples. This highlights the ongoing brand marketing focus on diverse, inclusive imagery.
Boots UK: #BagsOfJoy

(2021)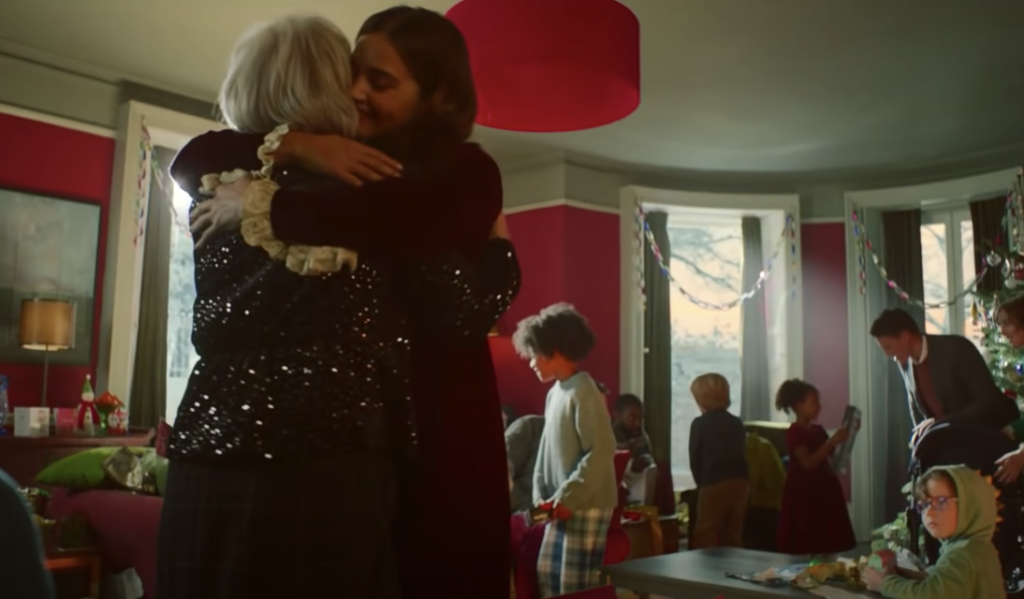 As a North American, I'd never heard of Boots.
But their 2021 Christmas ad is adorable, heartwarming and fun — all the makings of a fantastic holiday marketing campaign.
And what's great is that their ad showcases the magic of Christmas as perfectly imagined from a grown-up perspective. A bottomless handbag that dispels the perfect gift for each recipient on the Christmas list at just the right time.
The star of the ad, aside from all the cool beauty products including a ring light, is former Doctor Who actress Jenna Coleman, in a delightful shade of mistletoe-berry-red lipstick.
British-Australian director Tom Hooper (of The King's Speech, Les Misérables and Cats) takes the reins on this one, so just another reason you know it's good stuff.
OREO: Oreo For Santa / Stay Playful; #ProudParent

(2019/2020)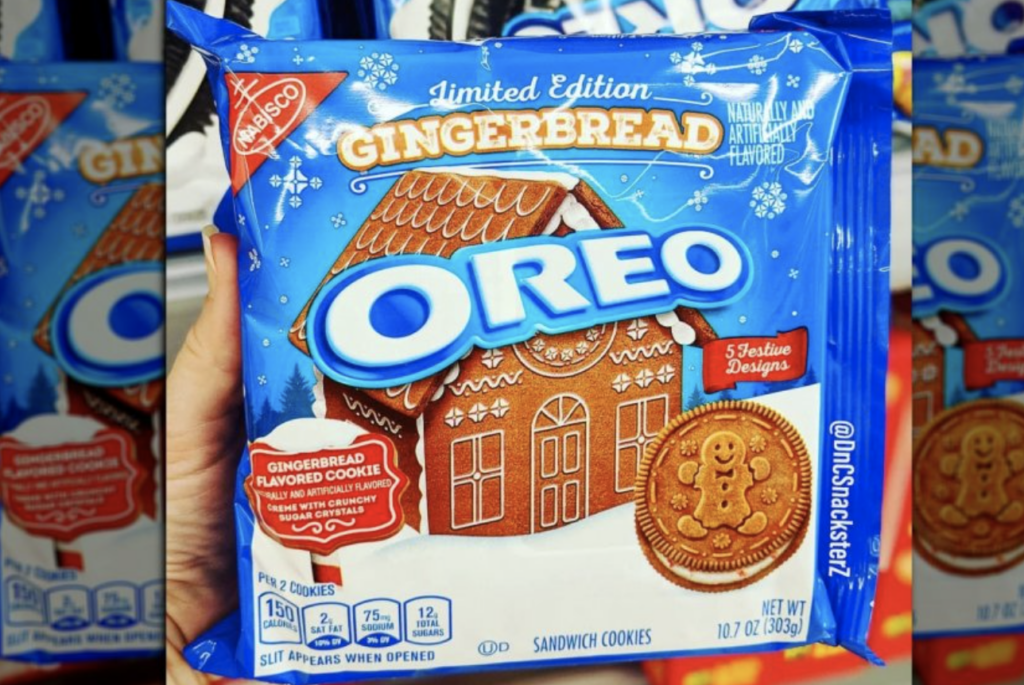 In 2020, OREO continued running their 2019 holiday marketing campaign (#OreoForSanta).
Most brands in 2020 played it safe by depicting scenes of people maintaining an acceptably safe social distance. That made this ad by OREO stand out a bit more.
I'd also like to highlight the OREO #ProudParent campaign that launched in 2020. OREO teamed up with PFLAG (the first and largest organization for LGBTQ+ people, their parents and families, and allies) to not only release this ad, but also the first-ever Rainbow OREO Cookies.
A beautiful, artistic example of storytelling that goes beyond selling to actually creating a connective experience with the audience.
Coca-Cola: The Letter

(2020)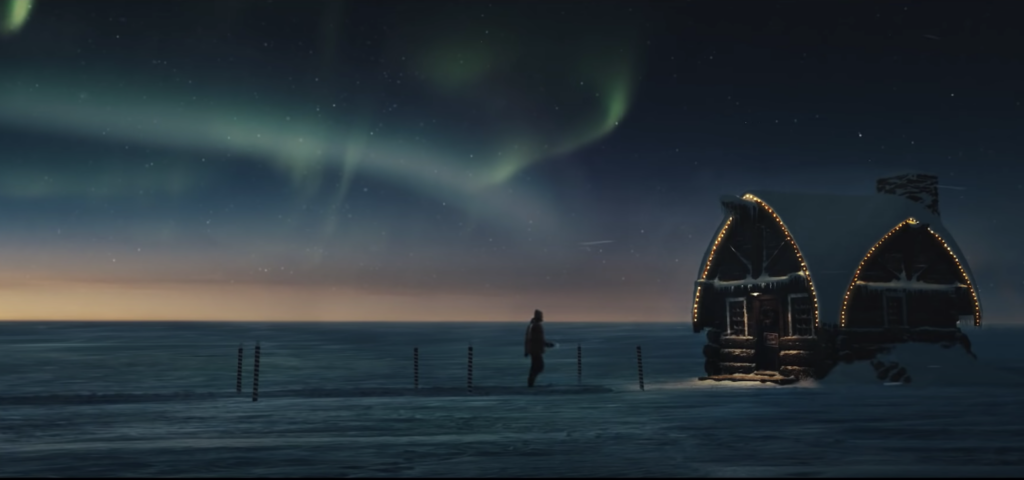 Get the tissues out!
Coca-Cola held no stops for their holiday marketing ad in 2020. It was directed by Oscar-winning filmmaker Taika Waititi.
I'm not going to spoil this one for you if you haven't already caught wind of the hubbub.
This great bit of storytelling relies fully on visuals to connect and communicate.
"Our new advert reflects the real magic of Christmas – our greater appreciation for loved ones, a sense of community and our need to be present with each other this Christmas, above all else," said Kris Robbens, Marketing Director at Coca-Cola Great Britain.
Walter Susini, SVP of marketing for Coca-Cola Europe, added: "It's no secret that 2020 has been a difficult year on so many levels. Christmas is traditionally a time when people spend quality time with loved ones. However, given the year we've all had, spending dedicated time and being present in the moment with loved ones will be the priority above all else."
Coca-Cola scaled back marketing during the pandemic, like many brands trying to figure out what the right message is for a pandemic-plagued world. So this campaign marks a renewed sense of direction.
Miller Lite: Farewell, Work Holiday Parties

(2020)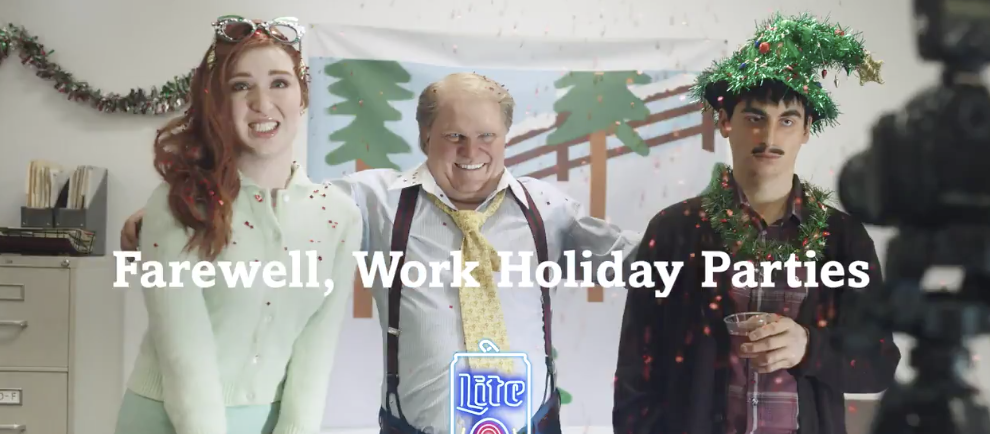 I've never been a fan of office holiday parties. I know, free food and drinks, the chance to see your colleagues a little less buttoned-up than usual. But I'd much rather have a holiday party during work hours and then spend my free time with family and friends.
Miller Lite gets me. Their 2020 holiday campaign said, "YAY, no office party! Just drink at home." Or something like that.
Actually, Miller Lite Director of Activation Courtney Carter Dugan says it's about "love and the human condition seen through an elegant and humorous lens."
"With many companies canceling or taking their work parties virtual, we'll be getting something we actually want for the holidays—more time to enjoy Miller Time with our real friends," said Courtney Carter Dugan, director of activation for Miller Lite. "No one's going to miss making awkward small talk or being forced to take silly photo-booth pictures with coworkers."
What's cool about this one is that an artist created sculptures of the people featured in the ad. I honestly thought they were real people until I read about his work.
Gucci: #GucciGift

(2020)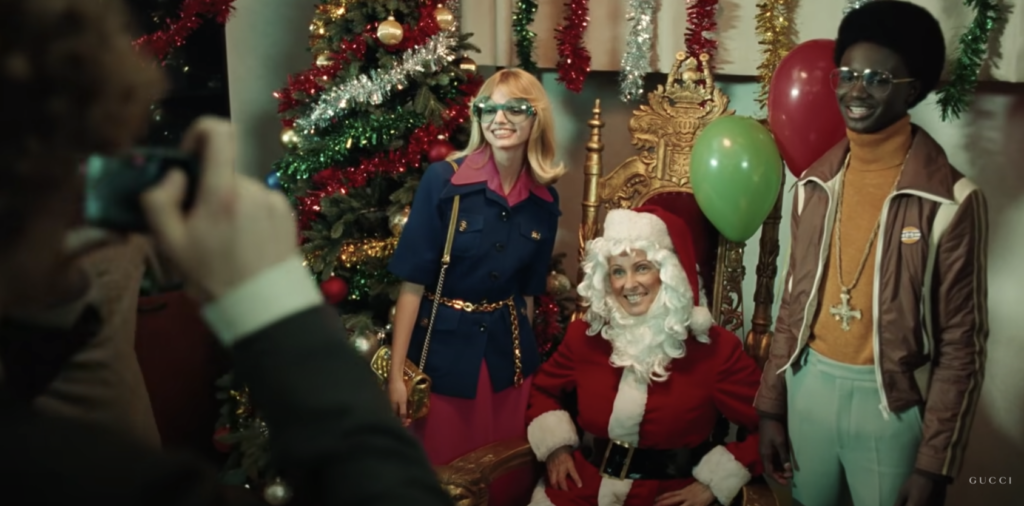 If you're working from home and actually missing the chance to clink glasses of eggnog with your coworkers, Gucci released the ideal campaign for you.
A retro vibe latches onto your sense of nostalgia for those good ol' days. Although I'm skeptical that the sense of fashion in your office was quite as "stepped-off-the-runway" as the models in this spot.
Despite what I said earlier about not being into office holiday parties, I might not be saying that if my experiences had been as retro-chic as the one depicted here. Even the 80s-esque track playing in the background made me feel wistful. (The woman playing Santa did make me think of how hard Michael Scott would cringe, though.)
Also a quick shout out to Akinola Davies, Jr, the Nigerian-British director who created this vintage slice of heaven.
Xfinity: The Greatest Gift

(2020)
Speaking of Michael Scott, Xfinity scores major points for featuring Steve Carell in their 2020 holiday ad.
Playing Santa Clause, he kicks things off with just the proper nod to 2020. "Ho, ho, ho! Good morning, every– you know what, I can't even fake it. Look, after the year we just had, the usual gifts are just not going to cut it."
Marketing with humor was a big no-no during the first half of 2020 when no one knew what was going on and was still reeling from the new reality of pandemic life.
But this ad shines as yet another example of bringing just the right kind of laughs into a marketing campaign.
"This year the internet has kept us more connected than ever, allowing us to do more than we thought possible, in the face of less-than-ideal circumstances," said Todd Arata, senior vice president of brand marketing at Comcast.
It all comes right for your heartstrings when Steve-Carell-Santa ends with this killer line delivered to his hopeful elven helpers.
"This year has been harder than ever, and yet somehow you all found a way to pull it off. You reminded us it's not about the toys. It's about the little things."
All the "Better Together" messages from big brands definitely felt a bit off throughout the year.
But this campaign captured what most of us were thinking or feeling. Or hoping to end the year thinking and feeling anyway.
United State Postal Service: HOME

(2020)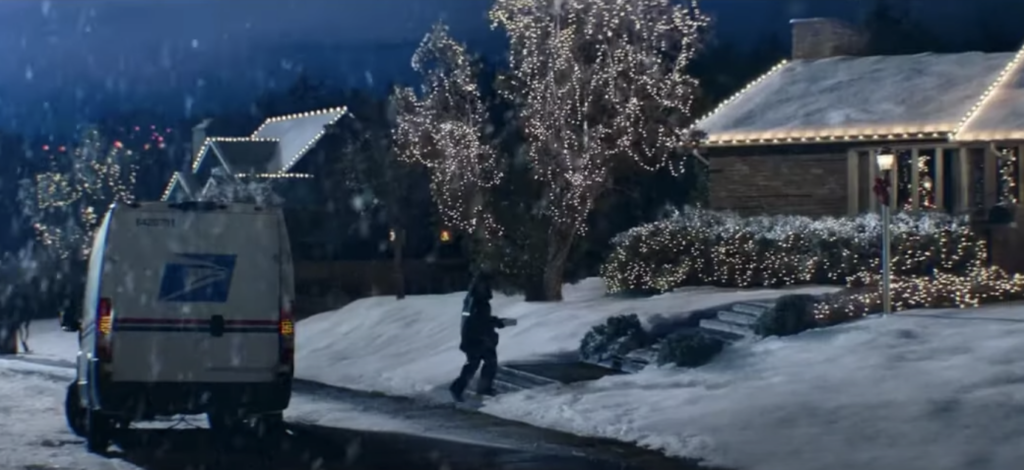 The United States Postal Service appeared in a number of headlines this year. Definitely was a star player in the live politi-drama that was the 2020 American presidential election.
For the holidays, they reminded us they're always on the job and working, rain or shine or Christmas, to bring us all together.
Certainly reinforces the need to be grateful for all the essential workers who didn't have the luxury of Zooming from home. And that sending packages and mail are a critical way of spreading holiday cheer for many.
The toned-down vocals of Hamilton star Leslie Odom, Jr. singing I'll Be Home for Christmas clinched this one for me. The man's voice could melt the icicles on anyone's consumerism-jaded heart.
(Quick fun fact I discovered: USPS runs "Operation Santa," a 108-year-long campaign where the agency manages letters to Santa. In some cases employees even write back as Santa. In some cities, they publish letters online, and people can donate requested gifts to letter-writers. Sorry, I had to add this. Just adorable. Check it out yourself at USPSOperationSanta.com.)
Amazon: The show must go on

(2020)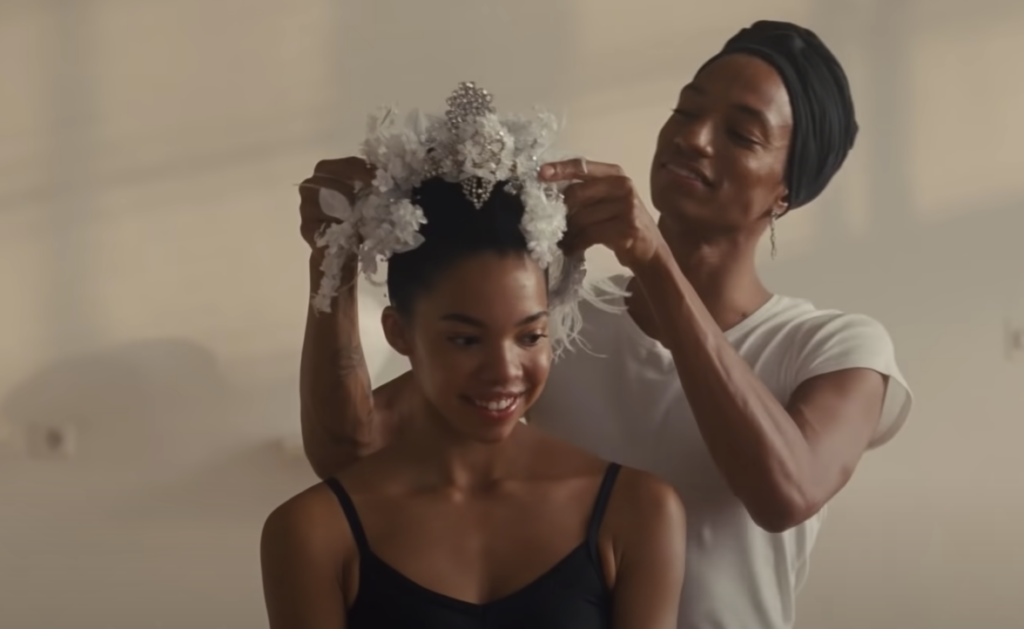 I couldn't tell at first if this was Amazon's official holiday 2020 marketing campaign because it doesn't scream CHRISTMAS/HANUKKAH/KWANZAA. After watching it, I didn't care.
This campaign is brilliant, beautiful, bold.
Simon Morris, vice president of global creative at Amazon, said it's meant to represent the resilience of our global community.
It felt like a movie. (Can someone please make this a movie?)
The main character experiences many of the emotional challenges, heartbreaks and triumphs of pandemic life 2020. And the spot clocks in at less than 2 minutes.
It's really no wonder this vid is a masterpiece. It features 17-year-old French ballet dancer Taïs Vinolo as the star. And Grammy-Award-winning filmmaker Melina Matsoukas, who among other things is responsible for some of my favorite Beyonce and Rihanna music videos, leads behind the camera.
Ballerina Vinolo said, "When I was growing up in the French countryside, there were no young Black girls studying ballet with hair like mine, or even on TV, meaning I had no one to identify myself with. Being on this shoot helped so much with this, enabling me to own who I really am, who I want to be and what I represent. I am so proud to have been part of this project since the message of it means a lot to me and even more so in this very difficult time that the world is going through."
Disney: From our family to yours

(2020)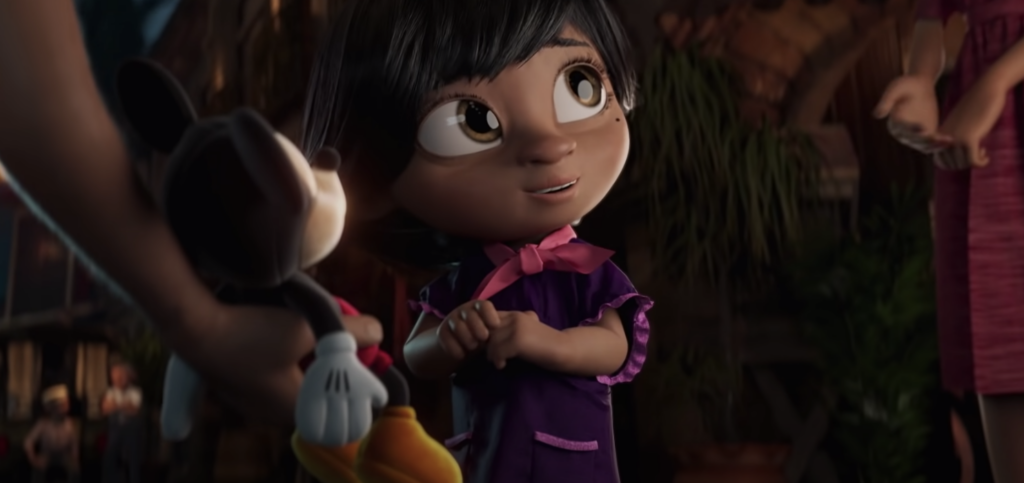 Nostalgia ruled as a theme for most marketing campaigns in 2020, and Disney always performs masterfully when it comes to emotionally driven messaging.
I expected a great ad, and Disney failed to disappoint.
A mini-movie plays across the screen and leaves the viewer with the impression that Disney will also be the brand to go to when you want high-quality storytelling.
Also I think someone definitely was chopping up onions in my house somewhere while I watched.
Disney UK/EMEA: The Stepdad

(2021)

More of a vignette than an ad, this piece from Disney UK introduces a newly blended family who are getting through their first holiday together.

Cool little detail – this holiday campaign is a continuation from 2020. The granddaughter in the 2020 Disney Christmas ad is the mother of the two children here and the wife of the titular stepdad.

Disney also pledged about $2M in support to Make-A-Wish® International and affiliates.

Feeling the background track?

You can download it! The title is Love Runs Deeper, performed by Gregory Porter featuring CHERISE.

Another side note: in a terrific show of holiday cheer and goodwill, the comments on this Christmas ad had to be shut off because of all the racist anger this ad inspired. Fa-la-la indeed.
McDonald's UK: #ReindeerReady

(2020)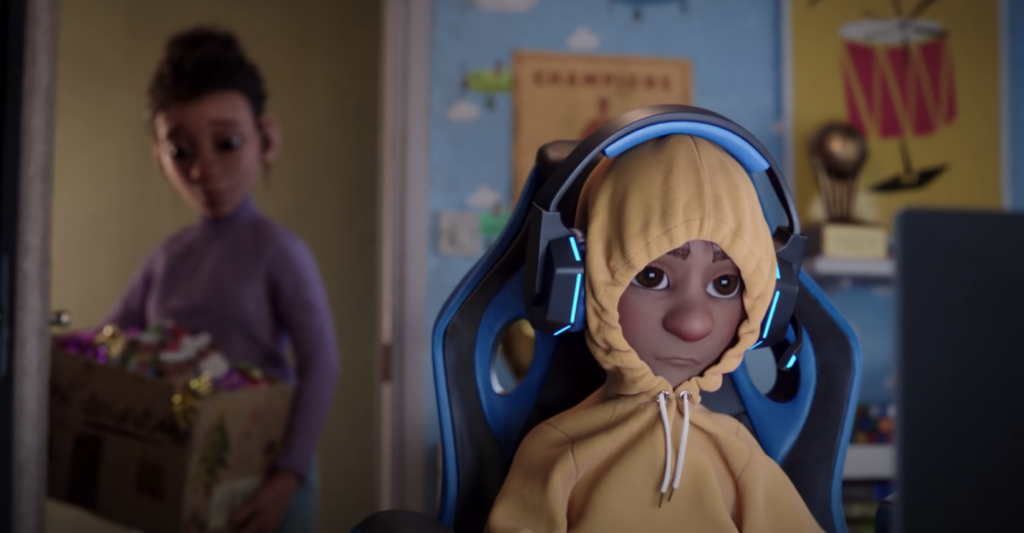 McDonalds UK targeted the kid in all of us with their 2020 holiday marketing ad.
The one that seems to awaken with high hopes every single holiday season, no matter how old we get.
This campaign, #ReindeerReady, actually started last year. So this ad continues the story seamlessly in a way that brings the audience in whether they've been following along or not.
The story communicated clearly speaks most to their target buyer, families and young people, without leaving anyone else out. Because who doesn't feel like a kid at heart? Or feel a tug of nostalgia when you see a family gathered around the fire to decorate the Christmas tree, whether you celebrate it or not?
Another note that I thought was extremely well done — the incorporation of the brand colors throughout all of the visuals without marking everything with a big golden-arches stamp.
Tesco: No Naughty List

(2020)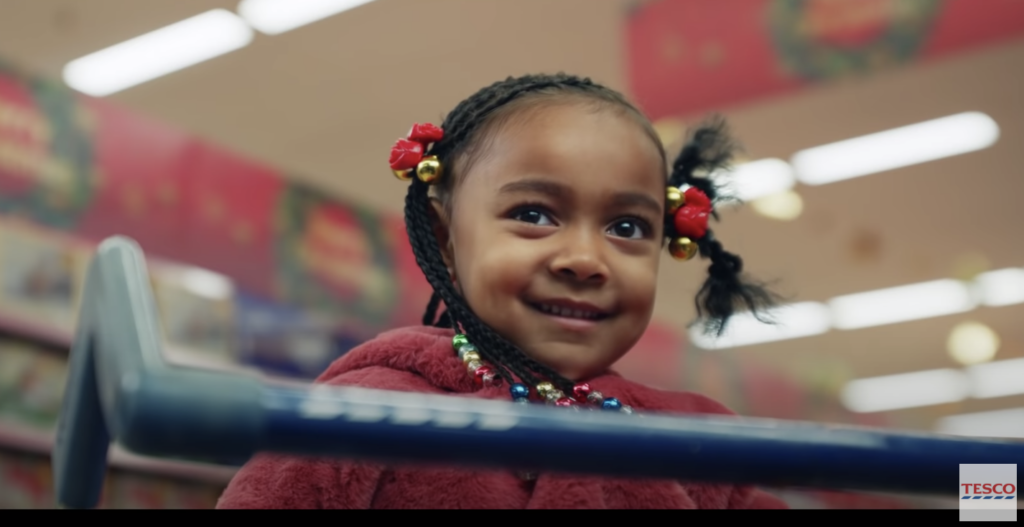 Who knew Britney Spears singing Oops! I Did It Again screamed Christmas cheer?
UK grocery store brand Tesco gives us all a pass from being graded Naughty/Nice.
That's right.
Living through a global pandemic means Santa saves the coal for his fireplace and instead gives us all some damn-good gifts.
It's a clever take on a period of time that was exhausting for all of us. And it also features a very diverse cast that reflects the growing diversity with the UK's population.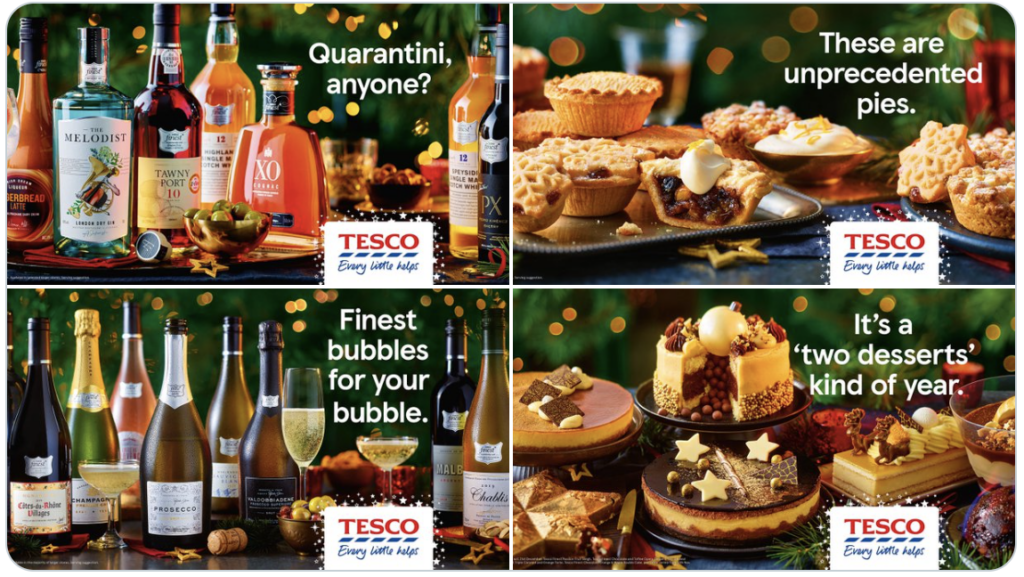 PooPourri.com: 2020 Stinks, Even for Santa

(2020)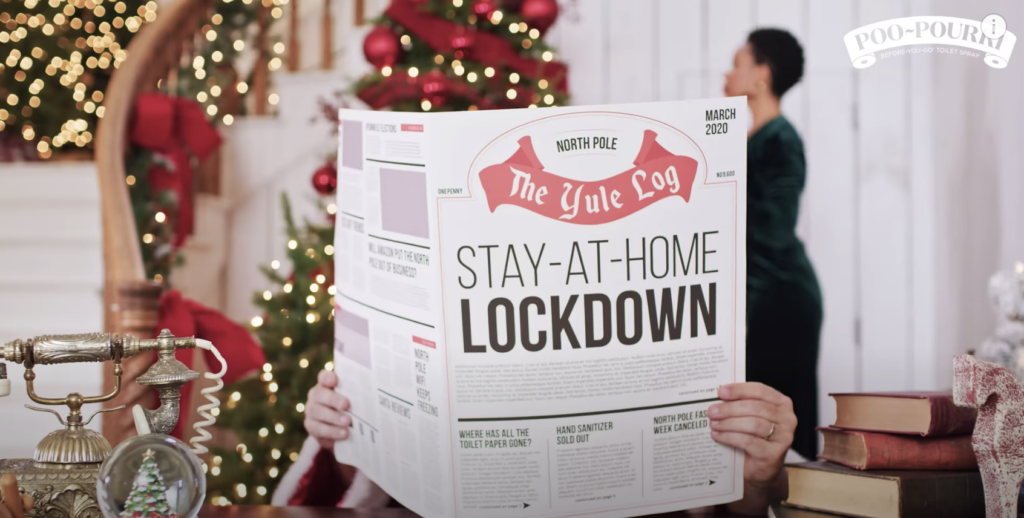 Poo-Pourri marketing grabs me every time. From their #FirstPooWithBoo campaign to #GirlsDoPoop, they know exactly how to hit on the poo-related messaging that relates to their ideal customer persona.
Their holiday 2020 campaign doesn't disappoint.
The first Black Mrs. Clause with a beautiful teeny weeny afro I've ever seen in a marketing campaign.
And Santa's attempt at doing the TikTok trending dance to hot girl Megan Thee Stallion's "Savage" will live on in your memories beyond this 3:24 video.
Not to mention their magical instructional mantra of "Spritz the bowl. Drop the coal. Return the magic to the North Pole."
Another win for one of the most original and daring brands around.
Sainsbury's: Gravy Song

(2020)

This ad, the first of a holiday series of 3 planned for this brand's 2020 holiday marketing campaign, kicked up a lot of furor online from what I've read. Not sure why.

Looks like a wholesome nod to the beauty of family, love and good food. The things we all love to celebrate each holiday season.

I thought the visuals were very well done.

The recorded-with-an-old-school-camcorder vintage look stirs up nostalgia for the good ol' days. The days when our treasured memories were stored on VHS tapes and not in the cloud.
Walkers Crisps: All Mariah Carey wants this Christmas (Too Good to Share)

(2019)

Everyone knows Mariah Carey is the indisputable Queen of Christmas. So Walkers Crisps pulled a genius move by adding her to their 2019 Christmas ad.

Of course it features her singing her year-after-year hit holiday song, "All I Want for Christmas is You."

But we also get to see Mariah being the quintessential diva and putting an elf in his place. Clearly he missed the memo that you don't take potato crisps from Mariah. Especially not at Christmastime.

One of the best parts of all?

Mariah hits her infamous whistle note toward the end of the advert.
Other Holiday Marketing Campaigns: Honorable Mentions
Barbour UK (Paddington, please look after this bear – 2021) — Any Christmas ad featuring Internet darling Paddington Bear deserves a place at the top of the holiday marketing list. [WATCH]
very.co.uk (It's the very best excuse – 2021) — An ad reminding folks to start shopping early for the holidays because of potential shipping delays. Also one of the first to be released in 2021. Very pragmatic. [WATCH]
Littlewoods Ireland (#LWIShareTheLove – 2021) — This department store Christmas commercial depicts a sweet holiday between mum and daughter. If your Grintch-like heart doesn't grow several sizes bigger, then you deserve coal. [WATCH]
Hobbycraft (Moments we make this Christmas – 2021) — Celebrating togetherness with family and loved ones is the main theme of this heart-warming Christmas ad. [WATCH]
Selfridges (Christmas of Dreams – 2021) — It's a fashionable, vintage Christmas with this UK department store ad. [WATCH]
TKMaxx Ireland (#ChristmastotheMaxx – 2021) — Sometimes the right shoes are all it takes to give you the confidence you need to steal the show.
Waitrose & John Lewis (Give A Little Love – 2020) — This one made a big splash when it was released. A work of art you need to watch. [WATCH]
LEGO (#RebuildTheWorld – 2020) — Childlike imagination will rebuild the world, block by block. [WATCH]
Haufson Cookware (End It With A Smile – 2020) — This commercial highlights that our holiday celebrations might be simple this year, but they don't have to be less joyful or loving. [WATCH]
Kohl's (Give With All Your Heart – 2020) — Um, I got shivers watching this one. A real sucker punch in the feels that emphasizes our desire for human connection and the power of neighborly love. [WATCH]
Burberry (#RiccardoTisci – 2020) — Not quite sure what to make of this one, but the choreography and music are lovely. [WATCH]
Apple (The magic of mini feat. Tierra Whack – 2020) — This felt like a music video to me. I'd never heard of the 25-year-old musician who stars here, but she'll certainly be one to watch in the upcoming year. [WATCH]
Chick-fil-A® (The Spark – 2020) — Many brands went the safer route with animated commercials to offset some of the challenges of in-person shoots. Chick-fil-A's ad continues a campaign from last year and offers an adorable message of hope. [WATCH]
Macy's (In Dad's Shoes – 2020) — Family. If you're not holiday-marketing around the theme of family this year, you need to re-evaluate your brand apparently. I love this creative take from Macy's that zooms in on the Daddy-Daughter bond. [WATCH]
HERSHEY'S (Heartwarming the World – 2020) — The chocolate maker capitalizes on a traditional classic with a new spin. [WATCH]
Walmart (America's Cart – 2020) — A call to "end the year with what matters," family and friends and love. This one doesn't have strong Christmassy overtones but still delivers a fitting message. [WATCH]
Jose Cuervo (The Cuervo Doppeldrinker – 2020) — Here's something a little different. This brand says even if you can't be with your family due to social distancing, they'll still help you be present. With a cardboard cutout that looks just like you. You can enter to win a life-sized cardboard cutout in your likeness by registering here. [VIEW]
Hendrick's Gin (A Most Unusual Christmas – 2020) — There's so much going on here. Too much to cover in a quick blurb. They really embrace and also challenge the weirdness of tradition here. [WATCH]
Pepsi MAX (Refresh Your Christmas – 2020) — The holidays need a little hip-hop pizzazz, and Pepsi delivers on that. [WATCH]
Best Buy (Dear Best Buy – 2020) — I can fully relate to this commercial that centers on how much time we've spent with the people who live with us during lockdown 2020, for better or worse. 😂 [WATCH]
(Also a quick shout out to Best Buy for embracing TikTok as a hot spot for marketing content. Their Black Friday promo there was sensationally done.)
Frito Lay (Share Your Favorite Things – 2020) — Actress Anna Kendrick jumps on board to help kick off the holidays with our favorite snack and a new take on an old classic tune. [WATCH]
Portal from Facebook (Winning Charades with Ian Wright – 2020) — Technology played a key role in helping us feel together even while apart this year, and Facebook reminds us of that here. [WATCH]
Hudson's Bay (A Call to Joy; The Gifting Guru – 2020) — Another celebrity cameo! Hudson's Bay took us to Schitt's Creek with Emmy winning actresses Catherine O'Hara and Annie Murphy for a series of spots. [WATCH]
SuperValu Ireland (We Believe – 2020) — The question on so many children's minds (Is he still coming this year?) gets resolved in an emotional way here. [WATCH]
Hobby Lobby® (Do It Together – 2020) — The crafts store brand focuses on what they do best: Christmas crafting! Simple and on-brand. [WATCH]
Vistaprint (Make it Unregiftable – 2020) — Another brand that knows itself and how to communicate that unique benefit very well. [WATCH]
Argos (An Evening with AbracaDaisy & The Incredible Lucy – 2020) — Whimsy and fun come to mind while watching this ad from UK retailer Argos. [WATCH]
The Pavilion (Share the Magic – 2020) — Irish retail store The Pavilion stays on the year's most popular marketing theme of Together Apart with a heart-warming grandpa – grandson interaction. [WATCH]
Morrisons (Making Christmas Special – 2020) — UK grocery store brand Morrisons says forget social distancing. The holidays are for joyous revelry! [WATCH]
Lidl (Big on a Christmas you can believe in – 2020) — British grocers really deliver up some cute holiday marketing! This tongue-in-cheek campaign should make you smile (or at the least get very hungry). [WATCH]
Myer (Bigger Than Christmas – 2020) — This year was much bigger than Christmas, and this ad aims to help celebrate and recap all the weirdness we overcame. [WATCH]
TK Maxx (The Lil' Goat – 2020) — American department store chain TK Maxx says treat yo' self this holiday season because you "bloomin' well deserve it!" [WATCH]
American Express (#ShopSmall – 2020) — A big trend this year is the #ShopSmall movement, which encourages people to support the small businesses hardest hit by 2020 economic downturn. American Express made a full campaign of it that stars the faces of the country's small businesses.
Indiska (Christmas commercial 2020 – 2020) — Swedish women's retail store Indiska creates a pared down but still loving holiday scene in this video ad. [WATCH]
La Mesa RV (Holiday Commercial 2020) — Another family-focused commercial that drives the point that love is the highlight of the holidays. (Admittedly I scratched my head at the thought of kids being excited over getting the keys to an RV as a Christmas gift.) [WATCH]
Moel (Christmas 2020 – 2020): Luxury soy candle maker Moel plays it safe with a conservative, luxury Christmas scene. [WATCH]
Want more examples of holiday marketing campaigns? Connect with me on LinkedIn or sign up for my newsletter and get marketing insight delivered to you weekly.