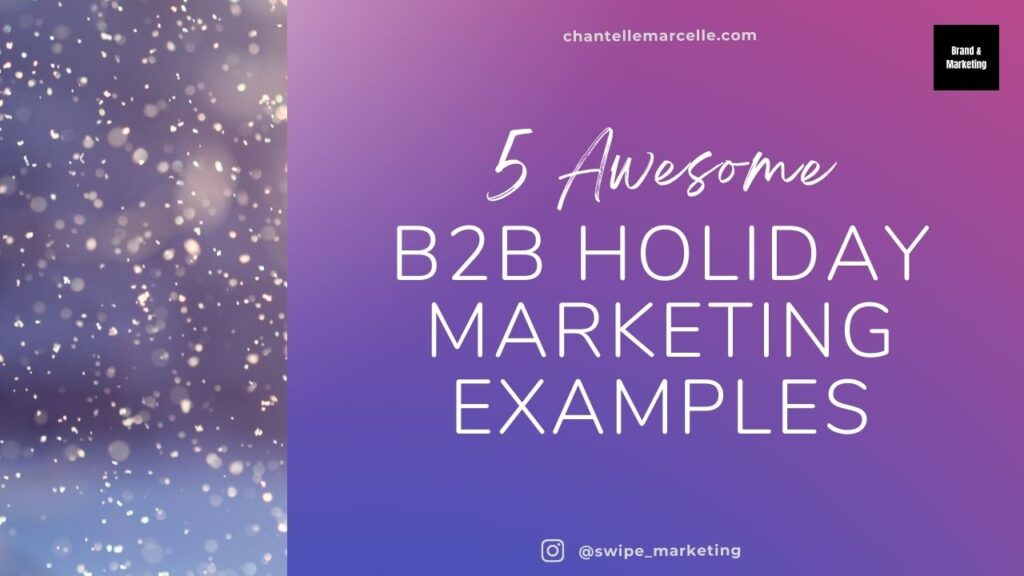 B2B Holiday Marketing Campaigns: 5 Awesome Examples To Inspire You
When we think of holiday marketing campaigns, many of us call to mind something by a B2C or consumer-facing brand. But B2B businesses miss out when they don't plan ahead of time to take advantage of this profitable time of year. B2B holiday marketing campaigns are just as capable of success when planned strategically.
For businesses looking for a way to increase sales at the end of year, touch points with customers and prospects focusing on goodwill and feel-good emotions appear incredibly well timed.
Holiday marketing campaigns offer a way to reinforce your brand's values and create a sense of connection.
Before I share the examples, I created a list of some general tips for B2B holiday marketing:
Your primary focus should be coming across as authentic and genuine, not sounding like a Hallmark card if that isn't true to your brand's voice.
Lots of businesses send out a generic greeting via email. Try to incorporate more creative elements into your holiday marketing. For example include a small gift or element of humor.
Include personalization whenever possible. For example, include a handwritten or personalized note from an executive for VIP accounts to remind them that they're important.
If you're a small or locally based business, promoting during the holidays makes even more sense. Small Business Saturday has gotten increasing focus over the years. And 44% of shoppers planned to support small and local businesses during the 2020 holidays.
With that said, here are some examples of B2B holiday marketing campaigns to provide you with inspiration for your own planning.
Canva: Holiday Product Marketing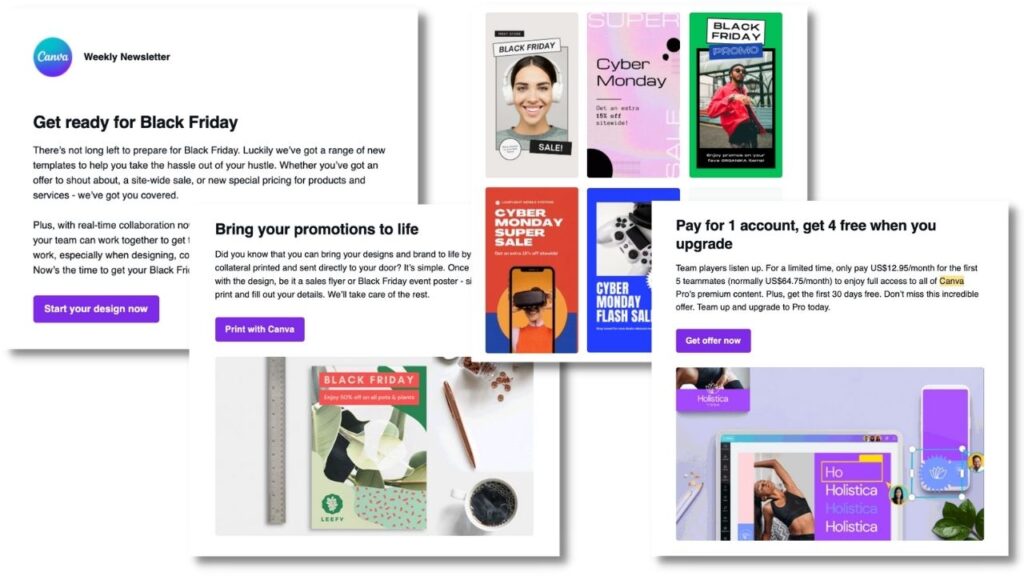 Canva does a fantastic job at all times of the year with email marketing. They constantly send out emails with tips and reminders to guide users through the product experience.
For Black Friday, the brand sent out this smart email with suggestions on how to engage with the product specifically for Black Friday and the holidays.
Why It Works:
This B2B holiday marketing campaign doesn't just wish you a merry season. It is useful, shows awareness of the user's needs and offers practical value.
Ultimately a campaign that highlights how your products and services can benefit users or customers during the holiday season holds the potential to drive up acquisition and usage.
Note the inclusion of a secondary call-to-action at the bottom of the email pushing the sale. By placing this after the majority of the email content, it doesn't feel pushy or selfish.
Salesforce: B2B Holiday Content Marketing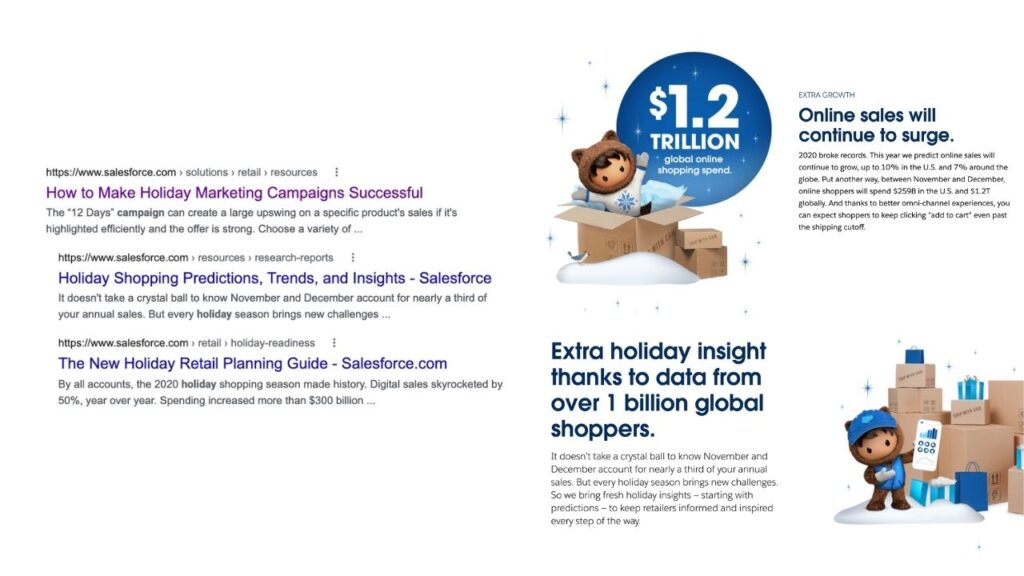 I definitely expect great things from Salesforce when it comes to marketing. The brand demonstrates strong awareness of its audience, which enables creation of stand-out B2B marketing campaigns.
Although their holiday marketing efforts encompass a number of channels, the content marketing provides a particularly exceptional example.
The brand offers several guides and content resources to provide insight and support for holiday sales and marketing. Perfect for their target buyer persona.
They also make sure to provide a good amount of the content directly on the website, while putting the complete reports and guides behind forms. This way, website visitors see the value of the content and are incentivized to complete the form to download the complete version.
Why This Works:
Appetite for insightful content never ends. So offering valuable content focused on holiday-related topics that impact your prospects or customers can be well received.
Well-written content also gives the impression of adding value rather than being an ask.
Being a brand that gives instead of takes, when everyone's inbox is flooded with requests, positions you in a desirable way.
Copy.ai: Product Brainstorm for Black Friday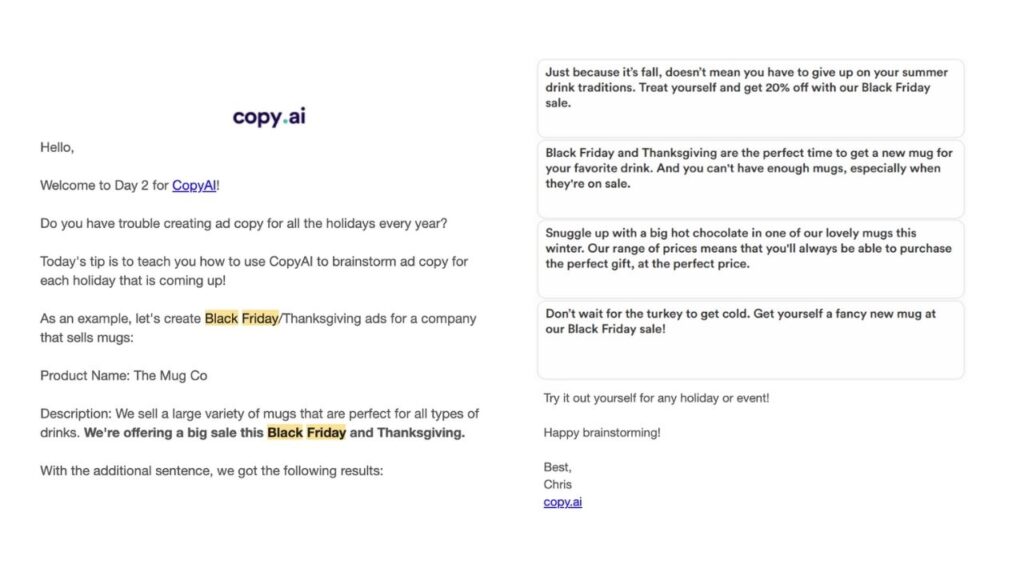 Machine learning and AI for copywriting have become leading trends in business. As these algorithms get more intelligent, we can only expect that to grow. But for now, a lot of people are wondering how and why to use these capabilities.
Copy.ai sends great email marketing to help users figure that out.
And this email connected the platform to the holidays quite well.
Why This Works:
You'd be surprised at how few B2B companies provide ongoing support and encouragement to help people navigate their products.
Copy.ai smartly aims to make it very apparent how you can benefit.
Attentive: Pop Culture & Nostalgia Marketing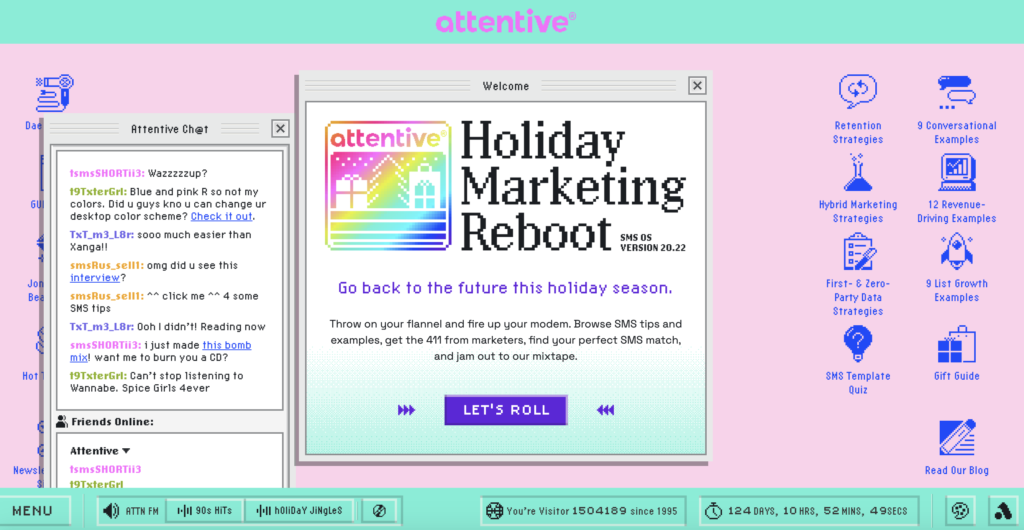 Brands love using nostalgia as a way to evoke warm, fuzzy feelings in buyers, especially around the holiday season.
SMS marketing platform Attentive launched a Millennial-targeted campaign called "Holiday Marketing Reboot." It shared tips for holiday marketing through a unique interface. An entire landing page designed to look like a '90s desktop screen. They even added an AOL Instant Messenger screen as a pop up and the option to play '90s-esque music while browsing the page.
Why This Works:
Everyone expects the usual when it comes to holiday campaigns. Using the same colors, images, and kind of messaging fail to stand out.
Attentive uses a more creative approach to deliver useful information. They also successfully create an emotional reaction in the audience with the use of familiar, popular, vintage imagery.
Fast: Humor in B2B Marketing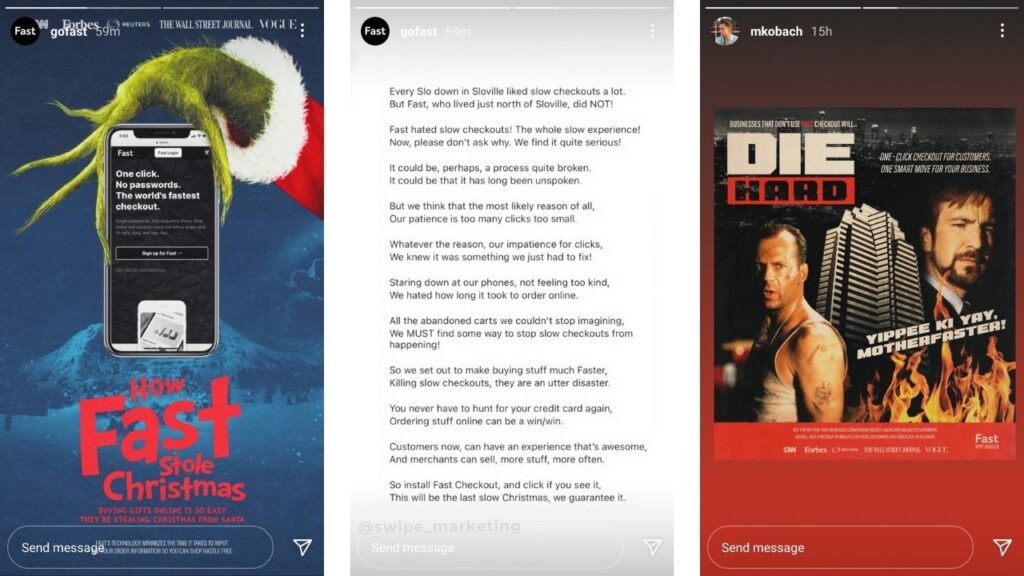 Fast, a former ecommerce tech company, was on a roll with a holiday marketing campaign that parodied numerous holiday movies and shows.
The brand shared a number of humorous images via social media, mainly Instagram. Utilizing a channel that isn't often leveraged by B2B companies was a bold move, but made the most sense given the nature of the content and the culture of the social channel.
Why This Works:
This campaign ties in a number of different elements that contribute to its success. It's funny, it's unique, it's bold. Not a lot of B2B brands are willing to be funny. But the holidays can be a great time to take a more lighthearted tone.
And similar to the last example, Fast incorporated pop culture and nostalgic images. This time the ones selected were directly related to the holidays, which are still powerful and generate an immediate emotional reaction.
NeverBounce: B2B Black Friday Sale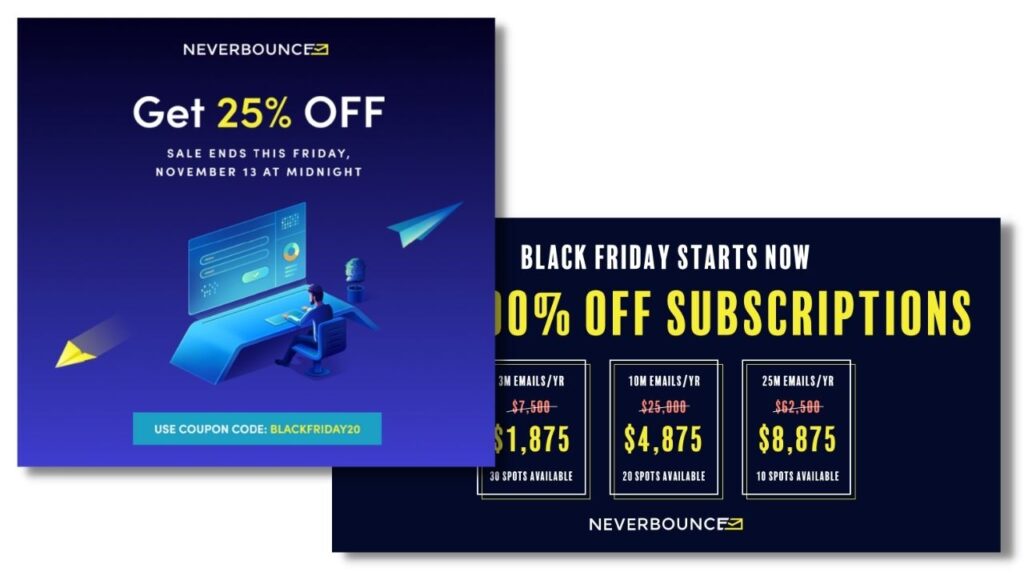 NeverBounce took advantage of everyone's appetite for deals during the Black Friday – Cyber Monday (BFCM) period by offering a sale on its services for a limited time.
Surprisingly, this was the first (and maybe only) B2B Black Friday deal that landed in my inbox. It might be valuable for more brands to jump on board with the BFCM excitement when people are in the mindset to spend for sales.
Why This Works:
The clean, modern design of the campaign assets present a pleasing perception of the brand. The visuals avoid focus on any particular winter holiday, a safer bet for creating inclusive marketing.
Most of all, there's functional value offered here. It's not just a cheery greeting. There's a clear CTA, and the messaging doesn't pander to the audience.
Interested in getting more content like this? Sign up for my newsletter or subscribe to the Brand & Marketing YouTube channel and get fresh insight delivered to you weekly.