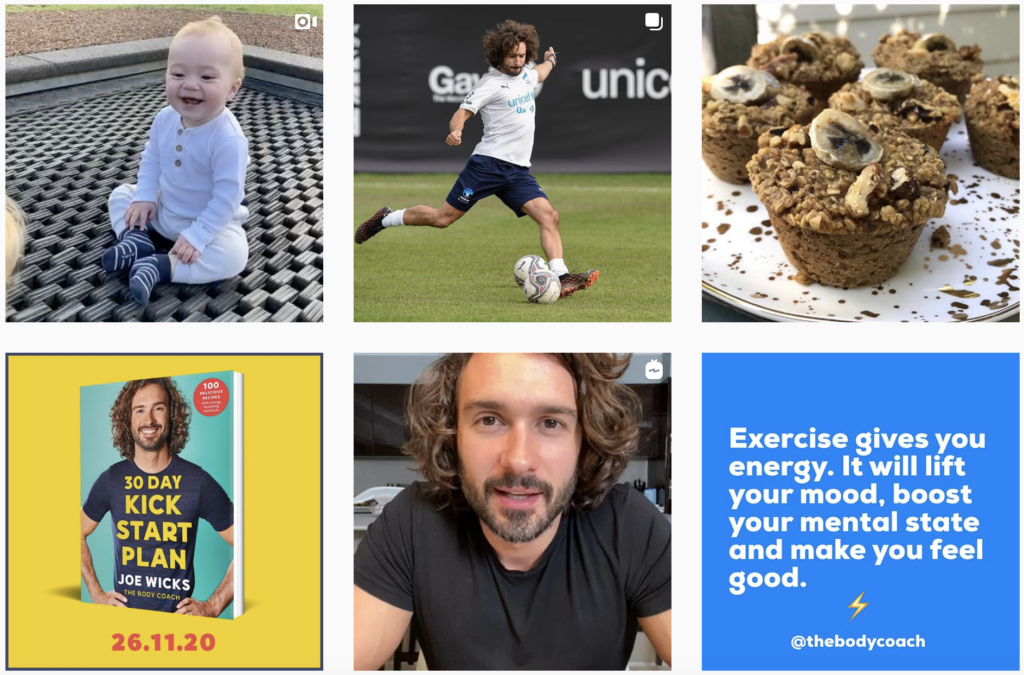 Brand Marketing Case Study: Joe Wicks, The Body Coach
Joe Wicks was your average fitness trainer in 2014.
Based in southwest London, he ran a bootcamp that had very few attendees. His marketing strategy was largely composed of passing out flyers in high traffic areas of the city.
He grew up wanting to be a PE teacher and after earning a sports science degree eventually wound up pursuing his passion to become a personal trainer. So he borrowed a couple thousand dollars from his parents for equipment and a training course fee. But the early lack of success made it hard to imagine paying them back quickly.
Joe realized he needed to find a way to differentiate his brand and grow his audience.
Which led him to social media marketing.
Social Media Brand Marketing is Hard Work
Joe started out on Twitter posting simple motivational snippets, mostly fitness related. He created his own hashtag, #teamlean2013. After consistent activity, he'd worked up to 10,000 followers who eagerly consumed the recipes and tips he began to share.
The popularity of Instagram videos soon caught his eye, and he started his own content series: #Leanin15.
15-second healthy recipe videos created for quick consumption on social media.
Within a year, The Body Coach gained over 1M Instagram followers and over 2M Facebook page likes.
Joe says his painstaking dedication to content creation and real-time engagement played an enormous role in helping his brand gain traction so quickly, even with a sea of other personal trainers and fitness buffs posting on social media. But being willing to put in the slow, consistent work of growing a brand using social media is not for everybody.
"Nobody wants to do the tweets. Nobody wants to write 60,000 tweets and post 1,000 videos when they've got no followers. People think you're mad. But it pays off in the end."
The Payoff of Quality & Consistency
Joe estimates he tweeted at least 20,000 times and posted to Instagram 1,000 times before his first product launch.
But the consistency of his branding paid off.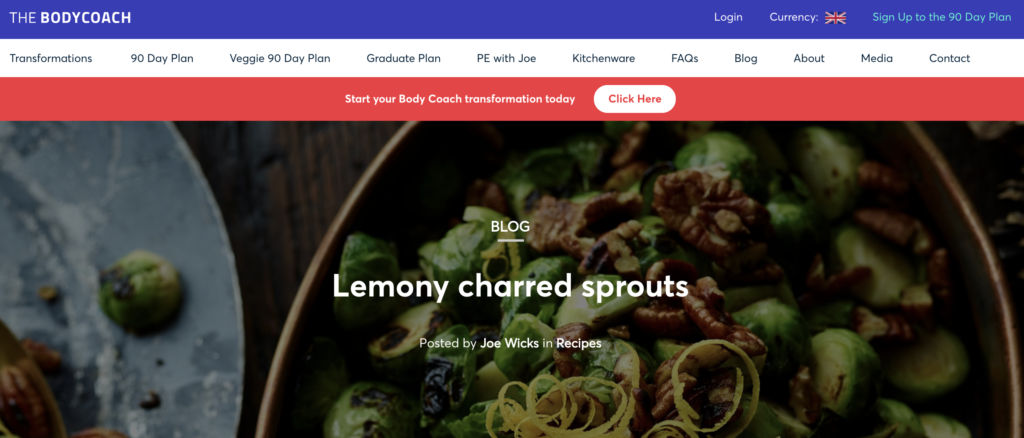 "It was just me having fun, not really sure what I was doing. But I realised early on that I was connecting with people and making them laugh. I also realise I was getting them to act, whether it was cooking a recipe or doing a workout."
It's said that audience and influence are a 21st-century currency. Demand now comes before product in many instances. The transformation is thanks in large part to the rise of social media influencers who are able to turn a dedicated following into loyal customers of brand-related products.
And Joe's persistence has been remarkable at earning him strong brand loyalty and widespread recognition, even beyond the UK.
It now takes 6 – 12 weeks to convert a follower into a customer, by his own account.
The Body Coach: A Content Marketing Machine
Here's a snapshot of the current state of his constantly growing social media presence:
Joe is a content marketing powerhouse, and he has a team to back him up.
His brother joined his brand team shortly after things started picking up and applied his background in PR and media to help craft a successful strategy. There's also a PR representative on board taking inquiries for interviews and appearances by Joe, as well a group of customer service reps responding to customers who write.
He feeds content into his brand's various channels at a rate and with an efficiency that makes you marvel.
However, he doesn't just repost the same content everywhere. He treats social media marketing and branding like a science, experimenting with a unique touch on all platforms.
"They're all really valuable if you use them correctly. Things might bomb on Snapchat but be awesome on Facebook," Joe says. "You've got to learn and adapt. We observe and listen to everything. We know what to post, when and why, to get the maximum reach and engagements."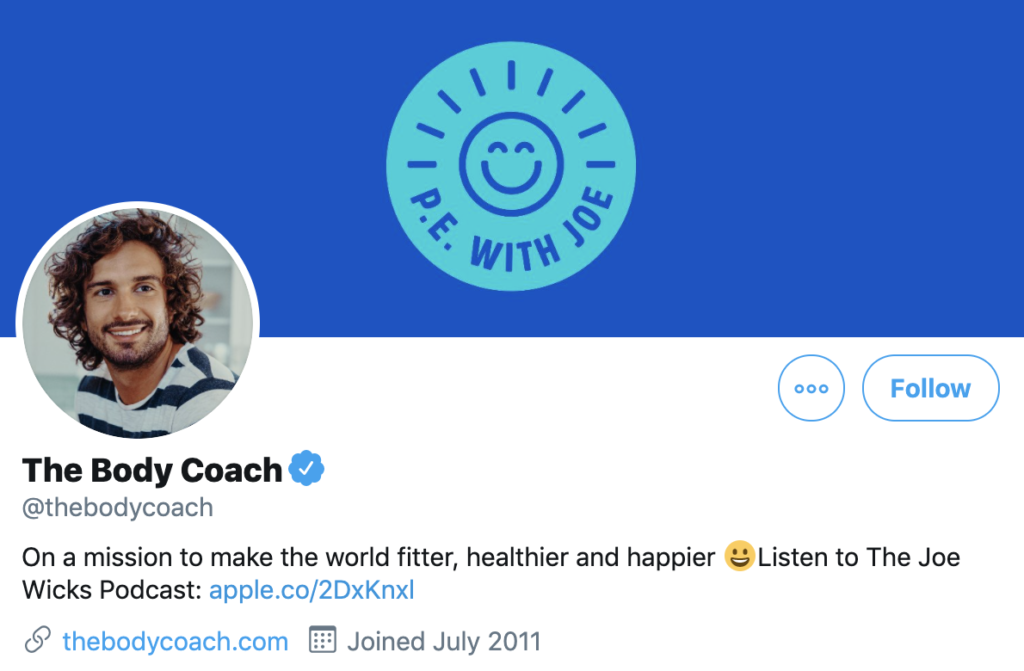 The Evolution of the Brand
Over time The Body Coach brand expanded.
As a father of two little children, Joe launched an offshoot of The Body Coach called Wean in 15. Under that label, he and his wife share tips on weaning your baby along with simple, baby-and-toddler-friendly recipes. It mimics the Lean in 15 campaign he runs for adult nutrition.
Following the Wean in 15 account on Instagram, I've noted a few things Joe does particularly well.
He gives away incredibly valuable content for free — recipes, advice, personal anecdotes from his family's experiences. The amount of content he offers is impressive. Wean in 15 has its own Instagram account with almost half a million followers, a podcast, and a book.
He also features smart partnerships with other social media experts, like baby and child nutritionist Charlotte Stirling-Reed. These other influencers share his content and lend more content to his channels as well.
And the content is all incredibly educational and useful. It rarely feels promotional, even when he's sharing details about buying one of his cookbooks.
I also appreciate how regular he seems for someone who's built a brand empire. You'd hardly be able to tell he's generated substantial wealth and notoriety watching him read to his daughter or spoon veggie mash into his son's mouth.
Joe says authenticity is key. Earning the trust of his audience took a lot of time and work, and he shows respect for that relationship.
Marketing Opportunity in Crisis
When the pandemic shut down most travel in early 2020, a big component of Joe's brand was impacted. Joe hosts numerous in-person events, attends speaking engagements, and does a number of other live appearances. That was all put on hold.
In a stroke of genius, Joe found an opportunity in the situation.
#PEwithJoe.
A live video series offering fitness routines for children who needed an alternative to their normal PE sessions.
The sessions were quick and perfectly tailored to not only little viewers, but also their parents, who could join in for a family fun break. It sat at the perfect intersection between his offerings for adults and those for children.
The response was tremendous.
(As a result, he even won a Guinness World Record for most views of a YouTube fitness live stream.)
So what's next for The Body Coach?
His star seems to be positioned for a continual rise.
Firstly, he's continued to garner media coverage this year, especially around the #PEwithJoe campaign. The Wean in 15 book launch went off successfully.
What's more, he's taken a particular interest in podcasting this year, like so many other influencers and marketers.
Here's Joe's take on it:
"I've got a million followers, but my goal in the next few years is to have tens of millions, because I'll just keep doing it. Every day. Never stopping. Never slowing down. I'll slow down when I'm dead."
Want more tips and recommendations on how to improve your LinkedIn strategy? Follow me on LinkedIn to see my daily content. Or sign up for my newsletter and get marketing insight delivered to you weekly.
Sources: