Spotify Boosts Podcast Marketing: Riverdale, Michelle Obama, DC Comics, Joe Rogan & More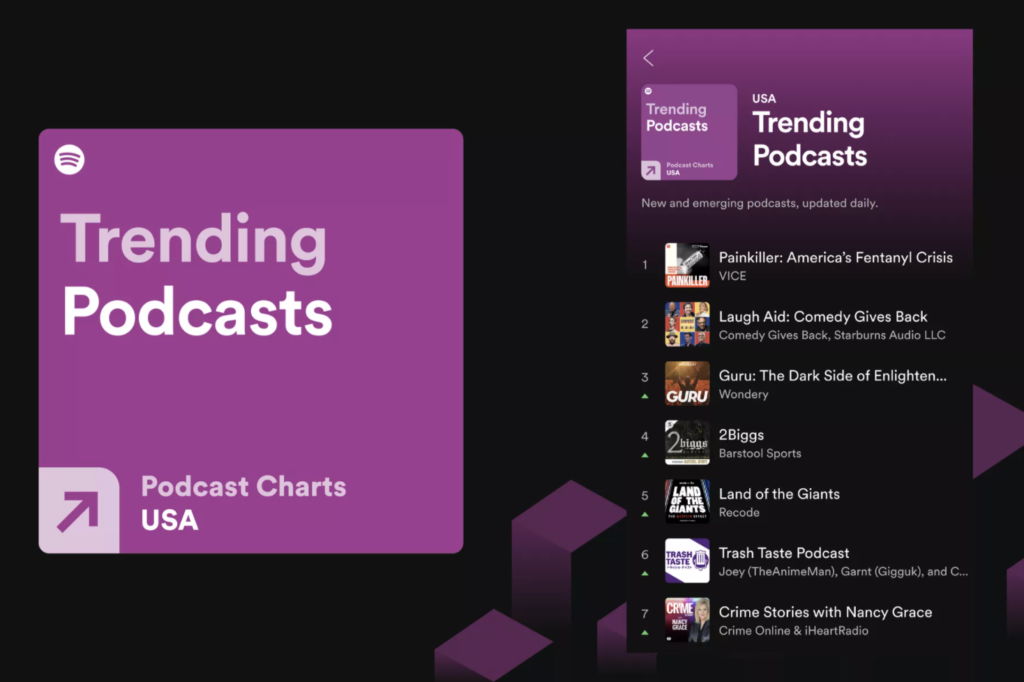 Two things I'm going to admit to you about podcast marketing, Reader.
One:
I hate podcasts.
There are a lot of them that are just people droning on as if they're enamored of the sound of their voices. They draw me in with a headline that advertises an answer to my looming question, and then 20 minutes in, we're barely past their introductory banter.
And two:
I still recommend adding podcast marketing to your brand strategy.
In fact, I said that to an executive the other day.
The pushback was, "Well there are already a lot of podcasts. The field is oversaturated."
That's true. There are a LOT of podcasts out there, and it seems that the pandemic is encouraging many people to take up a mic (over 150,000 new podcasts were created in March).
Why?
It's easier than ever. Most people have access to a computer and Zoom, and microphones or headsets are available for low prices.
Over 50% of US households report being podcast fans
It's a great way to spend time learning and making connections with your guests.
And there is attention to be spared.
Over half of all US households report being a podcast fan. And out of that pool of fans, they say they listen to an average of 7 different shows per week.
During March 2020, 18 percent of Millenials and Gen-Z reported planning to spend more time using streaming services.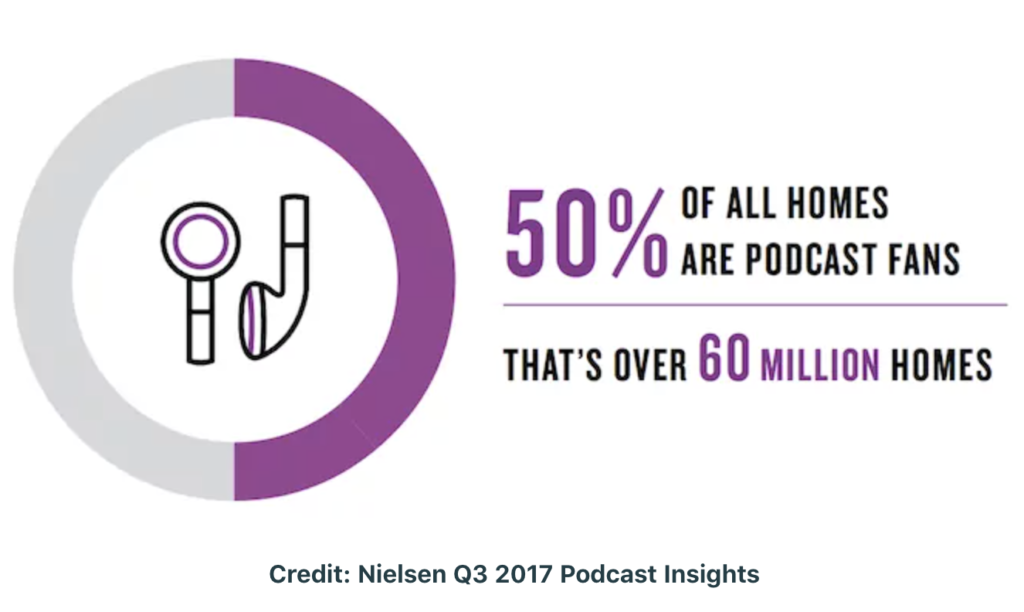 Which brings us to our next topic of focus.
Have you seen the headlines about Spotify?

The streaming service giant went from shaking up the music industry, to adding videos, to adding all sorts of content.
They now offer a very wide range of content to stream, including language learning audio tracks, white noise, ASMR (which stands for autonomous sensory meridian response, if you were curious), and most newsworthy this year, podcasts.
There are over 1 million podcasts featured on Spotify across 26 global markets.
They're completely revamping their podcast experience to start featuring trending and popular shows, making it easier for listeners to find new content.
They've made some interesting claims about how podcast consumption is changing, too, which will help them improve the experience even more.
Fewer people are commuting to work. So there's less of a focus on people listening to podcasts in the car. They're instead listening more at home while doing chores like cooking. And because they're home with family or roommates, group listening has increased. They're also listening more throughout the day instead of on the drive to and from work.
And apparently podcast listening continues to go up in 2020.
Spotify has made some hefty investments in content to be more competitive in capturing this space.
They signed an exclusive licensing deal (possibly worth $100 million) to get "The Joe Rogan Experience" on the platform.
"We felt like we need to have the number one podcaster on our platform in order to really be a winner in this medium," said Spotify's Chief Content and Advertising Business Officer Dawn Ostroff.
But they didn't stop there.
I was extremely excited to see a podcast marketing article announcing that Spotify has deals with both Archie Comics and DC Comics to introduce new podcast content. The whole Archie Universe will be up for feature — Archie, Jughead, Betty, Veronica, Katy Keene, Sabrina the Teenage Witch.
Then more recently I spotted an announcement on Twitter that Michelle Obama will be launching a podcast on July 29 with Spotify, too. That's huge news considering she just released a wildly popular book and Netflix documentary. Her podcast will cover relationships and empathy, among other things.
I'm thrilled to announce a new project: The #MichelleObamaPodcast with @Spotify! It's been a tough year and I hope this podcast can help us explore what we're going through and spark new conversations with our loved ones. I can't wait for you all to listen on July 29! pic.twitter.com/89zecZXnrr

— Michelle Obama (@MichelleObama) July 16, 2020
All in all, it's an exciting time for podcasts.
And that's why I still think there's room for more exceptional content.
B2B companies continue to lean on webinars, eBooks, white papers. There are tons of those. There's a ton of content for consumption in general. That doesn't mean we as marketers should stop creating content we think will add value to our buyers.
The key word is value!
If you have a podcast you think I should check out, send me a message on LinkedIn or tweet me!
You can also sign up for my newsletter and get my content (plus other insight) delivered to you weekly.