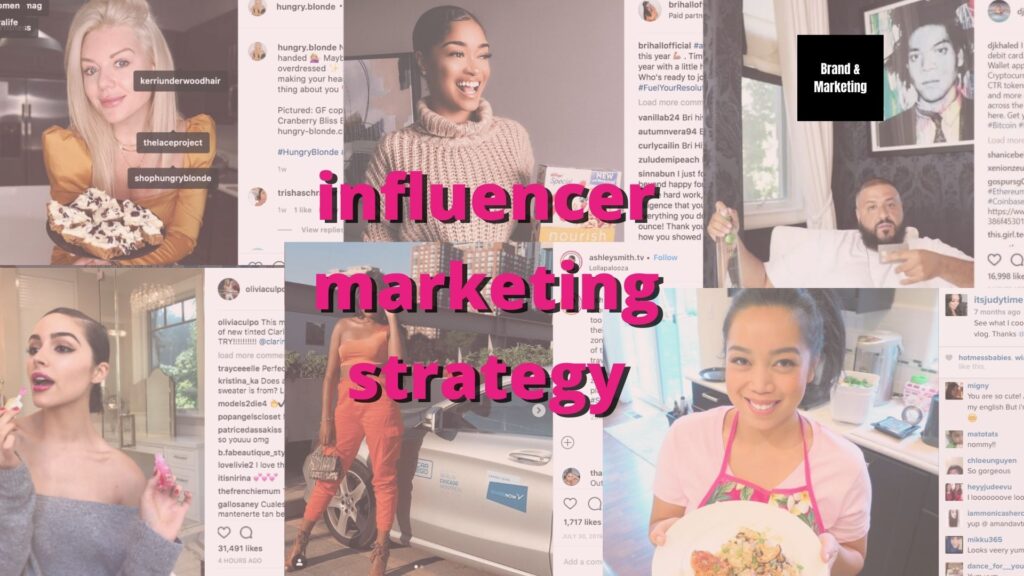 Advice to Create a Successful Influencer Marketing Strategy
It's funny focusing on influencer marketing strategy for my day job plus being an active content creator on social media.
Wearing my one hat, I observe the trends and create strategies to engage with social media users. I also reach out to content creators on behalf of brands.
But on the other side, my #AfterHours persona fields inquiries from brands and marketers who want to work together or send me swag. (Like…branded socks. I'm not at Fashion Nova partner status yet, y'all.)
Recently I had an agency reach out to me to help promo one of their clients.
What a disastrous experience. I'm not a seasoned pro when it comes to this stuff, but sheesh.
So it inspired me to put together a little something to help others get a better understanding of what's going on with influencer marketing.
I compiled some tips from experts and also pulled from my own experience to help you really thrive with influencer marketing strategy, whether you're just looking to get started or have tested the waters.
Influencer Marketing Growth By Numbers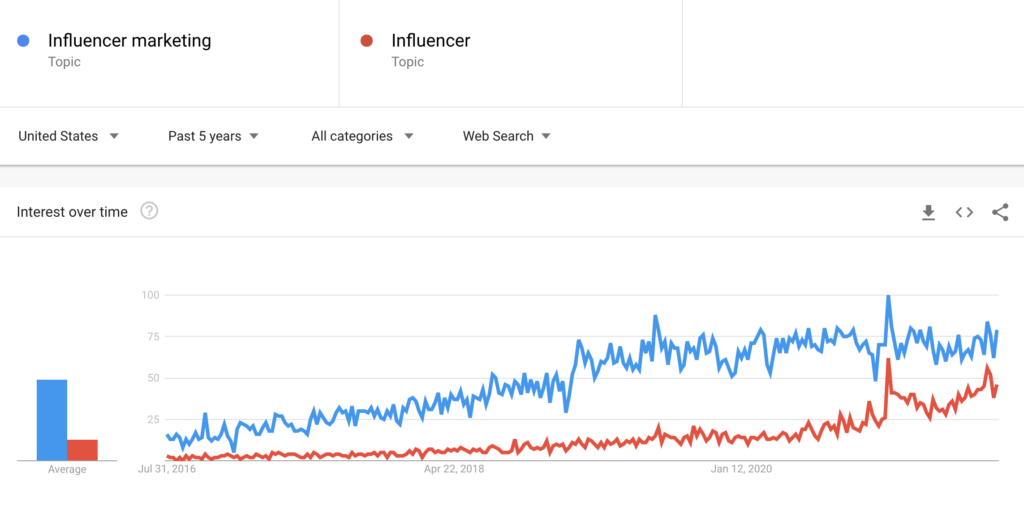 Influencer marketing is HUGE. And it's growing at a tremendous rate because of the voracious appetite of brands, online users and social platforms for digital content.
(I also partly judge the growth based on the countless cold pitches I get from sales folks trying to convince me to use their influencer martech.)
But if you're more into statistics than my gut check, here are some facts from the Influencer Marketing Hub:
Businesses are making $5.78 ROI for every $1 spent on influencer marketing.
There has been a 465% increase in searches for the phrase "influencer marketing" on Google alone since 2016.
Not to mention this year's influencer marketing growth rate is expected to be double what it was even last year.
What's awesome is there are more options and flexibility than ever before in this space.
B2B, B2C, it doesn't matter.
But if you're looking to build a successful influencer marketing strategy, there are some basic things you should know.
Everyone Is A Potential Influencer.
Everyone sharing their opinions has the potential to influence the buying decisions of others. Any channel, any number of followers.
More people have become content creators across a wide number of channels and are open to brand partnerships.
With that said, don't limit your scope to only consider accounts with big follower numbers.
Social media users with smaller follower counts tend to have higher engagement rates. That means more opportunity for your brand message to be shared.
But higher follower counts mean greater reach and impressions for the average sponsored post.
Here are some interesting charts created by Mavrck to show differences in impressions and engagement by influencer follower count.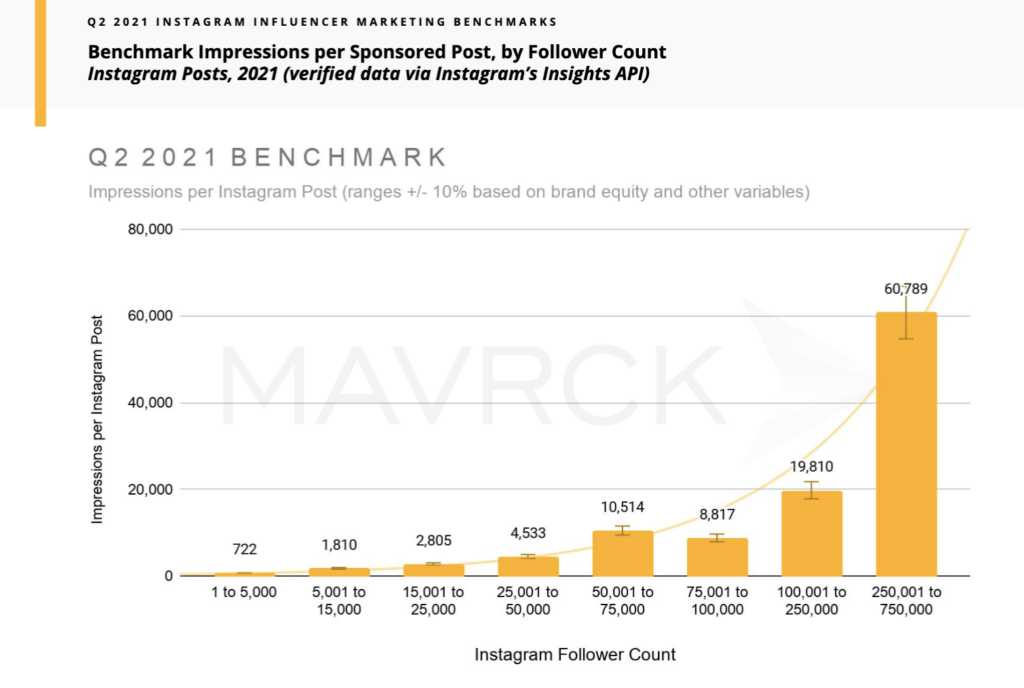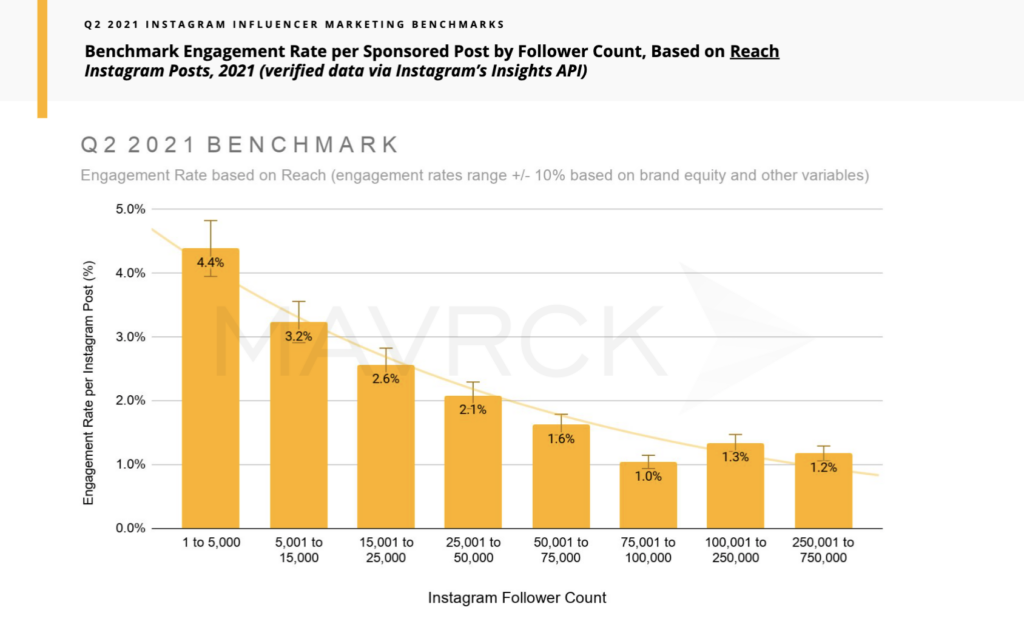 So figure out your priorities, and let that guide your influencer marketing strategy rather than going after impressive names or numbers.
Competitive Compensation Essential To Influencer Marketing Strategy
Many influencers are eager for brand partnerships since content creation tends to be profitable only for those with the largest follower counts.
For instance YouTube paid out over $30B to its content creators in the last 3 years.
But if you're not a top creator, you're only looking to earn about $18 per 1,000 views and pennies for each ad view (after you hit at least 1,000 subscribers for your channel).
Brand sponsorships are a great way for content creators to supplement this.
With that said, come up with a compensation package you feel comfortable offering to your advocates.
It could be monetary compensation. Or free product, free swag.
The leading trend now is for most influencers to prefer monetary compensation. But it depends on the relationship you build with your influencers and your brand reputation.
Also the larger the potential impressions, the higher the cost will be. That's regardless of outcome.
Here's some data on benchmark influencer marketing costs of sponsored posts.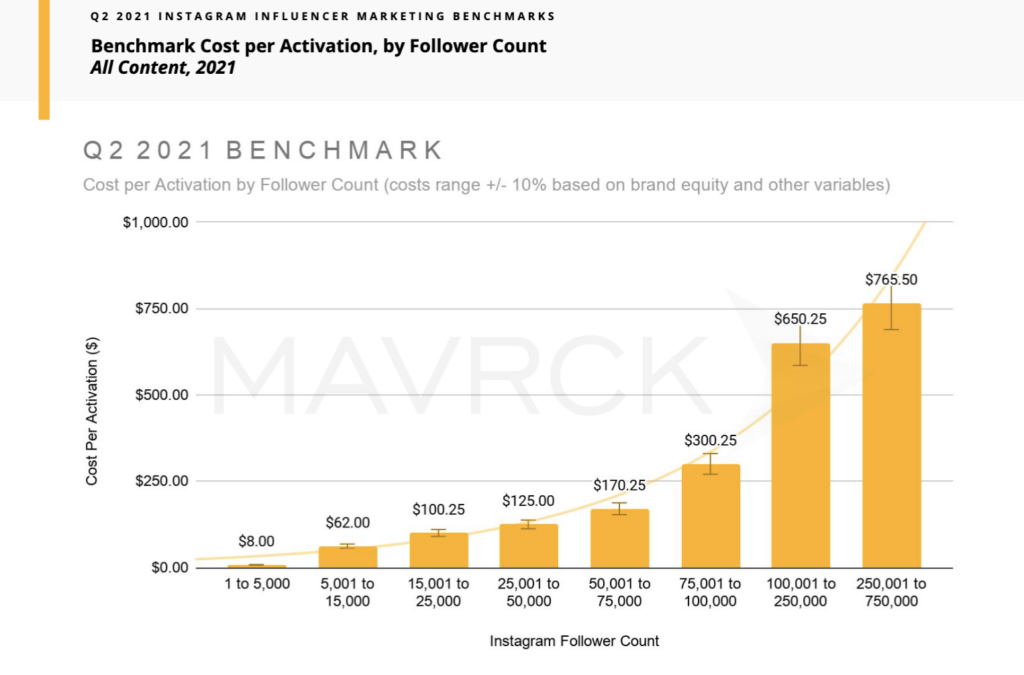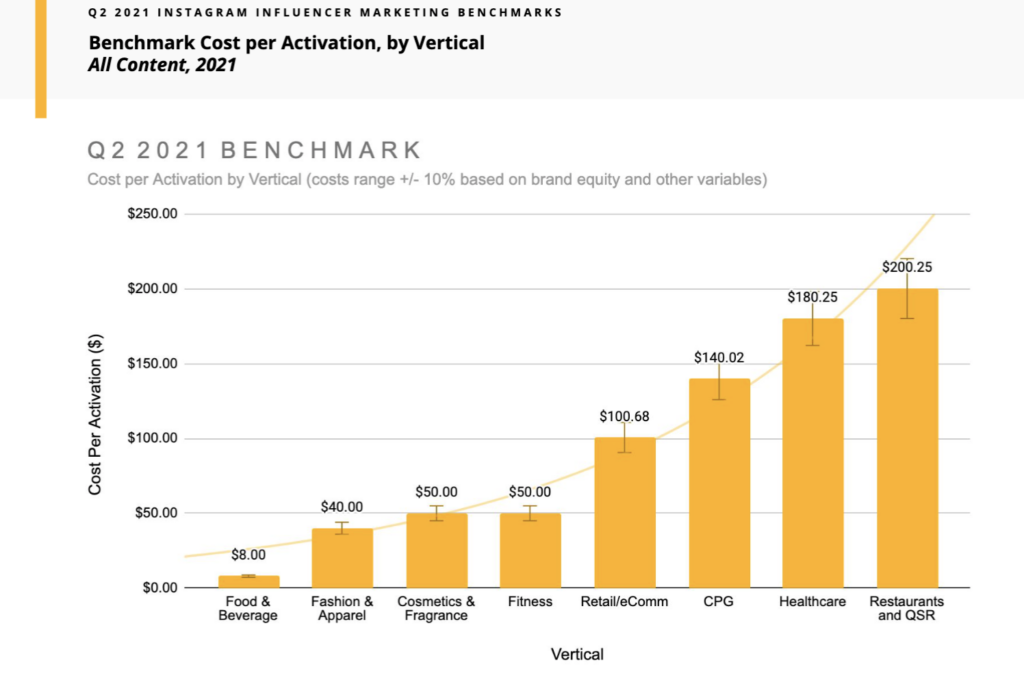 Setting up affiliate links to give them a percentage of any sales they directly drive can be a way to balance the cost of reach with actual results.
"Sign your influencers up as affiliates! If they believe in your product they will be happy to earn a commission on sales. I also like to check in occasionally to help nurture the relationship or reply to their posts / stories from the brand [social media] account just to show some love. Building brand loyalty is key."
Gracey Altree, Partner + Influencer Marketing Associate at American Giant
Influencer Marketing Data & Tools Offer Support
As your influencer marketing program grows or once you've determined the potential value, you'll want to consider additional resources and support.
As I mentioned earlier in this article, many potential partners have emerged.
Influencer marketing software and agencies are one of the top growing categories.
Opting for an influencer marketing agency partnership brings most of the same benefits and challenges as any other marketing agency experience.
The right agency will have established relationships with target influencers for your brand to help provide introductions and bridge communication.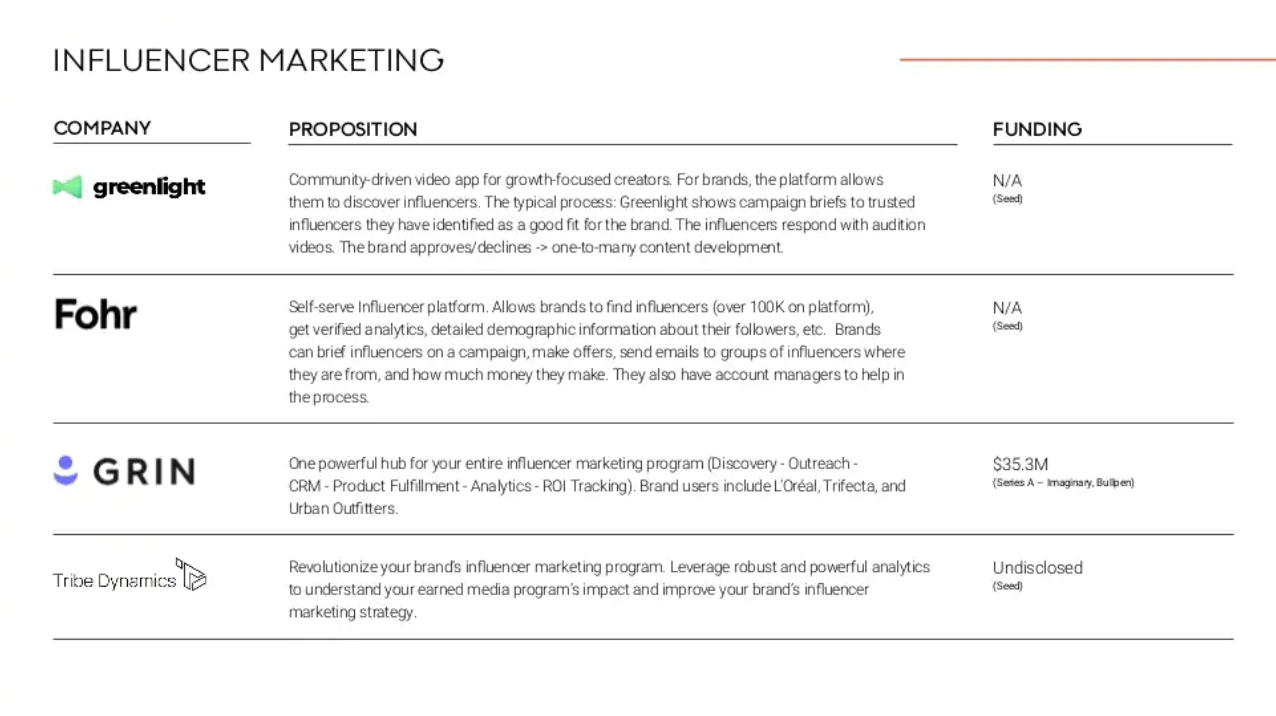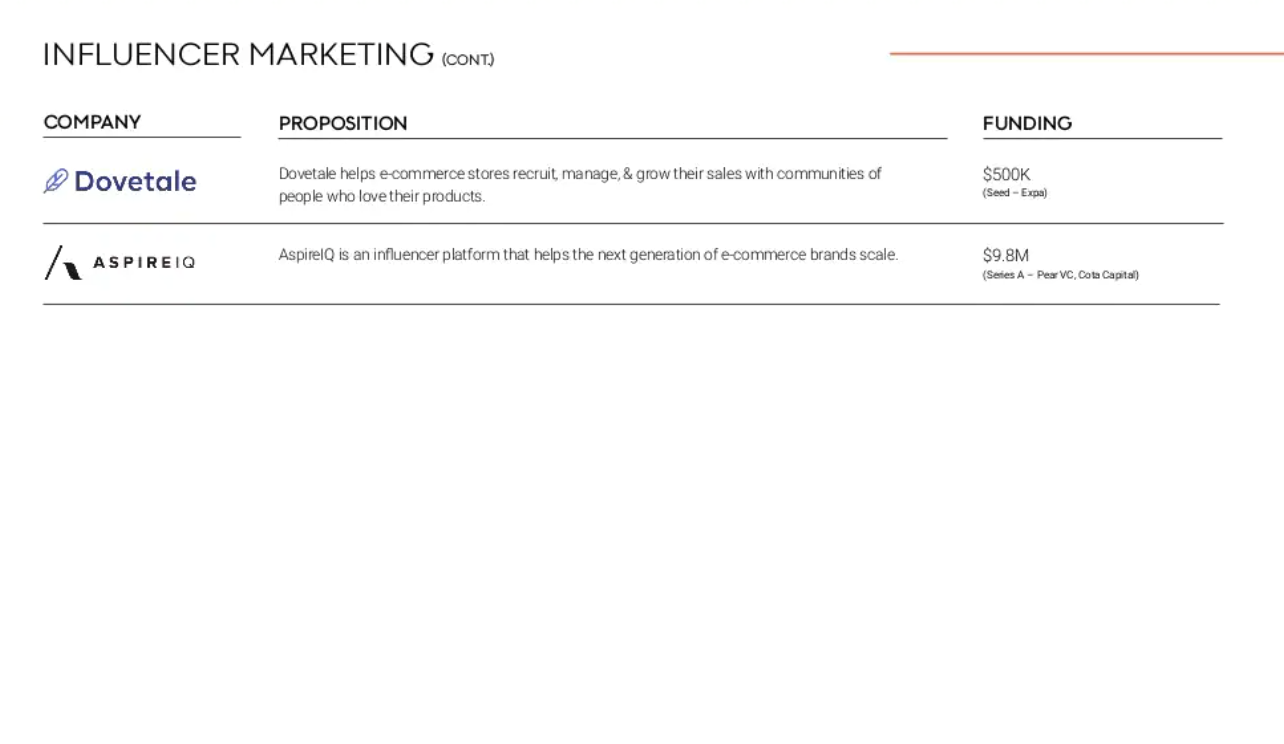 There are also platforms that automate more of the experience of working with influencers.
They can also handle tasks from pulling metrics such as follower counts and engagement rates to measuring outcomes of the activation.
Explore all of the options to find what will work for your brand and budget.
Free Influencer Marketing Tools & Apps
Looking for some free options for influencer marketing tools and resources?
These are a few you should check out:
Facebook Brand Collabs Manager – Not sure if I'm the last one on the planet who found out about this, but Facebook is trying to make it easier to connect you with influencers on both FB and Instagram.
TikTok Creator Marketplace – But this one is brand new. TikTok also just introduced a platform for brands and TikTokers to sync up for collaborations. Be one of the first to get on board.
Influencer Marketing Hub – This platform offers a tremendous variety of tools, including estimating an influencer's engagement rate, growth or earning potential, and number of fake followers.
Upfluence Free Influencer Analysis Plug-In – Upfluence has a complete influencer search database, but this Chrome plug-in lets you get basic analytics on influencer profiles as you search the web.
#paid Recommended Influencer Rates – Not sure what to pay for influencer campaigns? Here's a general outline to use as a starting point. Be advised, these numbers do vary based on niche, type of content, etc.
Podbay – Interested in working with podcasters as part of your influencer strategy? Find the top podcast shows in a variety of categories or by searching keywords.
Interested in getting more content like this? Sign up for my newsletter or subscribe to the Brand & Marketing YouTube channel and get fresh insight delivered to you weekly.