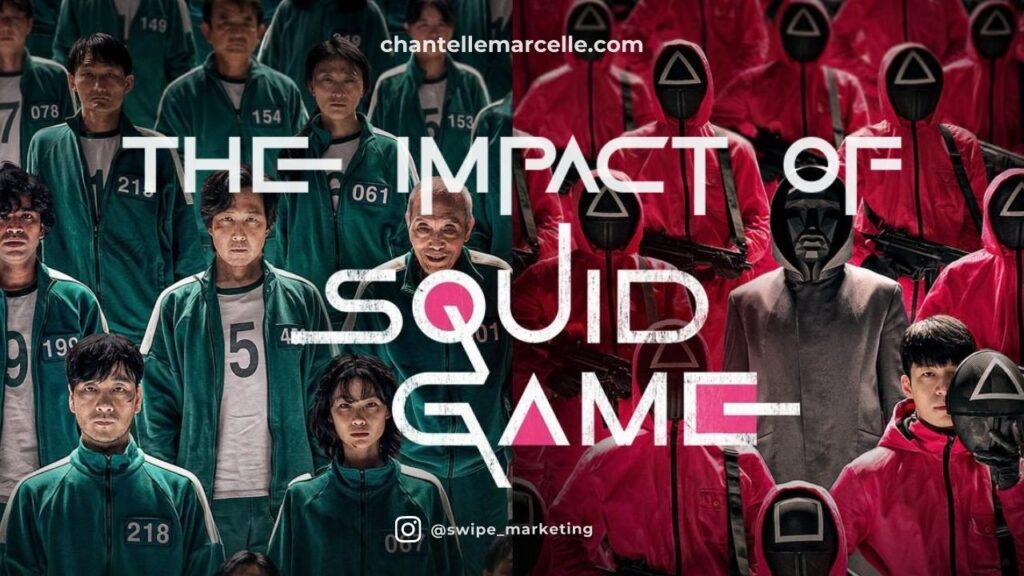 Squid Game Statistics Show Power of Netflix Global Content Strategy
Hallyu, or the Korean Wave. It's a term defined as "the increase in global popularity of South Korean culture since the 1990s." And lately Netflix appears at the center of the conversation around this incredible trend. On Sept. 17, 2021, the streaming platform released Squid Game to global audiences.
The show quickly became the most watched, most in-demand program available on streaming channels in the world.
Its popularity was surprising. No large-scale marketing or advertising campaigns launched in advance in most countries, including the US. Instead organic channels, like word of mouth and social media conversations, fueled buzz around Squid Game.
And the global influence of the show became evident in a variety of ways.
In many ways, this felt similar to the buzz in 2020 around another hit Netflix series, The Queen's Gambit. After the release of that show, sales of chess sets increased significantly and led to many merchants being left out of stock.
Here are some Squid Game statistics and facts that reveal its short- and long-term impact.
Hallyu: Multicultural Content on Netflix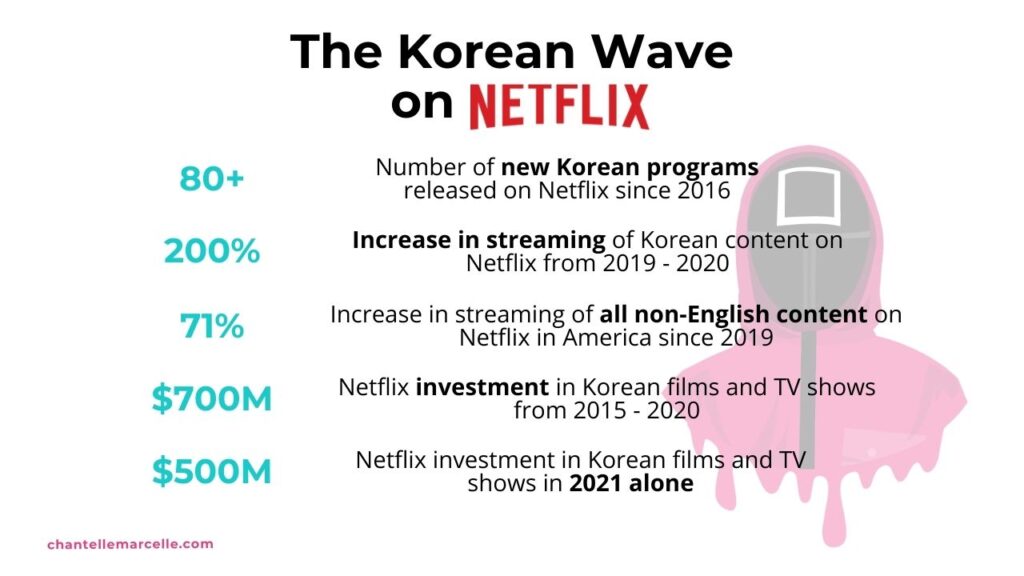 Since 2016, Netflix has released over 80 new Korean programs. Squid Game is the first K-drama to reach the top 10 list of the platform's most popular content.
But Korean shows and movies grew steadily in popularity for many years before the release of Squid Game.
Consumption of Korean content on Netflix increased 200% from 2019 – 2020.
To note, it's only one recent example of multilingual, global content becoming an international hit. Lupin, Money Heist, Narcos, The Platform and Train to Busan are all others that captivated audiences.
Streaming of all non-English content on Netflix rose 71% since 2019 among American subscribers.
From 2015 to 2020, Netflix invested $700M in adding Korean films and television shows to the platform.
Due largely to an increasing appetite among global audiences, Netflix will increase investment in Korean content to $500M.
Other streaming platforms are also reportedly looking into increases in investment in international, multilingual programming as well to make sure they cash in on the benefits, too.
The Popularity of Squid Games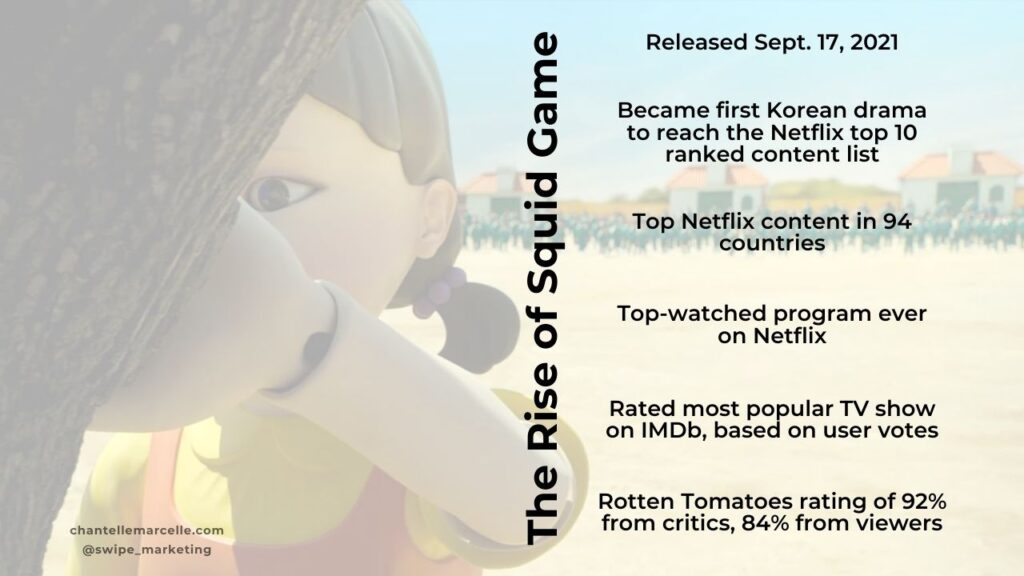 As mentioned, Squid Game is the first Korean drama to reach the Netflix top 10 ranked content list.
Here are some of the other accolades the show racked up:
Top content on Netflix in 94 countries
Top-watched program ever on Netflix
Most in-demand show in the world in the 2 weeks following release
Rated most popular TV show on IMDb, based on user votes
Rotten Tomatoes rating of 92% from critics, 84% from viewers
The Squid Game Payoff: Benefits for Netflix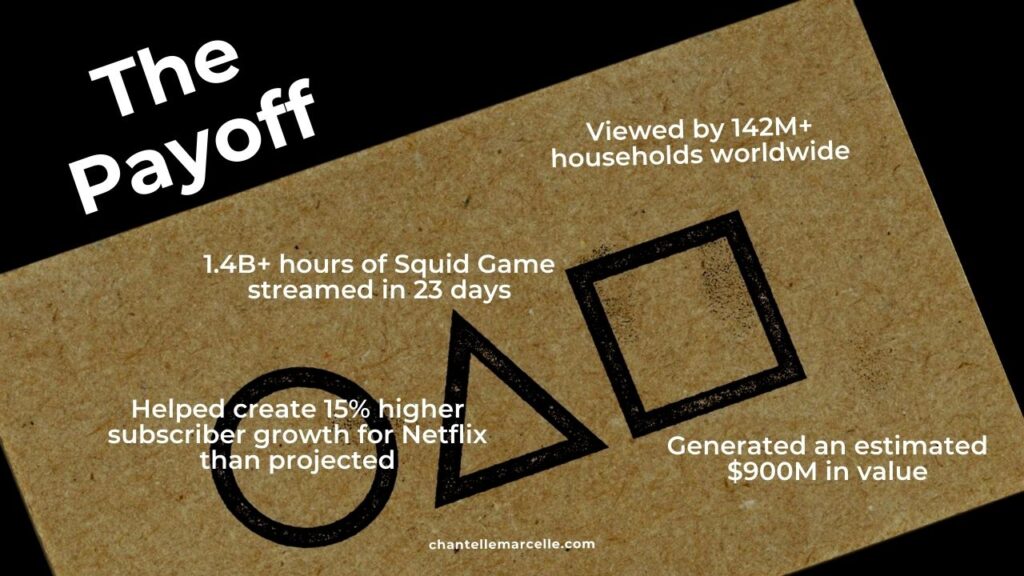 Viewed by 142M households around the world in first 4 weeks after release, Squid Game earned Netflix a number of wins.
Netflix users consumed a total of 1.4 billion hours of Squid Game in only the first 23 days after release.
The show also created search interest 79x higher than the average for any other streaming content title in the world.
The effects on Netflix growth were significant, even just in the month following the debut:
15% higher Q3 subscriber growth than projected, which also marked the first time Netflix had a net positive subscriber growth rate in 6 months
Asia became the predominant region for Netflix subscriber growth
Most astoundingly, Netflix paid $21.4M for the series but was reportedly able to generate an estimated $900M in value.
The Squid Game Advertising, Marketing & Sales Effect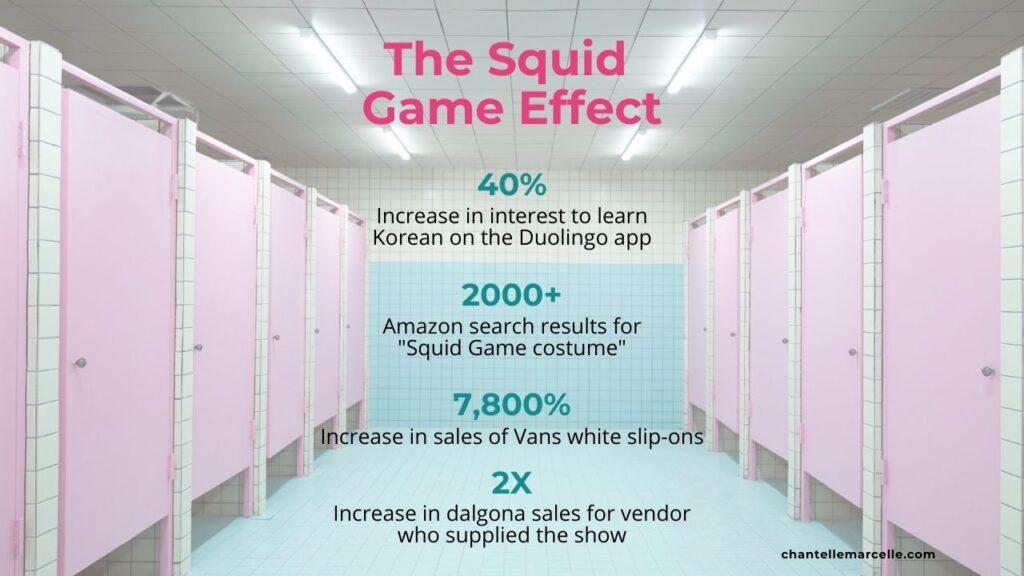 Brands around the world quickly recognized the enormous appetite of consumers for all things Squid Game.
The show created a spike in the already high demand for Korean culture and content (need I mention BTS?).
As an example, language learning app Duolingo saw interest in Korean lessons increase 76% in the UK and 40% in the US. Korean has the second fastest growing number of users interested in learning the language on Duolingo (after Hindi).
But here are some other Squid Game statistics on how it's affecting brand sales and marketing:
Over 2,000 Amazon search results for "Squid Game costume"
Sales of Vans slip-on shoes increased 7,800%
Searches for "white slip-on shoes" increased 97%
The South Korean vendor, An Yong-hui, who created the sweet dalgona snacks featured in the show, reports that sales have doubled
A number of brands have launched marketing campaigns based on Squid Game, including Pepsi, Domino's Pizza and more
To capitalize on this demand, Netflix announced a new partnership with Wal-Mart to sell merchandise from Squid Games and other hit shows in the future.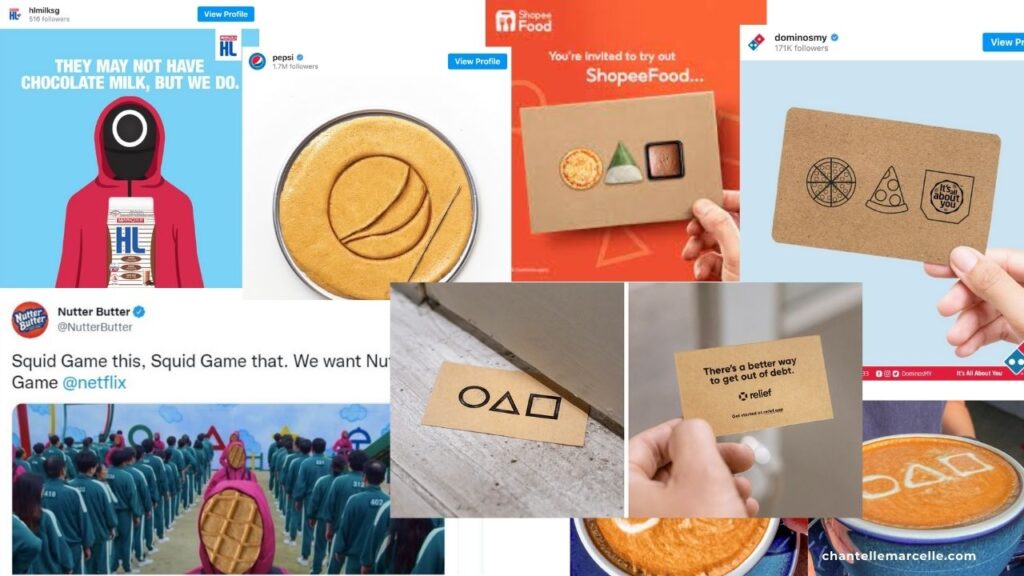 Squid Game Virality on Social Media and TikTok
Of course, social media played a central role in the success of Squid Game.
Users across all platforms eagerly shared reviews and content about the series. Several Squid Game memes went viral and were shared for weeks following the show premiere.
To look at general Squid Game statistics on social media:
11.1B views of the hashtag #SquidGame on TikTok
Several viral social media memes spawned
Over 200K TikTok videos using a viral sound clip from the Red Light, Green Light scene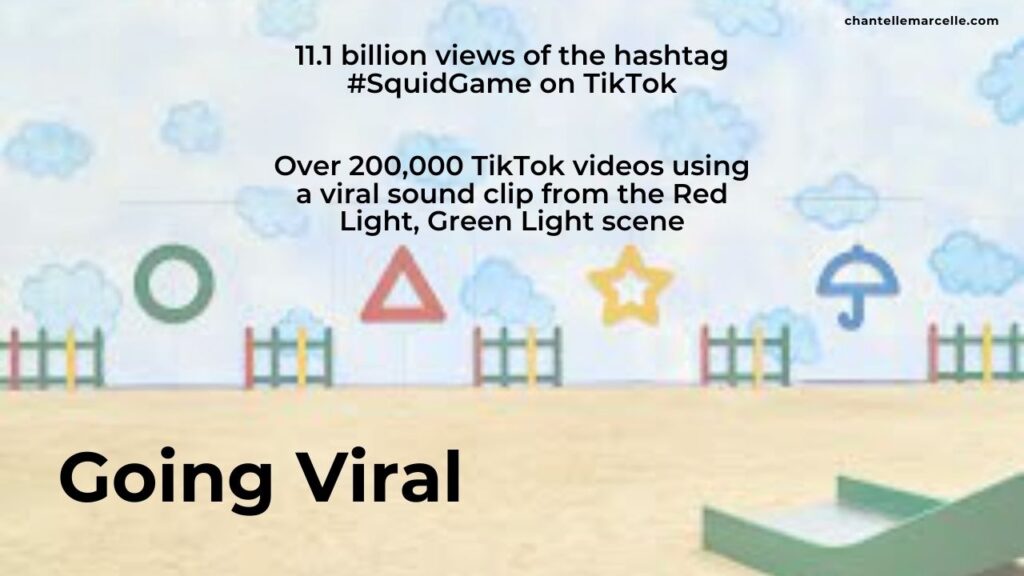 Interested in getting more content like this? Sign up for my newsletter or subscribe to the Brand & Marketing YouTube channel and get fresh insight delivered to you weekly.
Sources for this article: