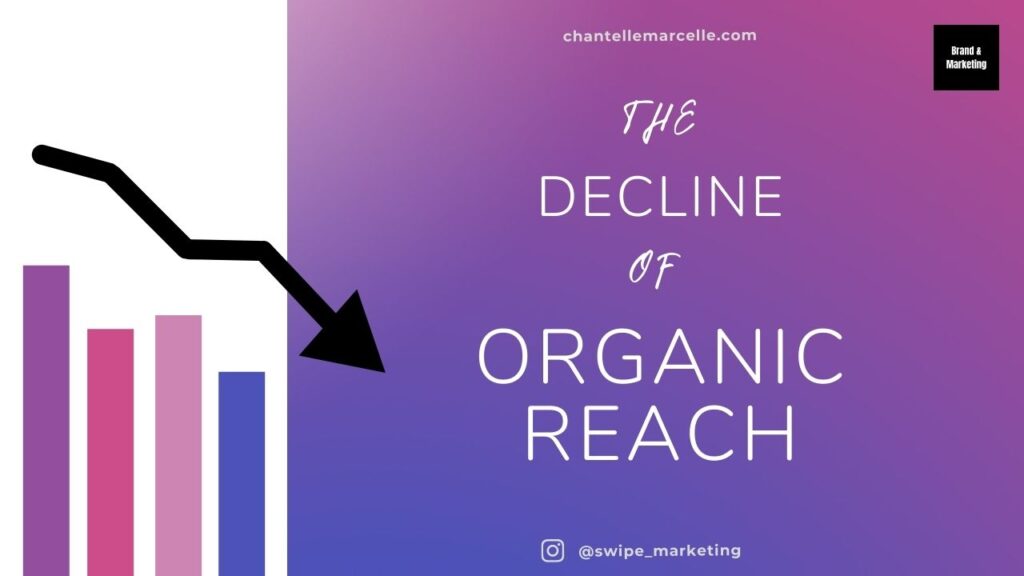 4 Ways to Improve Organic Social Media Reach Decline
Organic reach for brand social media accounts has been decreasing over the years. It's got many brands concerned to see the steady organic reach decline. Creative content, giveaways, incentivizing follows. Very few of the recommended tactics seem to help.
Only about 1 in 20 fans of your Facebook page will see your organic posts.
Organic reach decline manifested in a 5% drop from end of 2019 to end of 2020. In 2021, most brands felt the decreased performance worsen.
Facebook even wrote a post a while ago admitting organic reach was declining.
The official response was: "Facebook is far more effective when businesses use paid media to help meet their goals."
Social media is a pay-to-play channel.
Eventually projections show brand organic reach could hit zero – 0% – or close enough to it.
We were all tricked into believing these platforms are free marketing opportunities, when really, they do have a cost. Advertising revenue largely drives funding for social media companies.
So what's the solution?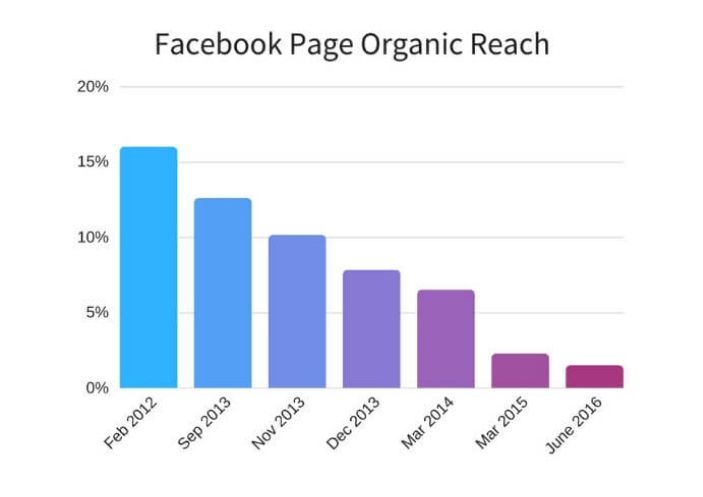 1. Pay For Better Results to Counter Organic Social Media Reach Decline.
Generally, yes, you need to pay to grow.
Brands have to supplement an organic social media strategy with paid efforts to see maximum returns. It's how most social media platforms are currently designed to operate.
But this is a difficult time to get started or to scale growth with paid digital ads on any platform.
Data is limited following new mobile ad targeting regulations implemented by Apple. As a result, audience targeting is unreliable.
If you missed it, in 2021 Apple announced they'd be restricting the ability to retarget iOS device users with digital ads without user opt in. (About 26% of smartphone users in the world have an iOS device; 53% in North America, 30% in Europe, 49% in the UK, and 16% in Africa.)
This, of course, damaged advertisers' ability to specifically target segments of Internet users with digital ads as well as access to accurate, timely performance reports.
Right now there can be a 3- to 7-day delay in reporting on many digital advertising platforms. That makes it hard to optimize your content and manage spend if you can't see how it's performing until a week after you started running it. Which in turn causes decline in return on ad spend (ROAS).
Matters can be complicated further depending on the time of year when digital advertising strategy launches. Q4 is historically the most competitive and expensive time to run digital ads each year. Everyone is gunning to close out the year strong so you need to be on your absolute A-game to succeed.
(Check out this article on how to create a more successful paid ad strategy for B2B companies.)
2. Explore New Social Media Marketing Channels. Go Viral On TikTok.
Many brands enthusiastically point at TikTok as an alternative to channels with less organic growth.
As one of the newer social media platforms, TikTok is still eagerly trying to establish a strong, loyal user base. Organic content has incredible reach and a much higher likelihood of going viral.
Many who go viral on TikTok are also able to see the growth spread across all their accounts.
People who follow you on TikTok are then likely to follow you on Instagram, Twitter or elsewhere as well.
This won't last forever. Once the platform has established itself as a must-have and proven its value, they'll likely make a huge play for advertising and brands will be in the same boat.
Because social media platforms need revenue, and brand advertising dollars generally serve that purpose.
So if you're interested in taking advantage of the high growth and virality potential of TikTok, I recommend you dive in immediately. With the obvious caveat that you'll want to make sure you've got the resources to handle the additional content creation for a new channel.
3. Leverage Relationships With Social Media Influencers and Ambassadors.
Did you know Twitter shared that 40% of platform users made a purchase based on an influencer recommendation?
And on average, brands see returns of $5.20 for every dollar spent on influencer marketing.
When most people hear influencers, they think of Gen-Z social media users posting silly videos or posing in a sultry image to push waist trainers and fast fashion.
But influencer marketing has grown beyond this.
Smart brands, B2C, D2C, and B2B, have been employing creative strategies to partner with power social media users and engage with online communities to create touch points with potential customers.
For instance, I posted this graphic to Twitter and LinkedIn several weeks ago.
In total it racked up over 125,000 impressions, almost 300 likes and over 100 comments. That's all exposure for each of the brands featured here. People having organic conversations about the benefits of each of these.
Now imagine what would've been possible if I was an actual "influencer" with a substantial number of followers?
Influencer content generally has the potential to get higher organic engagement and reach than content shared from brand accounts. And there's a higher level of trust.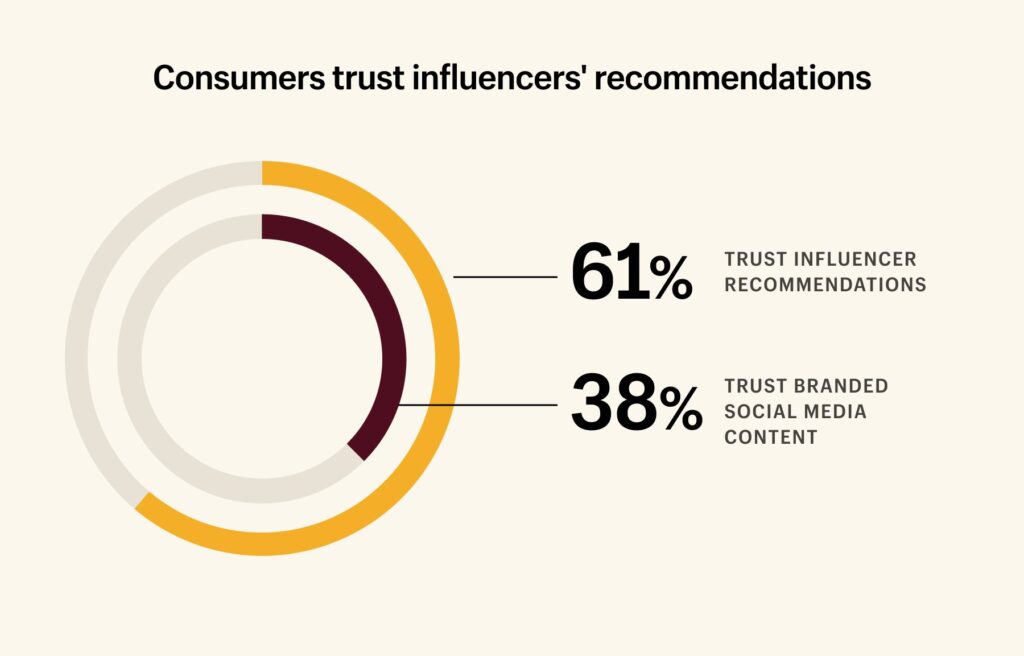 4. Own Your Audience To Supplement Organic Social Media Strategy.
Beginning in 2020, many businesses began to look for ways to fuel sustainable growth without relying as heavily on paid advertising.
The World Economic Forum calculated that total advertising spend decreased by 10% in the US, and a similarly dropped by 12% in the UK during the first half of 2020. The Interactive Advertising Bureau reported that 24% of brands paused all advertising by Q2 of 2020.
Relying on growth from social media or digital advertising is like renting an audience.
Your access to the audience is entirely controlled by the platform.
If your account is suspended or hacked, you're cut off. If the platform loses popularity and fades into obscurity (like now defunct social media channels Vine and Musical.ly), you've lost all your followers.
Owning your audience means building and growing in the spaces you own.
That could take the form of accumulating email or SMS subscribers to share messages directly.
Many brands prefer to create their own website with a strong SEO strategy to bring inbound marketing traffic on a consistent basis.
Starting your own brand community in a dedicated space away from social media. (Community building strategist David Spinks had some great recommendations on this when I interviewed him.)
Interested in getting more content like this or to discuss organic social media reach decline? Sign up for my newsletter or subscribe to the Brand & Marketing YouTube channel and get fresh insight delivered to you weekly.