How Niche Marketing Benefited Fiverr Growth Strategy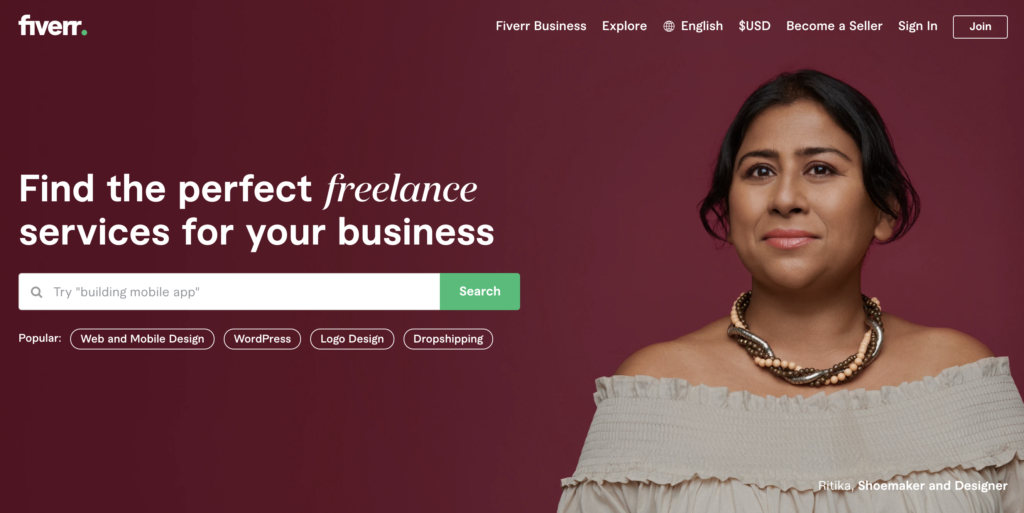 2020 has been a year full of economic ups and downs. It's highlighted the fragility of some industries and businesses, while creating opportunity for others.
A large area of opportunity lives in the space focusing on "the future of work." Companies with products or services supporting the growth of remote and hybrid team structures seem to be making headlines with tremendous success.
(Snowflake and Zoom for example.)
Just recently I noticed buzz around another company enjoying a period of expansion attributed by many to conditions created by the pandemic.
Fiverr.
If you haven't heard of it, Fiverr is a company that has become somewhat synonymous with gig economy transactions.
And Fiverr growth is turning heads this year.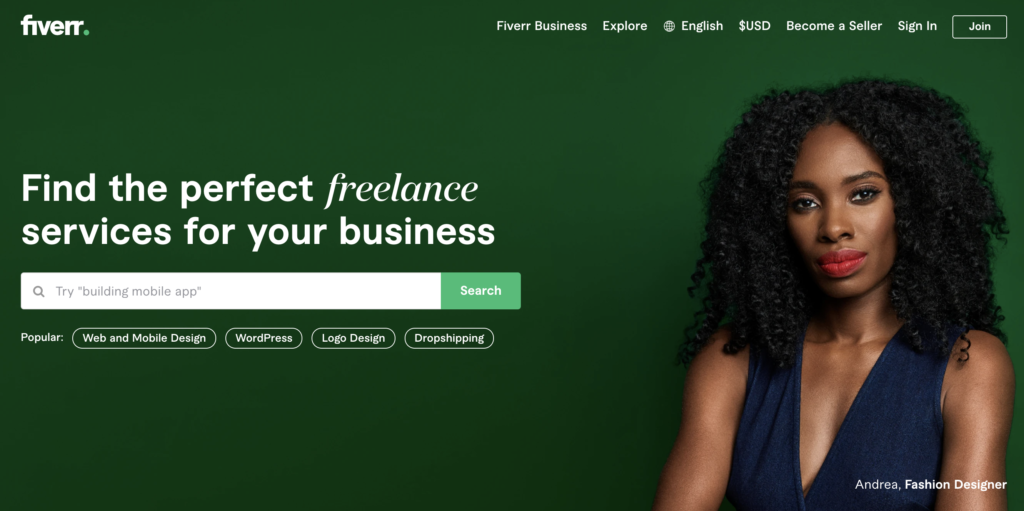 Fiverr itself began as a result of one of the co-founder's own experiences. He was creating a customized WordPress blog and just needed help on some minor pieces of the job. Finding someone to help him for a decent price turned into a headache.
And so he knew there was an addressable problem to be solved. There was substantial friction to be removed from the experience of booking these kinds of freelance gigs.
The early claim to fame and competitive differentiator for Fiverr was offering businesses access to a marketplace of freelancers who could perform digital services for the flat rate of $5.
The premise proved simple and straightforward.
Whether you were looking for a freelancer to do a graphic design or a translation project, you could easily find them (at a low rate) through Fiverr. Which beat the heck out of having to do hours or days of research scouring the web, then vetting out different freelancers. All without any guaranteed, verifiable reviews.
Additional benefits are the fact that businesses can link user accounts to set organizational standards and processes for approvals, payments, etc.
Since its start in February 2010, Fiverr has moved away from its original model a smidge. For instance, not all services cost $5 (only 5% of services now cost only $5).
There's a higher tier of freelancers available for bookings via Fiverr Pro who are checked out and approved by the platform. These workers can charge higher rates because buyers can be more confident in the quality of output.
But Fiverr largely remains true to its niche.
The digital gig economy.
The company's narrow focus created some challenges in its early years when it searched for investors.
Some felt this focus limited potential growth.
By only offering low-cost micro-services, Fiverr was shutting out a lot of other potential revenue. And could $5 per transaction really result in much revenue generation?
Others thought the site was gimmicky, partly due to some of the more non-traditional featured services. Like creating a voiceover recording as Bernie Sanders for example.
(In case you're curious, those tend to be the minority of available services. The leading categories are digital marketing, design, content marketing and copywriting, tutoring, and fun — like caricature drawing.)
Fiverr growth during the first year after launch resulted mainly from PR, social media marketing, and word of mouth.
The company employed just 8 employees at that point and spent next to nothing on marketing.
Despite that, they were still able to reach 60k transactions a month. Organic and direct were the primary traffic sources to the site at that point, testament to the homegrown nature of the company's marketing efforts.
And rate of transaction growth exceeded new traffic to the site, which also spoke to the power of returning customers for the business. The average buyer booked 5 services, and 7% of freelancers were also buyers.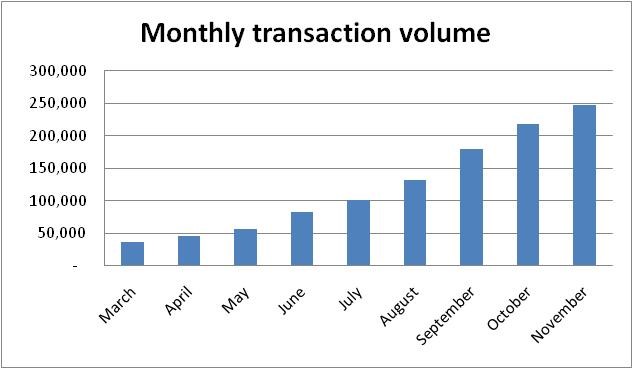 None of this held Fiverr growth strategy back from upward gains, though.
The company had a successful IPO in June 2019, with the stock opening 24% above the initial-public-offering price and closing at 90% higher than the IPO price.
Fast forward to 2020 and COVID-19, and here's a quick update on what Fiverr growth looks like:
82% increase year-over-year (YOY) in sales during Q2 alone
28% increase YOY in active buyers during Q2 alone
Achieved profitability, 3 years before previous estimates
This rapid growth is attributed to a variety of factors. For one, more businesses are looking to outsource work to freelancers rather than hiring new employees. And more professionals are looking to supplement their income with side hustles.
So what started as a small, niche market focus multiplied due to the right combination of strategy, intelligent prediction and simple luck.
In 2016, a World Bank report estimated that the global digital freelancing market was $4.4B.
In 2020, Fiverr cited the US Census Bureau as estimating total freelancer income in the US alone at $750B+, of which $100B is the company's addressable market size.
The bet they made as a company on a specific niche are paying off.
Many believe the future of work is remote work and a growing global market of freelance digital contributors. If that's true, Fiverr leadership is confident the future looks good for the company.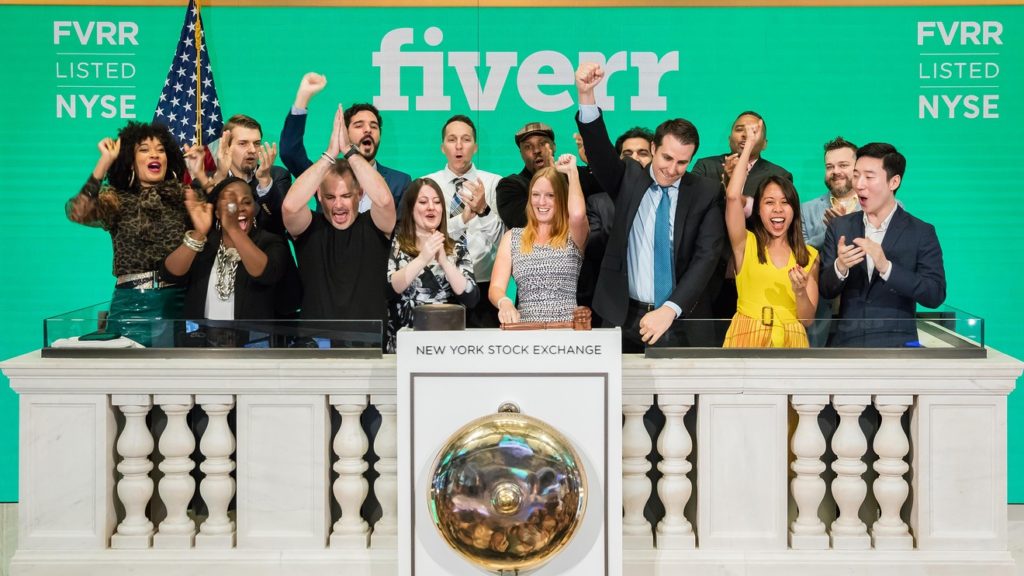 "We believed that the future of work was going to be remote work, people working with freelancers, people working in their own hours from anywhere at any time," said Fiverr CMO Gali Arnon.
"I think what the pandemic did to all of us was to accelerate this process massively. The future work is no longer the future, it is the present. People understand that and Fiverr is kind of a symbol of this change and revolution that the whole world is going through. We feel like the world now understands it. Fiverr was in the right place at the right time.
This year Fiverr rebranded and launched a new marketing campaign to further solidify relationships with its niche: small businesses and freelancers.
The brand started a new podcast (Ninetwentynine), too, with the same audience in mind. (It'll be interesting to see how the campaign performs, considering missteps with some of the brand's marketing campaigns being seen as potentially exploitative of gig workers in the past.)
They're also offering e-learning and virtual events resources on the Fiverr site now, which are both huge as a result of both education and events industries moving to remote models as a result of social distancing trends.
"Since COVID-19 forced the entire world into social and economic lockdown, every aspect of businesses and work has been upended," said Fiverr Business general manager Shira Levy Barkan.
"Remote work and digital transformation are no longer options, but necessities to survive and thrive. Fiverr's platform has become an important place for businesses to turn to in order to find experienced support and solutions, and where talent has turned to look for opportunities and income."
Want more marketing case studies? Follow me on LinkedIn to see my daily content. Or sign up for my newsletter and get marketing insight delivered to you weekly.