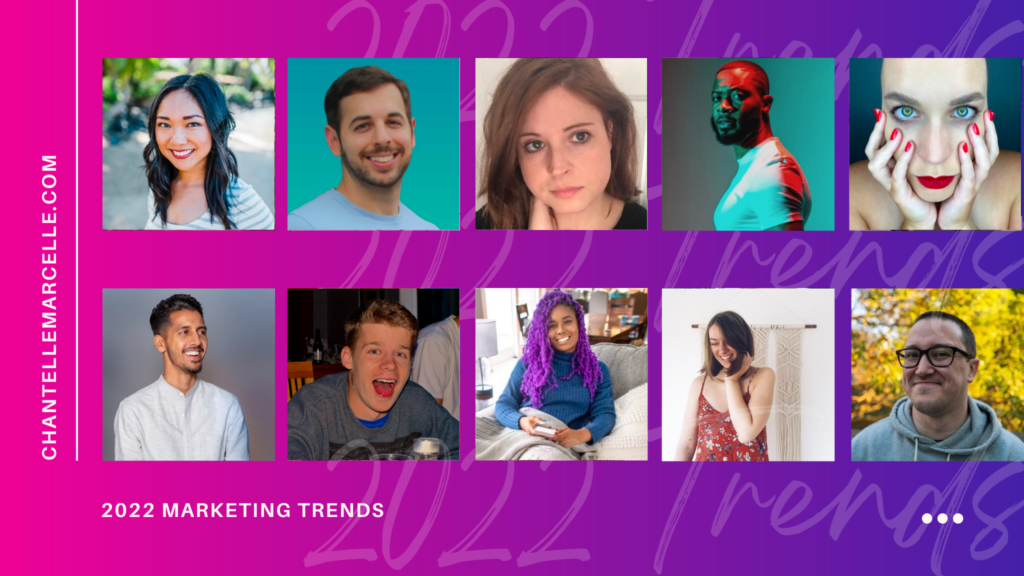 2022 Marketing Trends & Predictions From Top Business Leaders
I'm starting off another year by sharing insights about upcoming 2022 marketing trends from some business and marketing leaders I follow.
The rate of change over the past few years has admittedly been hard to follow. Emerging marketing technologies and channels present new opportunities, but also require brands to be flexible and nimble.
I reached out to some of the folks who are shaping and building the future of marketing across a number of industries and functions.
Here are their predictions for what you need to keep an eye on in 2022.
Multi-Channel Storytelling
The future belongs to brands who can blend a single story — not their story, but the story their audience already inhabits — across multiple "rented" channels and drive them to an owned location: i.e., closed-community platforms and the almighty email list.
Aaron Orendorff, VP of Marketing at Common Thread Collective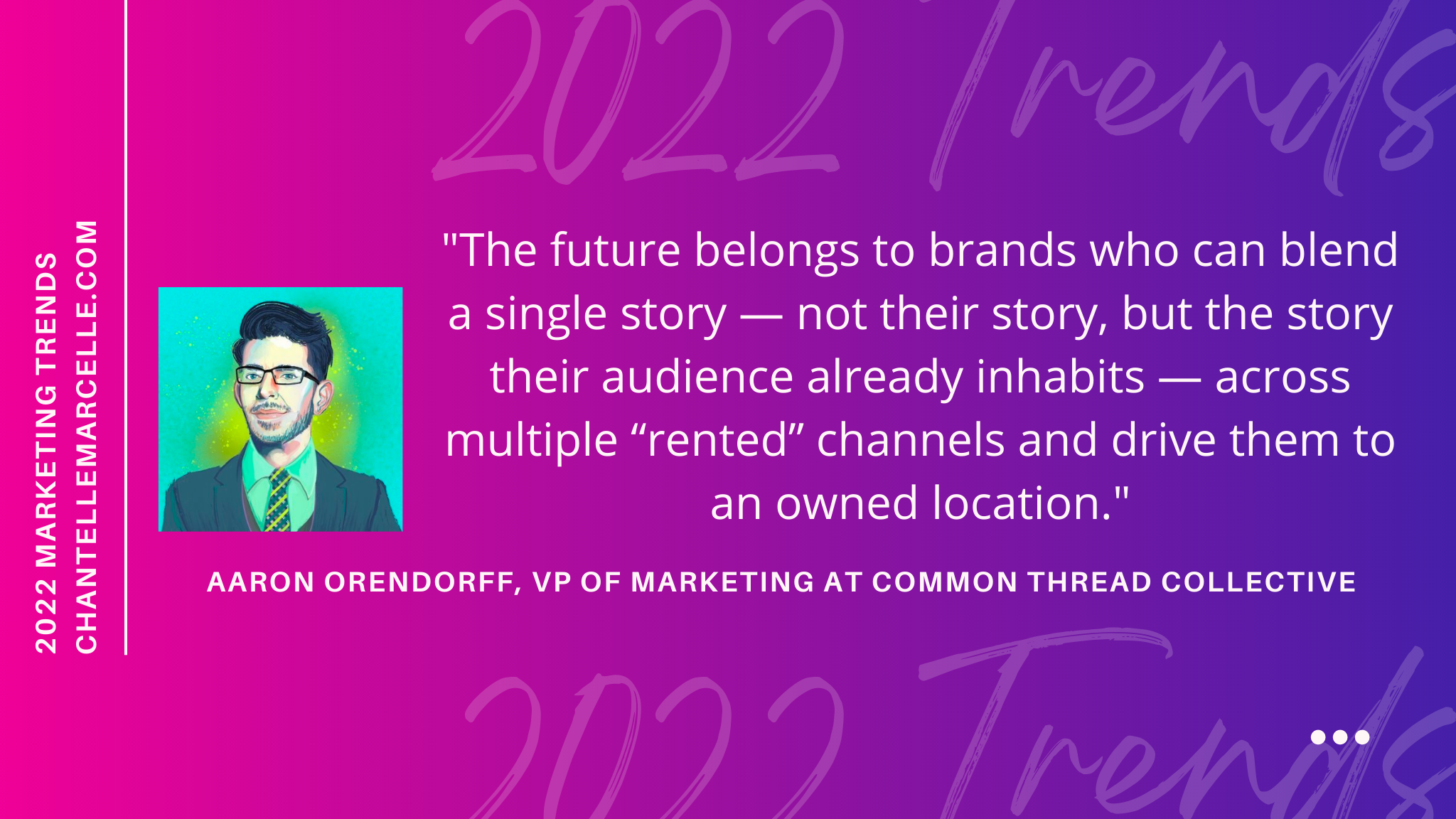 Long-Term Marketing Strategy
The pandemic taught us the importance of investing in long-term strategies like brand marketing and community marketing. In the coming year, I think we're going to see this continue to evolve — especially in events.
Communities will continue to thrive, people are craving in-person interactions, and there will always be a need for valuable content. I think we'll see event organizers step up to create fulfilling in-person and digital events.
Event technology — like Hopin, Crowdcast and Goldcast — has improved throughout the pandemic, so stronger infrastructure is in place to enable immersive digital events. And as pandemic-fatigued people crave in-person interactions, the onus will ultimately fall on event organizers to ensure public health protocols that will guarantee attendance.
Amanda Natividad, Marketing Architect at SparkToro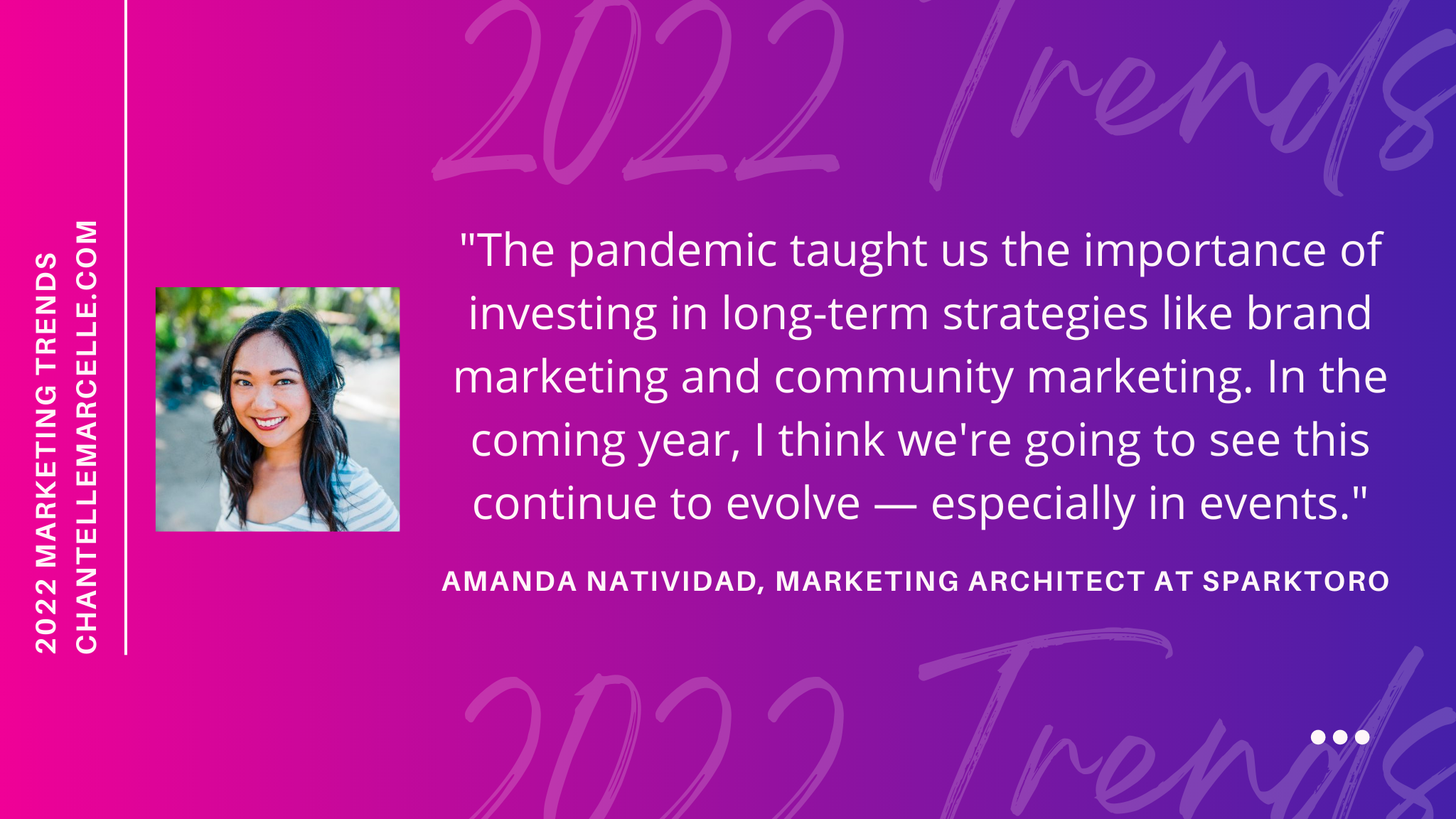 Marketing Partnership Between Content Creators & Brands
Short-form video was all the rage in 2021 and I don't think it's going anywhere, any time soon.
Brands are now outsourcing to content creators to develop short, entertaining videos to help educate customers on their product and/or amplify their brand story. This isn't a surprise because user-generated content has always performed well on digital channels. Now, we're just seeing a shift from photography and written testimonials to informal videos that capture the attention of the customer and are oftentimes more engaging.
Brands are using these videos for ads, organic social, and as a complement for existing content to help further engage consumers.
The creator economy is booming and if there was a time to tap in, it would be now.
Jayde Powell, Content Creator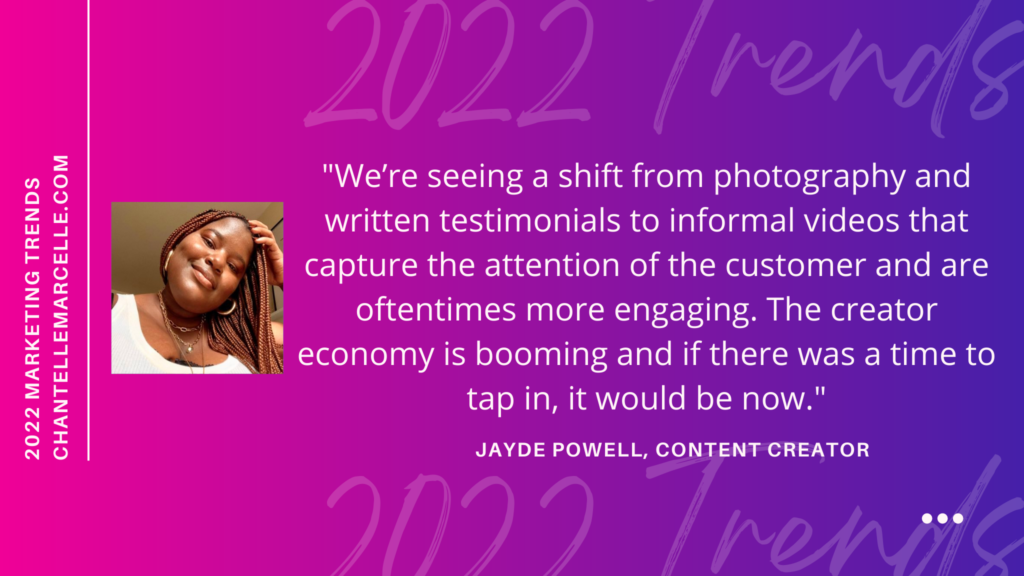 Gen-Z Focus to 2022 Marketing Trends
– The banalization of crypto – brands continuing to jump into things like NFTs as a gimmick and quick shortcut for attention (earned media) will continue to damage good, healthy and productive projects.
– A widening relevance gap – more and more brands are trying to reach audiences by juicing the Gen Z handbook for all its worth without any meaningful results. I think this will continue to get more and more abstract with brands having to be more outlandish to break through the apathy or lack of honesty in their communications.
Santi Pochat, Head of the Social Lab at Google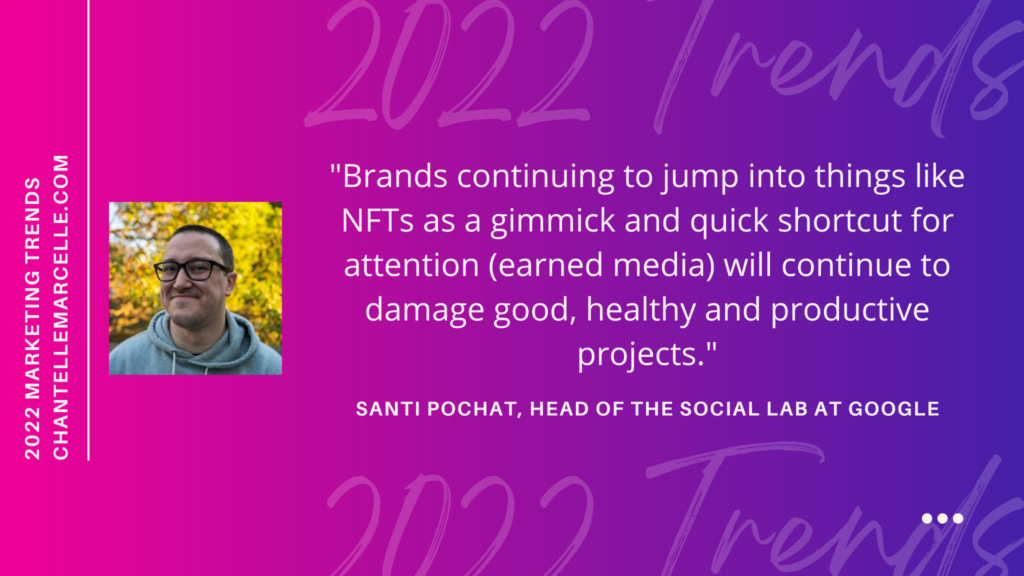 Increased Employee Advocacy in Social Media Marketing
With the continued frustration marketers have with organic social reach, I'm surprised that not enough people have explored employee advocacy. It's an untapped resource where your internal people have a wealth of industry connections that are potential customers, and often get wider visibility with their own posts versus the brand's. It's also an opportunity to educate your peers on social and champion them to be advocates for the company.
Syed Ali, Senior Social Media Manager at Carbon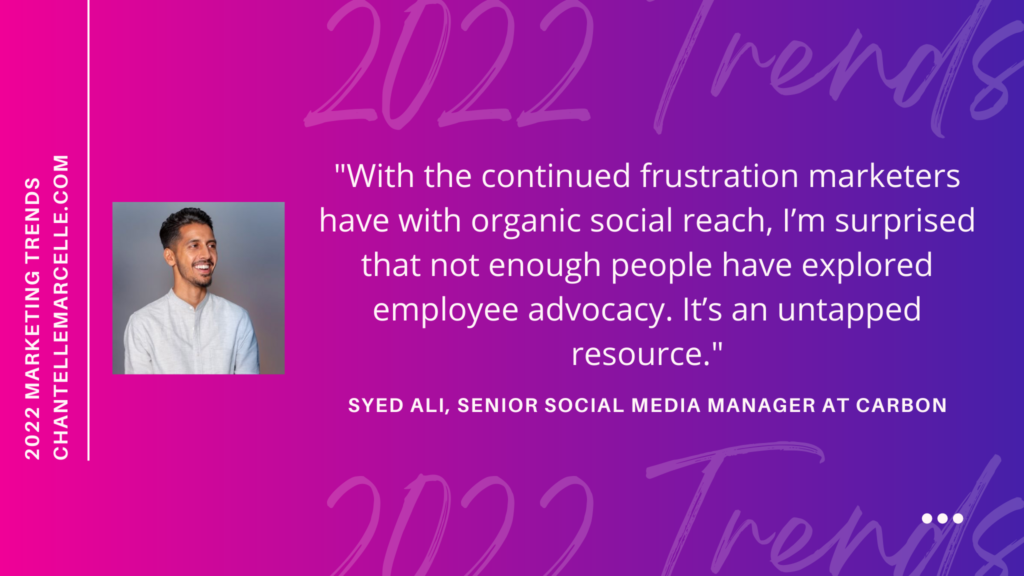 Community Tops 2022 Marketing Trends
Continual push for community, seen through DAOs and conversations around web3
Creators will continue to disrupt how brands communicate with their audience. More brands will enter the DTC, ecommerce space to create a tighter relationship with their audience.
Christina Garnett, Senior Marketing Manager, Offline Community and Advocacy at HubSpot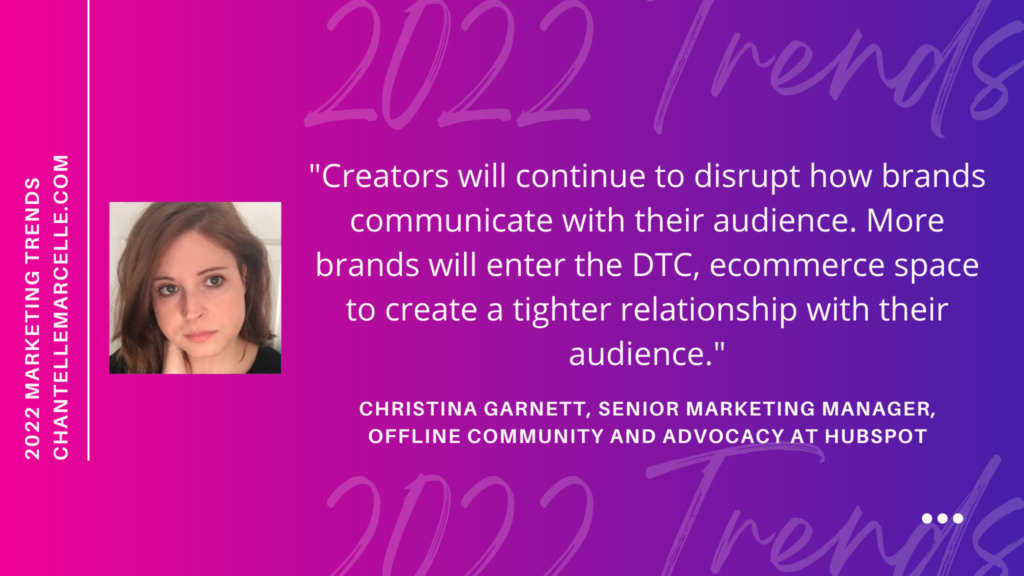 Investment in Owned Marketing Channels
Marketers will need to find innovative and effective ways to supercharge their owned channels growth strategy. One of the biggest trends is the re-direction of SM ad spends from social (given growing data & privacy issues) into owned channels. More attention should be given to building e-mail subscription, offers, eBook and general online community across owned platforms.
Joel Nomdarkham, Journalist and Marketer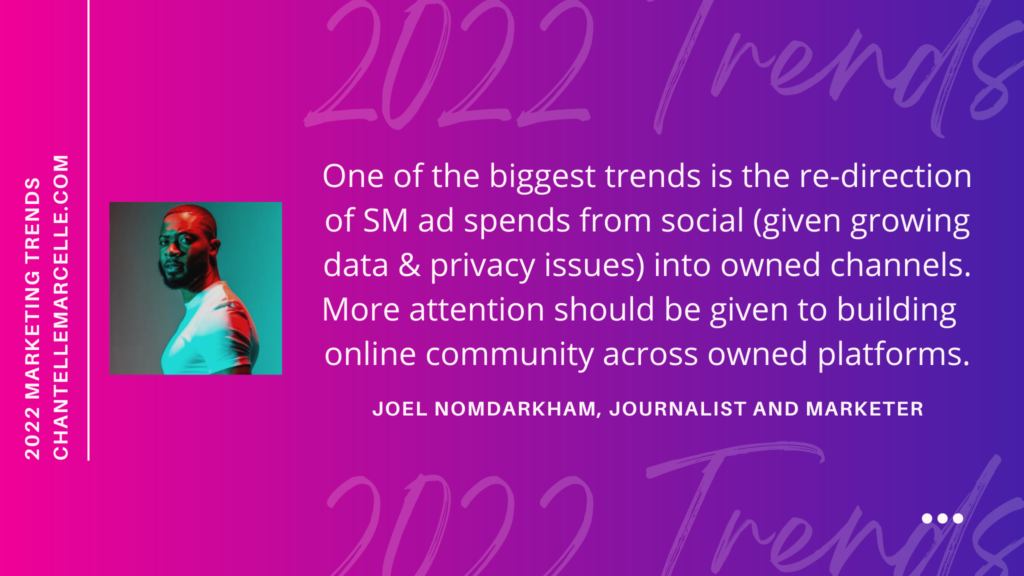 Increasing Importance of Video Content Marketing
A 2022 marketing trend that deserves more attention is video content within organic searches and content. Video has been dominating for years and will continue to grow.
For marketers, using video not just directly on platforms like YouTube or TikTok themselves deserves more attention. Specifically using video intertwined with written content for SEO and organic growth can help you deliver better experiences for readers and rank for multiple coveted spots on organic search results with the content itself and the video as ranking search results.
Jeremy Moser, Co-founder & CEO at uSERP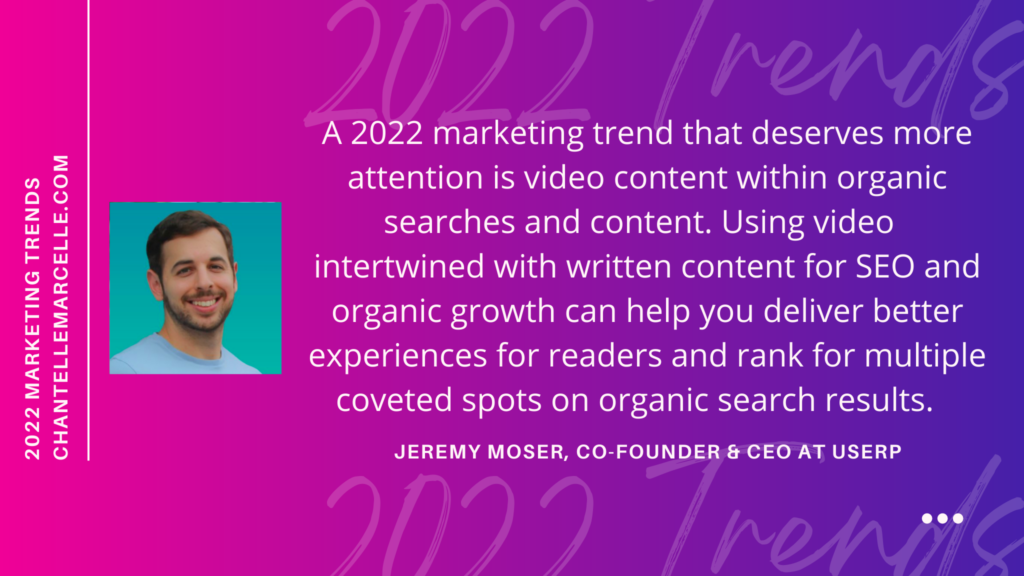 More Inclusive Digital Marketing Content
I think we'll start seeing a major industry shift when it comes to creating inclusive content as more brands realize how important accessibility is. I noticed more digital teams prioritizing accessible content in 2021, and I hope that continues in 2022 and beyond.
Alexa Heinrich, Social Media Manager at St. Petersburg College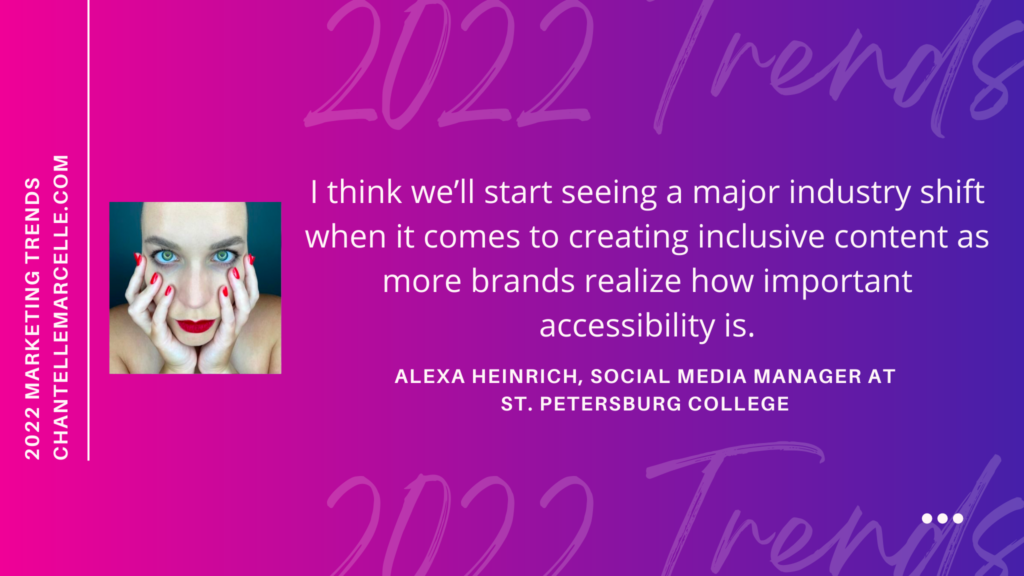 Intersection of Search Engine Optimization and Public Relations
Digital marketers need to be prepared for more collaboration between SEO (Search Engine Optimization) and PR (Public Relations).
As someone who practices both, I've noticed how PR can play a role in generating brand awareness and securing links that improves a brand's visibility online.
It's important to note, though, that the pairing of these two types of marketing should not be abused (e.g. PR isn't purely for link-building and SEO isn't purely adding a bunch of keywords to a page). If you want to successfully use both, take the time to understand both industries.
Tamara Sykes, SEO Strategist at Next Level Presence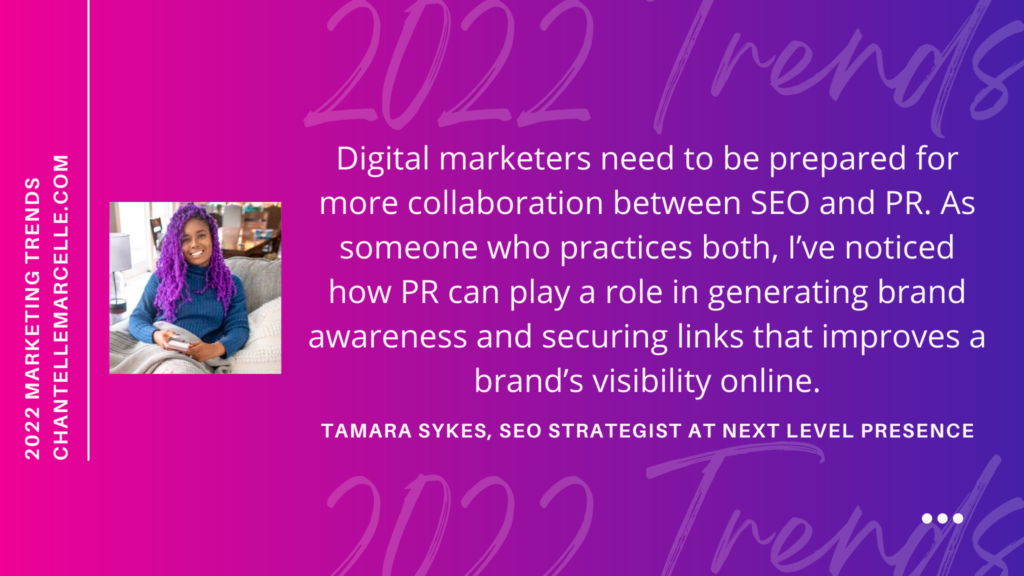 Trendjacking: The Newest 2022 Marketing Trend
Trendjacking – the art of creating a marketing campaign quickly to jump on a trend – is becoming increasingly important. We've seen it this past year with brands hopping on the latest trends like Duolingo owning TikTok, Peloton reclaiming their name in a Big way, and Aviation Gin with the McRib return. Brands who want to remain culturally relevant will need to be on the pulse of culture and have the corporate structure to create quickly without fear.
Nicole Tabak, Freelance Content Strategist and Copywriter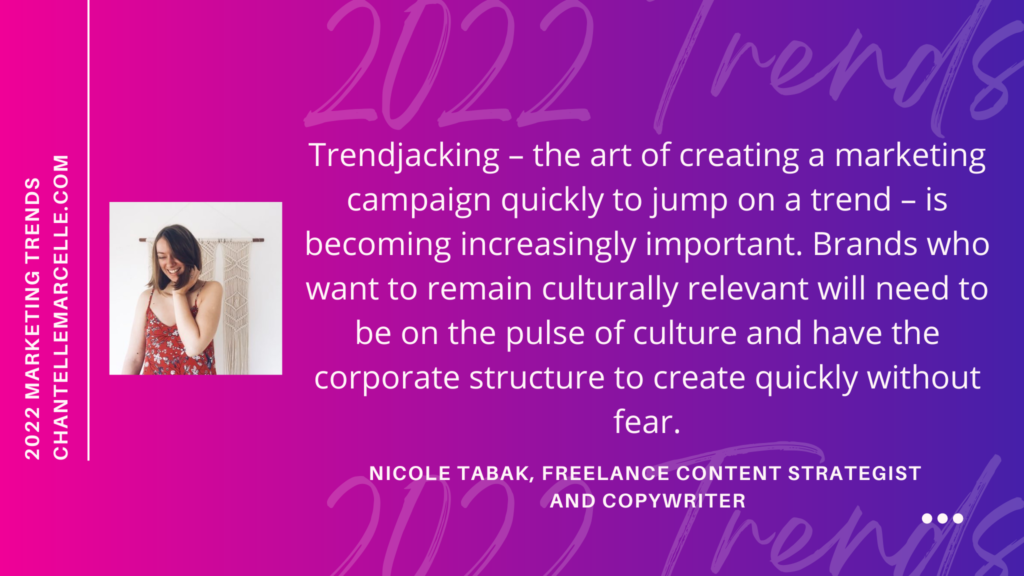 No Marketing Trends, Just Ideas
I've got no idea what the trends are. And to be honest I don't care.
Trends are fashion. It's *the idea* that spreads.
"Crap that arrives at the speed of light is still crap when it gets there" — David Abbott
Harry Dry, Creator of MarketingExamples.com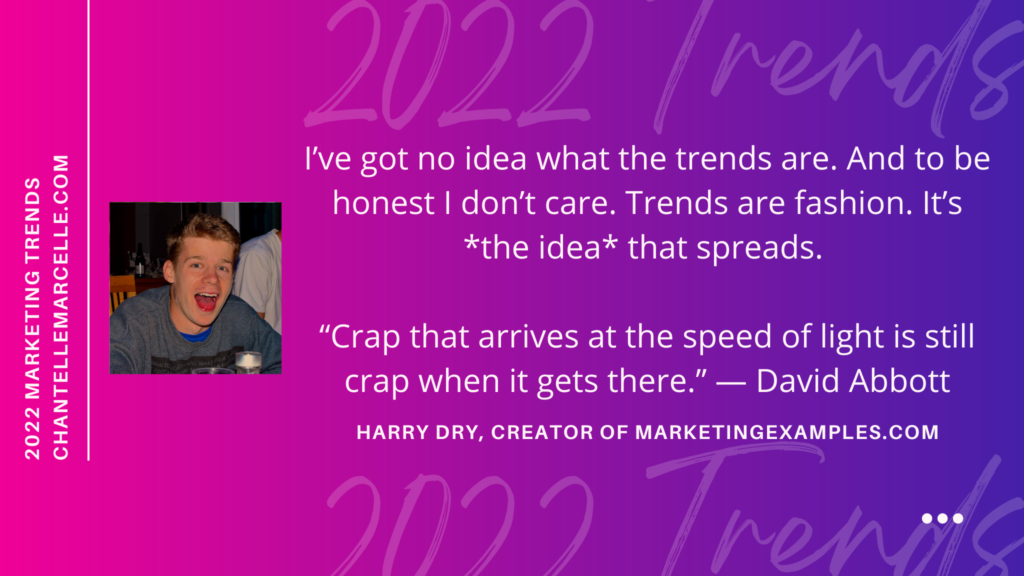 Continued Focus on "Snackable" Content Marketing
And finally, my own contribution to the list of 2022 marketing trends.
We've seen a continued increase in appetite for micro-content over the course of 2020 and 2021. TikTok videos have become the predominant style of content consumed by Gen-Z. Nearly all social media channels released a similar version to remain competitive, including both YouTube Shorts and Facebook/Instagram Reels.
At the same time, people are using social media channels to produce content that competes with the old style of blogs and articles. Instagram captions seem longer. Twitter threads are wildly popular. Media organizations are trying to trim down their stories into smaller bits that fit into this new world.
People love snack-sized content. And marketers need to repurpose their content into pieces that fit across multiple channels and can be consumed on the go.
Chantelle Marcelle, Growth and Marketing Consultant
Want to discuss more about 2022 marketing trends? Connect with me on Twitter or sign up for my newsletter and get marketing insight delivered to you weekly.