Brand Building Case Study: Verzuz Live Battles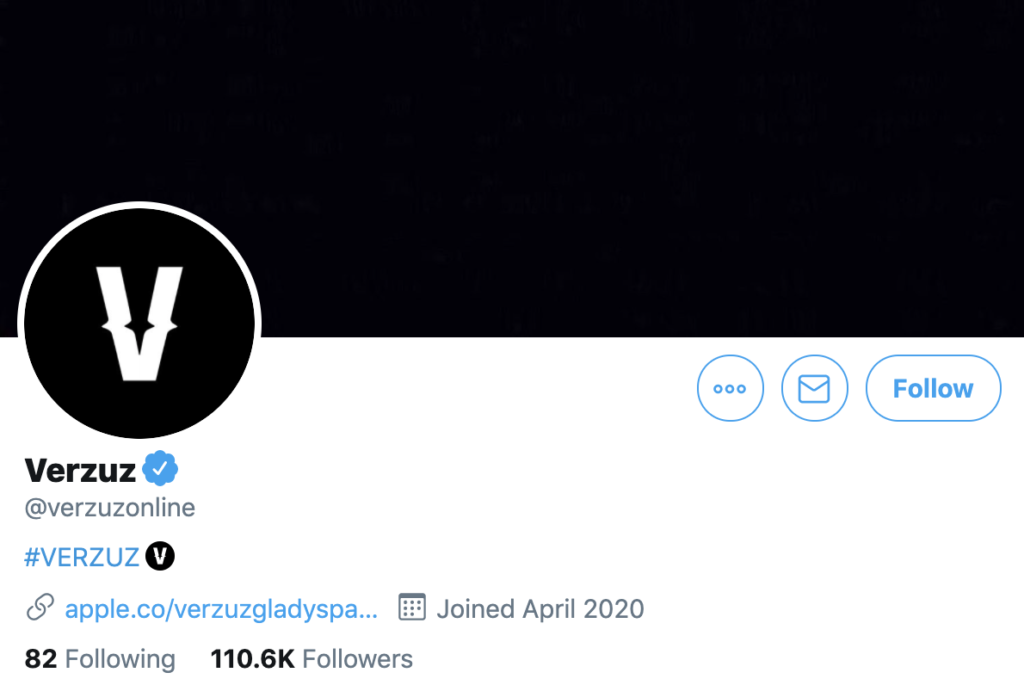 Times of uncertainty and crisis can lead to significant change for brands. And in this case, the pandemic created an environment that served as the launch pad for the birth of a new iconic brand.
It all started with a friendly competition between two old-school music producers.
Timbaland vs. Swizz Beatz.
If you're not familiar with these prolific music industry veterans, Timbaland is known for his work during the 90s and early 00s with artists like Aaliyah, Justin Timberlake, Nelly Furtado and Missy Elliot on songs like "Are U That Somebody?" and "SexyBack."
Swizz Beatz boasts an equally impressive track record. He worked with a variety of music celebrities like Jay-Z, Beyonce, Snoop Dogg, Drake and Gwen Stefani on songs such as "Ruff Ryders' Anthem" and "Upgrade U." He's also married to Grammy-winning songstress Alicia Keys.
The two decided to host a showdown early on during the pandemic in March 24, 2020, just for entertainment purposes. With everyone stuck inside on lockdown, they figured why not put on a show?
They hosted a 5-hour live stream on Instagram going back and forth with a music battle of hit song versus hit song. Timbaland's production credits versus those of Swizz.
The response was tremendous. Over 22,000 people watched the event live.
So then the artists turned their thoughts to, now how can we keep this going?
Brand Building in Action
It was brand building in action, the inception of Verzuz live battles.
A virtual showdown between two established names within the Black music industry, major names representing a variety of genres. Songwriters, producers, rappers, vocal artists.
Things didn't immediately go smoothly. There were moments that lent themselves as opportunities for learning, like when one of the participants appeared to be inebriated. There were technical difficulties with the streaming quality and connectivity for some of the matchups as well.
But the brand quickly evolved and remained agile in response to anything that came up, while the audience continued to respond positively.
More than a competition, the mood around Verzuz became a nostalgic celebration of the achievements of Black music.
The showdown pairings featured increasingly high profile names.
Ne-Yo vs. Johntá Austin
DMX vs. Snoop Dogg
T-Pain vs. Lil Jon
Erykah Badu vs. Jill Scott
Brandy vs. Monica
Ludacris vs. Nelly
Gladys Knight vs. Patti Labelle
Benefits for the featured artists were numerous, as many saw the streaming numbers of their hits increase by the millions after a Verzuz live stream session.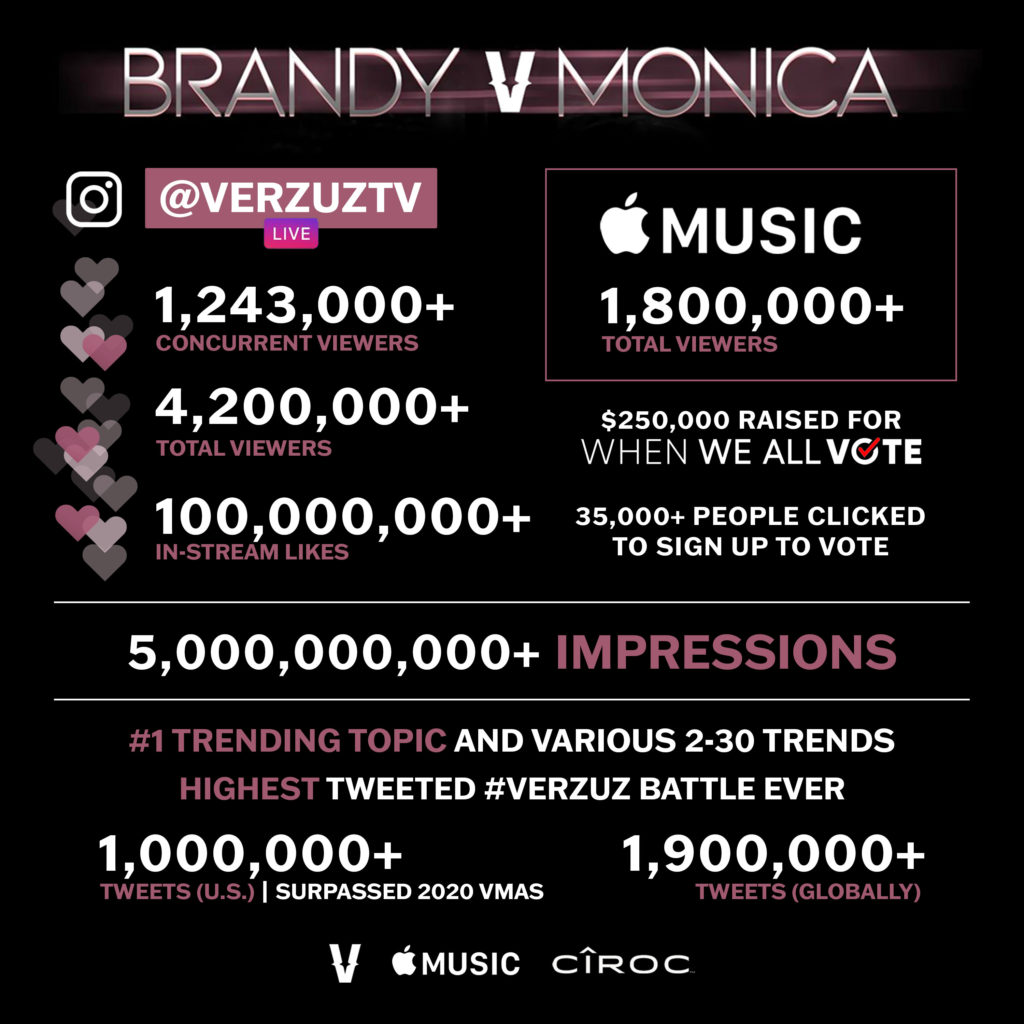 Celebrity sightings among the viewers have been equally impressive.
Fat Joe, Kelly Rowland, Oprah, Michelle Obama.
Audience numbers swelled from between 200,000 to over 1M live viewers.
Verzuz: Sponsored By…
Eventually other larger brands began to take notice.
Apple Music made the noteworthy move to begin an official live stream of each Verzuz session, apart from the one on the brand Instagram channel. It was the ultimate nod of validation.
In addition, P. Diddy-owned Ciroc vodka became a sponsor. And Spotify created dedicated playlists that incorporated featured artists.
Even more notably, the entire music industry began watching to see how this would play out.
Carolyn Williams, executive vice president of marketing at RCA Records, said, "I think labels, and other brands alike, can all learn that it's not just about the content. It's also about the conversation."
It's About the Conversation
That's something Verzuz does exceptionally well. Creating, encouraging and engaging in an active dialogue with the community around the brand.
Check out the hashtag Verzuz on any social media platform, and you'll see what I'm referring to. There is a constant conversation going on around and with the brand.
Staying in tune with the brand's target audience marks a rare, first-class distinction.
For example, impactful current events aren't ignored.
Many brands have failed at that. The year 2020 will go down as one that presented challenge after challenge to brands when it came to developing strategy around addressing significant world events, from the coronavirus pandemic to antiracism protests to political discord.
As the owner of a brand, it's essential to keep an eye on broader trends and determine how to navigate those gracefully. On one hand, seeming oblivious to the rest of the world outside of the brand's ecosystem is unacceptable. But being too heavy handed with addressing topics, like social justice movements, can be even worse. Either one can alienate potential customers.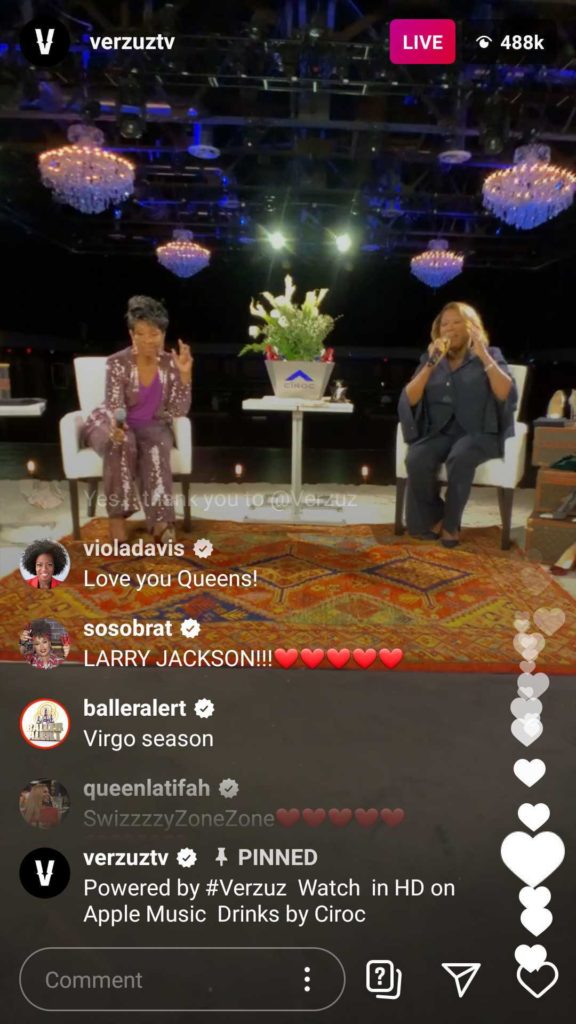 Verzuz provides a striking example of how to respond in such scenarios.
When outcry erupted around the deaths of George Floyd and Breonna Taylor, Verzuz featured a battle between gospel singers and spiritual leaders Kirk Franklin and Fred Hammond.
It felt well timed and congruous with the moment.
And Alicia Keys and John Legend were the star headliners the week of Juneteenth, a national holiday celebrating the end of slavery in the United States.
The brand content and tone adjusted appropriately in both cases.
What's Next for the Brand?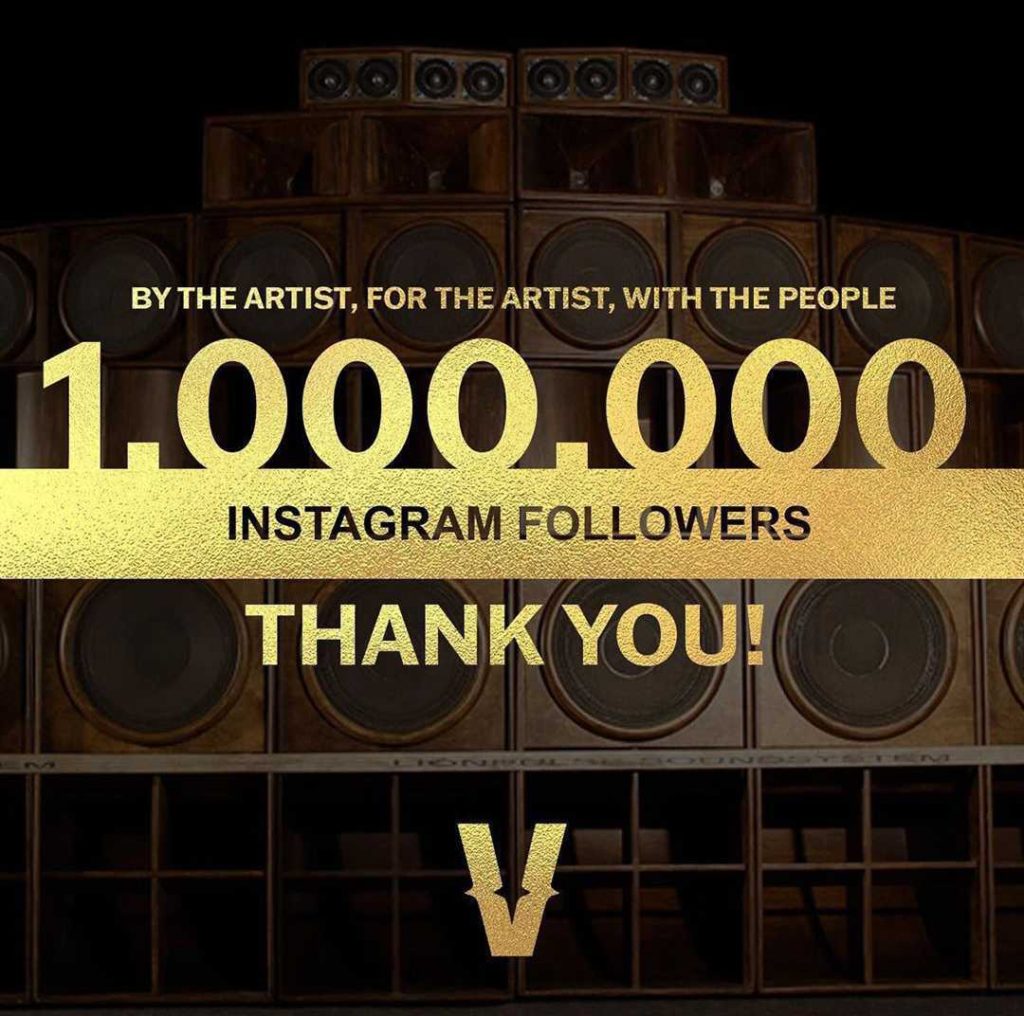 With people beginning to look for a post-pandemic return to normalcy, the question remains as to whether live streaming and virtual events will continue to enjoy the same level of attention.
For Verzuz, it's likely the brand will.
The connection established with its audience and the brand's development into a cultural mainstay seem to be excellent signs.
There's also talk of expanding beyond the music industry to feature Verzuz live battles between comedians.
"We hear people want Luda and Nelly to tour, that Kevin Hart wants to do a Verzuz Comedy series, that we should hit other genres," Timbaland says. "We're on it. Verzuz is bigger than us."
Want more brand building and marketing case studies? Follow me on LinkedIn to see my daily content. Or sign up for my newsletter and get marketing insight delivered to you weekly.
Sources: