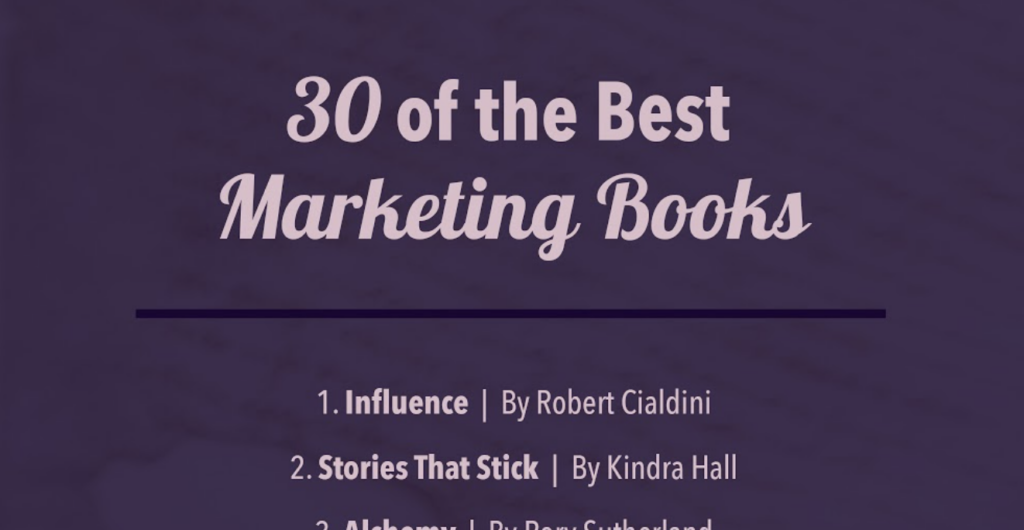 The Best Marketing Books About Revenue, Content, Neuromarketing, Copywriting, Advertising & More
DISCLOSURE: THIS POST MAY CONTAIN AFFILIATE LINKS, MEANING I GET A COMMISSION IF YOU DECIDE TO MAKE A PURCHASE THROUGH MY LINKS, AT NO COST TO YOU.
How do you keep up with everything you need to know about the quickly evolving marketing industry? The answer should include learning from other practitioners. And the best marketing books generally give you direct access to regularly do this, regardless of who's in your direct network.
Whether you're a marketer or someone who wants to be more savvy about marketing, this list of marketing books will help you find the right resources to expand your knowledge.
(I also included a standout quote from each book to give you a sample of what it's about.)
---
Marketing, Branding & Advertising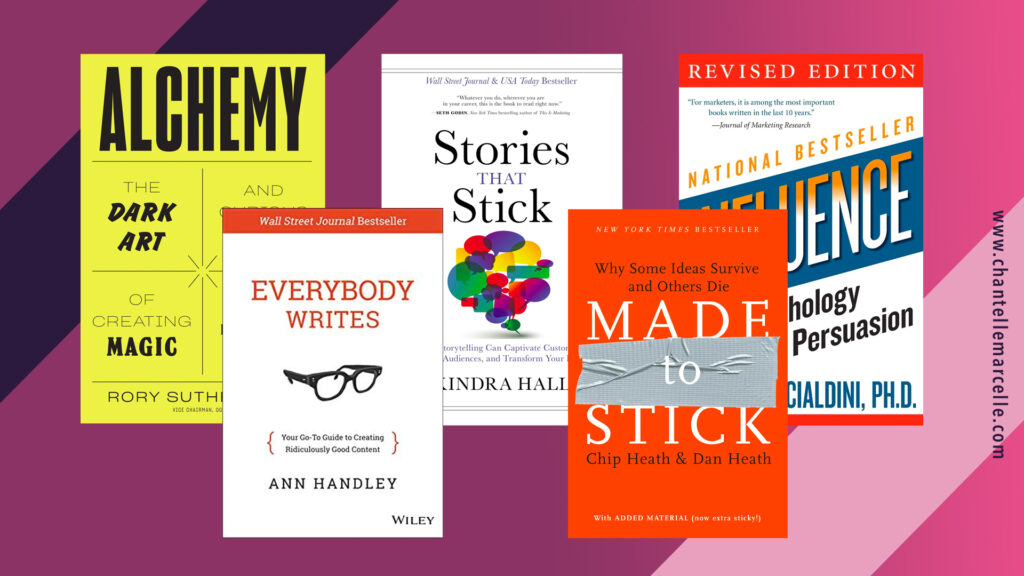 1. Influence: The Psychology of Persuasion
By Robert Cialdini
"The idea of potential loss plays a large role in human decision making. In fact, people seem to be more motivated by the thought of losing something than by the thought of gaining something of equal value."
2. Alchemy: The Dark Art and Curious Science of Creating Magic in Brands, Business, and Life
By Rory Sutherland
"For a business to be truly customer-focused, it needs to ignore what people say. Instead it needs to concentrate on what people feel."
3. Ca$hvertising
By Drew Eric Whitman
"People buy because of emotion and justify with logic. Force an emotional response by touching on a basic want or need."
---
---
4. The 22 Immutable Laws of Branding: How to Build a Product Or Service Into a World-Class Brand
By Al Ries, Laura Ries
"Leaders should not look on their advertising budgets as investments that will pay dividends. Instead leaders should look on their advertising budgets as insurance that will protect them against losses caused by competitive attacks."
5. Oglivy on Advertising (in the Digital Age)
By David Ogilvy
"In your day-to-day dealings with clients and colleagues, fight for the kings, queens and bishops, but throw away the pawns. A habit of graceful surrender on trivial issues will make you difficult to resist when you stand and fight on a major issue."
6. Scientific Advertising
By Claude C. Hopkins
"The best ads ask no one to buy. That is useless. Often they do not quote a price. They do not say that dealers handle the product. The ads are based entirely on service. They offer wanted information."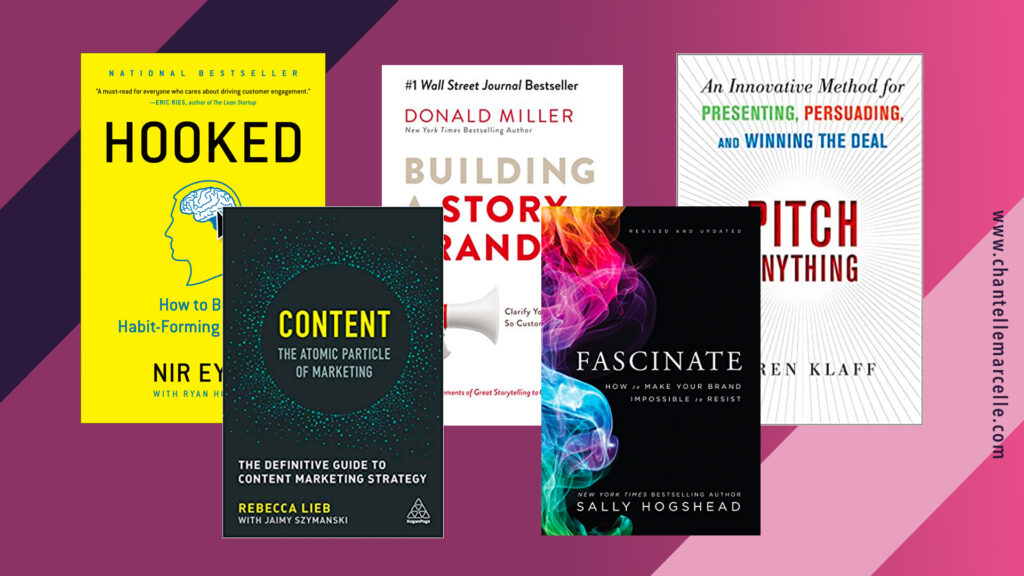 7. Hooked: How to Build Habit-Forming Products
By Nir Eyal
"The ultimate goal of a habit-forming product is to solve the user's pain by creating an association so that the user identifies the company's product or service as the source of relief."
8. Leveling Up
By Eric Siu
9. Predictably Irrational
By Dan Ariely
"We don't have an internal value meter that tells us how much things are worth. Rather, we focus on the relative advantage of one thing over another, and estimate value accordingly."
---
---
10. The Creative Curve: How to Develop the Right Idea, at the Right Time
By Allen Gannett
"Studies show that building a community of people around us is essential to achieving world-class success."
11. Purple Cow: Transform Your Business by Being Remarkable
By Seth Godin
"In a crowded marketplace, fitting in is failing. In a busy marketplace, not standing out is the same as being invisible."
12. Buyology: How Everything We Believe About Why We Buy is Wrong
By Martin Lindstrom
"Because consciously or not, we calculate purchases based on how they might bring us social status—and status is linked with reproductive success."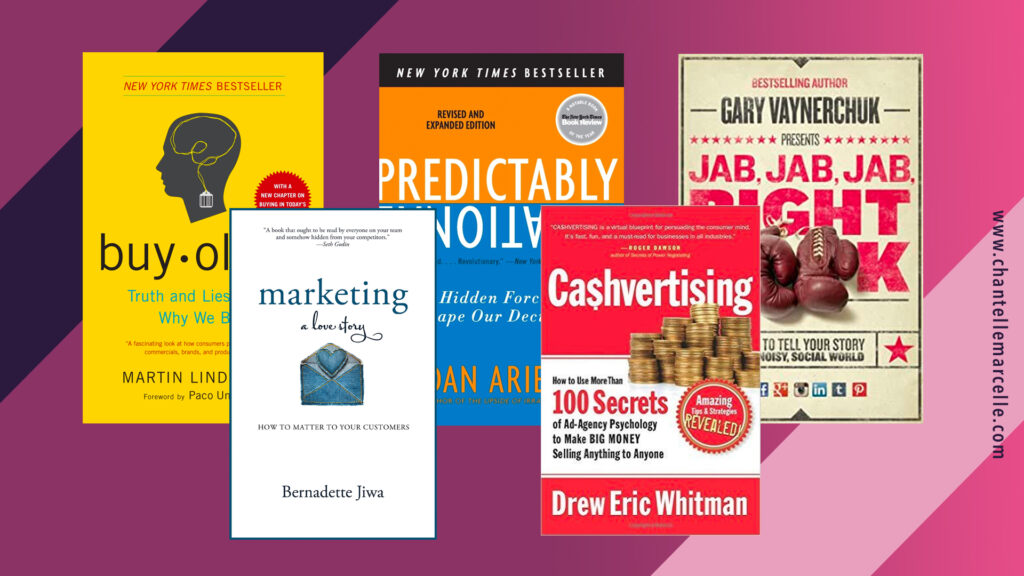 13. Permission Marketing: Turning Strangers Into Friends And Friends Into Customers
By Seth Godin
"Permission Marketing is just like dating. It turns strangers into friends and friends into lifetime customers. Many of the rules of dating apply, and so do many of the benefits."
14. Dotcom Secrets: The Underground Playbook for Growing Your Company Online with Sales Funnels
By Russell Brunson
"One of the fundamental rules of marketing is that 'a confused mind always says no.' Most websites have so many buttons, so many calls to action, and so many menus leading to hundreds of different pages that the only thing the website really does well is to confuse people."
15. The New Rules of Marketing and PR
By David Meerman Scott
"The web is different. Instead of one-way interruption, web marketing is about delivering useful content at just the precise moment a buyer needs it."
16. Contagious: Why Things Catch On
By Jonah Berger
"Virality isn't born, it's made."
---
---
17. Category Creation: How to Build a Brand that Customers, Employees, and Investors Will Love
By Anthony Kennada
18. The Marketing Agency Blueprint: The Handbook for Building Hybrid PR, SEO, Content, Advertising and Web Firms
By Paul Roetzer
"The goal should be to sign up the majority of your client base to long-term contracts, preferably 12 months or more, and to have 80 percent or more of your annual revenue coming from those contracts."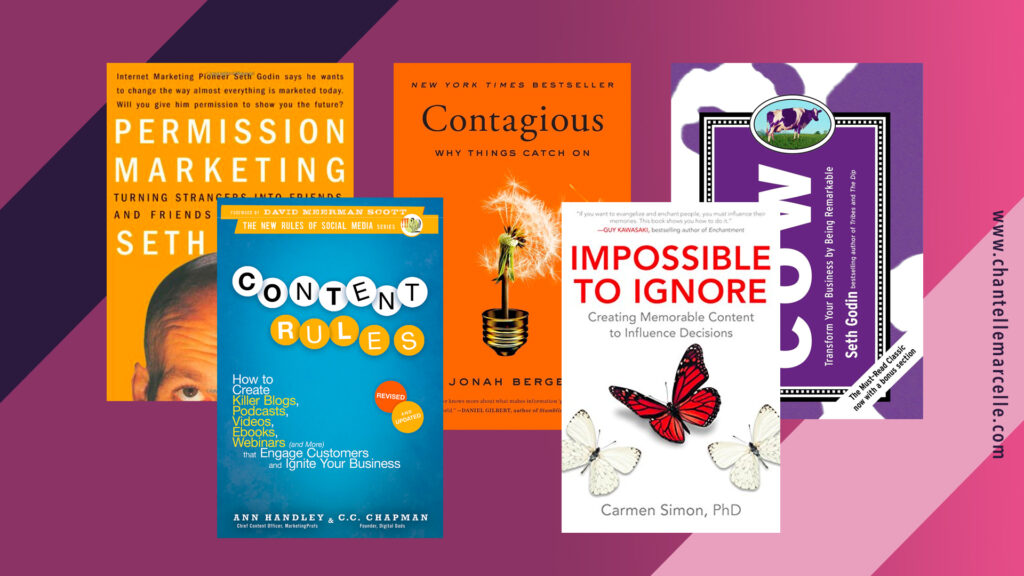 19. Neuromarketing: Understanding the Buy Buttons in Your Customer's Brain
By Patrick Renvoise
"Your audience must hear what you can do for them before they will pay any kind of attention to you."
20. Marketing: a Love Story: How to Matter to Your Customers
By Bernadette Jiwa
"If you want to be the best in the world, don't start by trying to create the best product or service. Start by figuring out how people want to feel."
21. Brainfluence: 100 Ways to Persuade and Convince Consumers with Neuromarketing
By Robert Dooley
"Research shows that having too many choices reduces sales, due to a sort of paralysis of analysis."
22. Fascinate: How to Make Your Brand Impossible to Resist
By Sally Hogshead
"People don't want to connect with brands. They want to connect with each other. Fascinating companies create more opportunities for people to connect with each other, through the brand."
Marketing Books About Copywriting & Content Strategy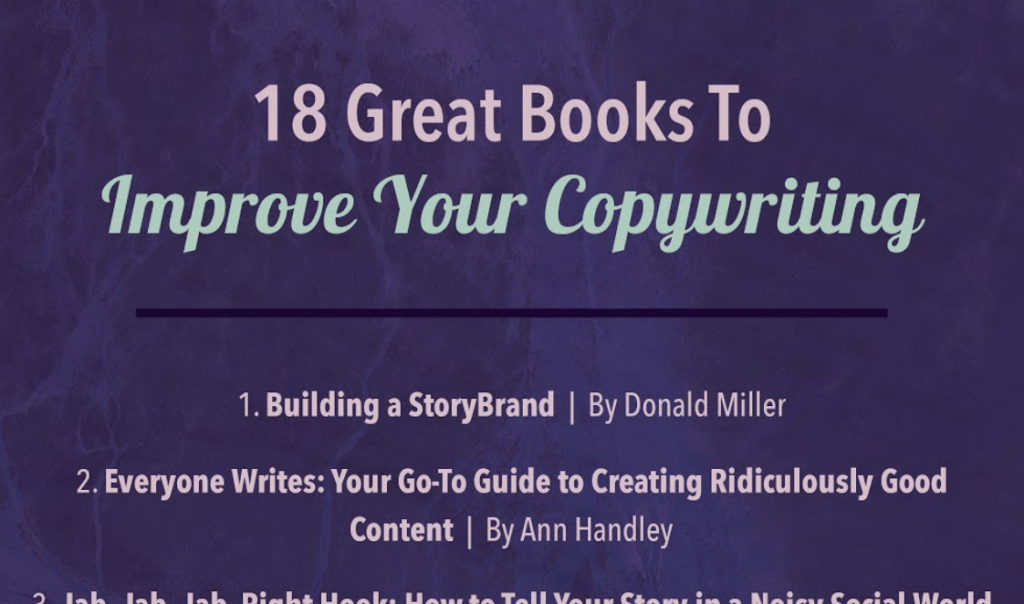 1. Building a StoryBrand
By Donald Miller
"The key is to make your company's message about something that helps the customer survive and to do so in such a way that they can understand it without burning too many calories."
2. Everyone Writes: Your Go-To Guide to Creating Ridiculously Good Content
By Ann Handley
"Good writing serves the reader, not the writer. It isn't self-indulgent. Good writing anticipates the questions that readers might have as they're reading a piece, and it answers them."
3. Jab, Jab, Jab, Right Hook: How to Tell Your Story in a Noisy Social World
By Gary Vaynerchuk
"Jabs are the lightweight pieces of content that benefit your customers by making them laugh, snicker, ponder, play a game, feel appreciated, or escape; right hooks are calls to action that benefit your businesses."
4. Boron Letters
By Gary Halbert, Bond Halbert
"Another simple way to get a reader interested is to tell their story by telling your story with the problem your solution solves."
---
---
5. Presentation Secrets of Steve Jobs: How to Be Insanely Great in Front of Any Audience
By Carmine Gallo
"Nobody has time to listen to a pitch or presentation that holds no benefit. If you pay close attention to Jobs, you will see that he doesn't 'sell' products; he sells the dream of a better future."
6. Content Rules
By Ann Handley, CC Chapman
"Content drives conversations. Conversation engages your customers. Engaging with people is how your company will survive and thrive in this newly social world."
7. Pitch Anything: An Innovative Method for Presenting, Persuading, and Winning the Deal
By Oren Klaff
"Attention will be given when information novelty is high and will drift away when information novelty is low."
8. Content – The Atomic Particle of Marketing: The Definitive Guide to Content Marketing Strategy
By Jaimy Szymanski and Rebecca Lieb
---
---
9. Made to Stick: Why Some Ideas Survive and Others Die
By Chip Heath, Dan Heath
"To make our communications more effective, we need to shift our thinking from 'What information do I need to convey?' to 'What questions do I want my audience to ask?'"
10. On Writing Well: An Informal Guide to Writing Nonfiction
By William Zinsser
"Most first drafts can be cut by 50 percent without losing any information or losing the author's voice."
11. Bird by Bird: Some Instructions on Writing and Life
By Anne Lamott
"Perfectionism is the voice of the oppressor, the enemy of the people. It will keep you cramped and insane your whole life, and it is the main obstacle between you and a shitty first draft."
12. Copywriting Secrets: How Everyone Can Use The Power Of Words To Get More Clicks, Sales and Profits . . . No Matter What You Sell Or Who You Sell It To!
By Jim Edwards
"Burn this into your brain. People don't buy without a reason why."
---
---
13. Impossible to Ignore: Creating Memorable Content to Influence Decisions: Creating Memorable Content to Influence Decisions
By Carmen Simon
"To be on people's minds, you must become part of their reflexes, habits, and/or goals they consider valuable."
14. The Content Marketing Handbook: How to Double the Results of Your Marketing Campaigns
By Robert Bly
15. Stories That Stick: How Storytelling Can Captivate Customers, Influence Audiences, and Transform Your Business
By Kindra Hall
"Storytelling is one of the most powerful business-building tools in existence. It captivates, influences, and transforms customers, stakeholders, talent, and beyond, closing the gaps in business with bridges that last."
16. Words that Sell: More than 6000 Entries to Help You Promote Your Products, Services, and Ideas
By Richard Bayan
"An advertising copywriter uses words as tools to persuade and motivate an audience. You persuade your readers that you have something valuable to offer; you motivate them to acquire it for themselves."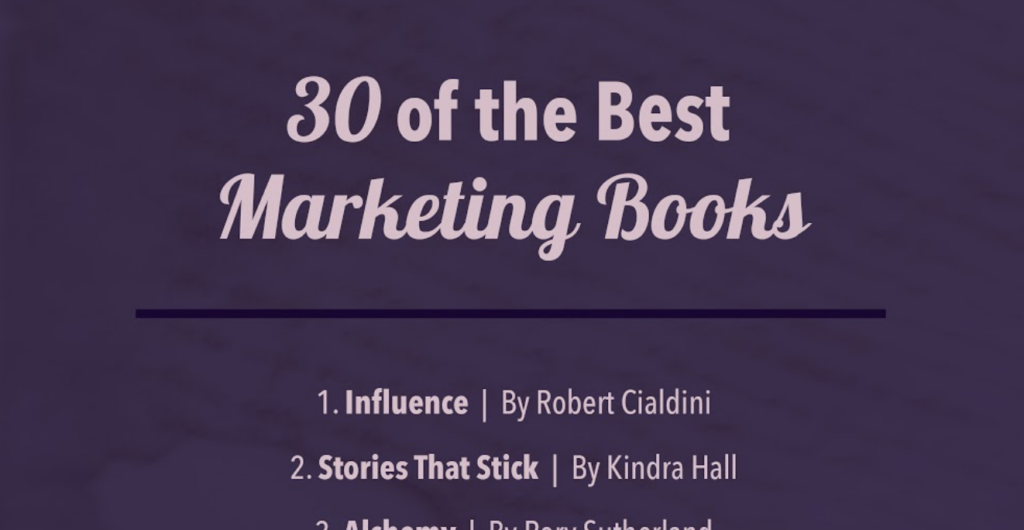 ---
Interested in more marketing books or resources? Connect with me on Twitter or LinkedIn. Or you can also sign up for my newsletter and get fresh insight delivered to you weekly.