3 Benefits of Waitlists For Your Product Launch (Plus Examples)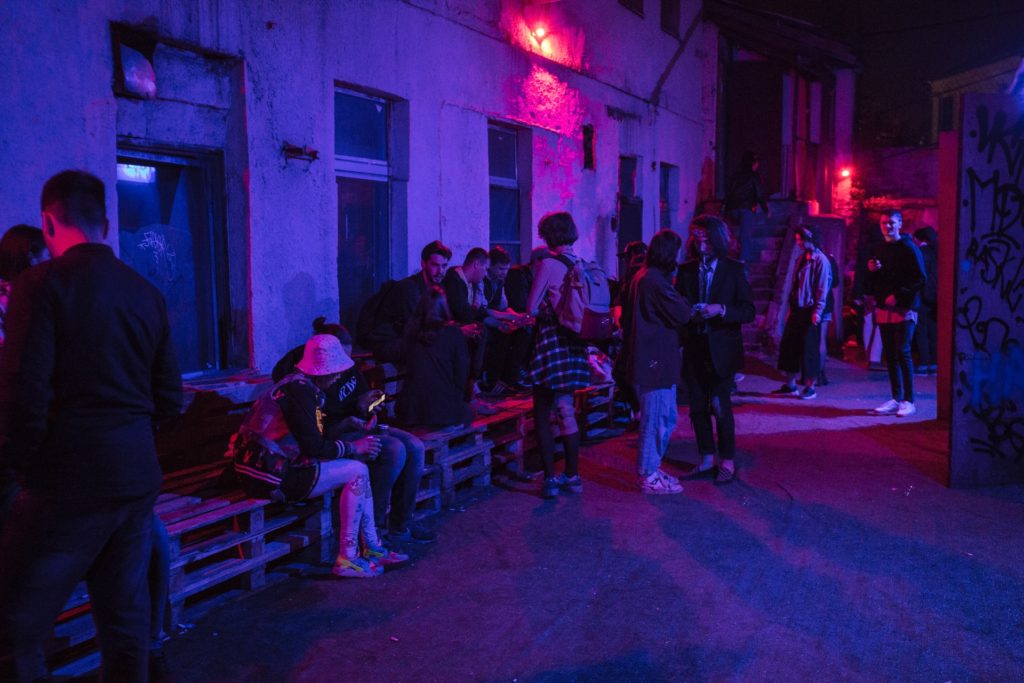 DISCLOSURE: THIS POST MAY CONTAIN AFFILIATE LINKS, MEANING I GET A COMMISSION IF YOU DECIDE TO MAKE A PURCHASE THROUGH MY LINKS, AT NO COST TO YOU (a girl's gotta eat).
Have you ever gone to a nightclub and seen a line that stretched around the block? Most of us quickly learned that the size of the line was no indication of the actual number of people inside. Party organizers usually limit entrance to create the illusion that their event is more in-demand and popular than it probably is. (Show of hands for anyone else who's felt personally victimized walking into an empty dance club after standing in line for 20+ minutes.)
Lately marketers increasingly employ a similar tactic, specifically as part of product launch marketing strategy.
Waitlists.
They've become one of the most common ways to build anticipation leading into a product launch. Mostly for SaaS or tech brands.
One of the best things about using this technique is that the potential ROI is significant, but the cost to implement is low.
You really just need to set up a landing page that connects to an email marketing platform (like Mailchimp, HubSpot, or a newer one I've recently discovered, Moosend) that will store incoming emails and contact information.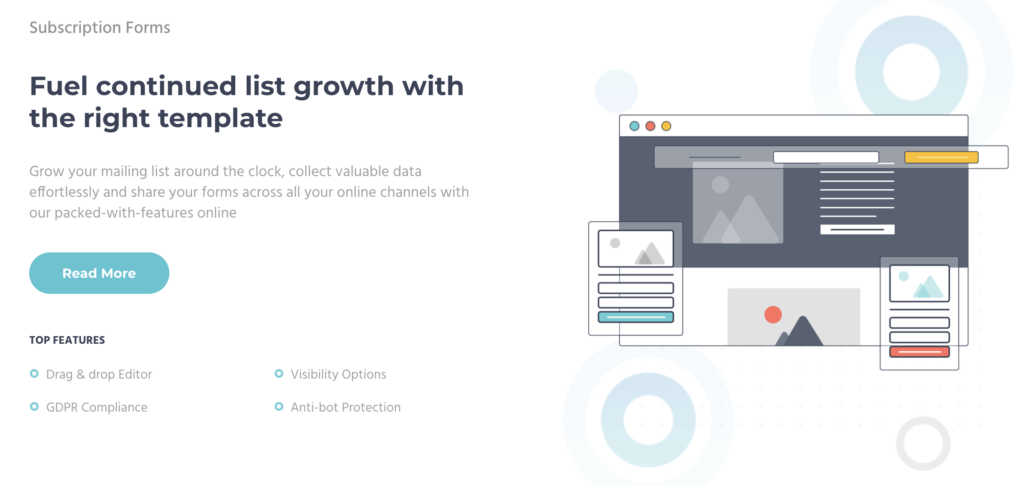 [Want more tips and recommendations on marketing strategy? Sign up for my newsletter and get fresh insight delivered to you weekly.]
Of course there are alternatives you can use, like WaitlistAPI, that handle all the logistics for you.
And more than a few benefits of waitlists exist.
1. Access to Market Research and Survey Participants
The people you attract to sign up for your waitlist probably fit what you believe to be your ideal customer profile (ICP). I say probably because before a product launch you might not have enough data to support that.
In any case, a waitlist gives you the ability to communicate with these individuals to ask them important questions. Their answers grant you a glimpse into a wealth of useful customer information:
more definite customer pain points
the best areas to focus go-to-market messaging
how to position yourself in the market
2. Building Your Email Marketing List
A contact list is one of the most valuable assets for high-performing sales and marketing teams. Email marketing makes up one of the most potentially valuable modes of communication. (It reportedly has an average of 3800% ROI, or $38 back in your pocket for every $1 spent.)
Your waitlist offers high-quality contacts who are actually interested in your product and what you have to say. That should result in better engagement and conversion rates when you're ready to start actively sending email marketing.
And you should plan on building a relationship with waitlist contacts leading up to and post-launch by keeping them informed about key progress and updates.
3. Encouraging Word-of-Mouth and Referral-Driven Marketing
One of the most powerful marketing channels takes place largely outside of your team's hands. Word of mouth and referrals serve as the most effective ways to spread brand awareness and create brand reputation.
Buyers are much more likely to trust other people outside of your company, whether it's a review on a site like G2 or a colleague telling them, "You've got to check these guys out!"
91% of people regularly or occasionally read online reviews, and 84% of them trust online reviews as much as a personal recommendation

-BrightLocal
Pointing people to a waitlist not only builds excitement through suspense, it makes them feel like they're privy to an exclusive secret. VIP access!
And seeing that there's a line of people who want to get access reinforces the element of social proof. Other people want this, so it must be fantastic.
You can also provide incentives for sharing news about your product or brand by offering to bump people up on the waitlist in exchange for referrals (see examples below).
Examples of Waitlists as Part of Product Launch Marketing Campaigns
A number of notable examples come to mind. I pulled together a few of these from companies that have successfully tapped into the benefits of waitlists as part of their product launch strategy.
For instance, when professional networking app Lunchclub first began rolling out to select cities in 2019, they used a waitlist to gate access.
And employee health management platform LEON reported growing a 3k long waitlist in only a week's time. With a marketing budget of $0.
OthersideAI is another recent example that's taken an interesting approach.
The company creates communication tools that are driven by AI. (Think GPT-3.)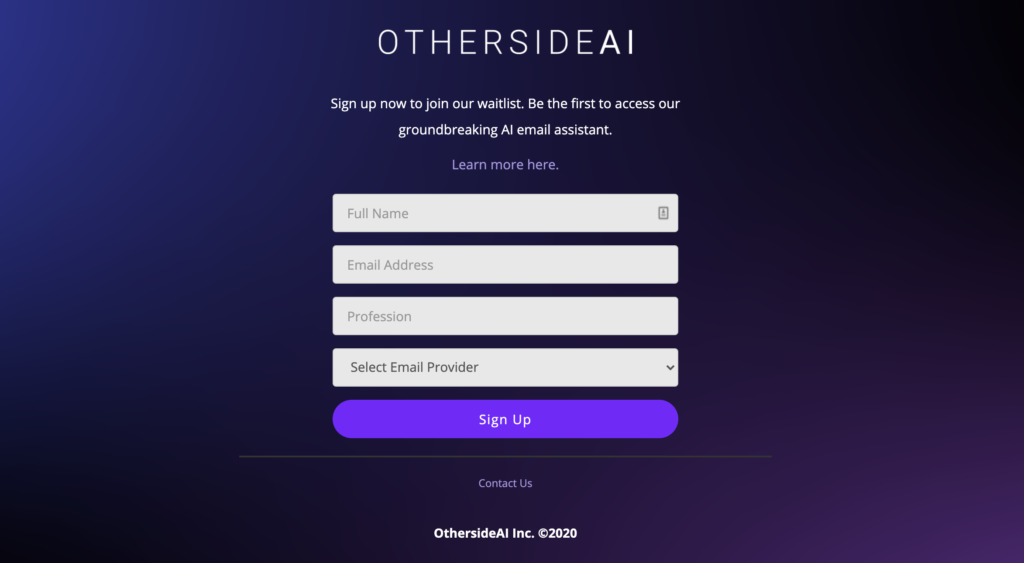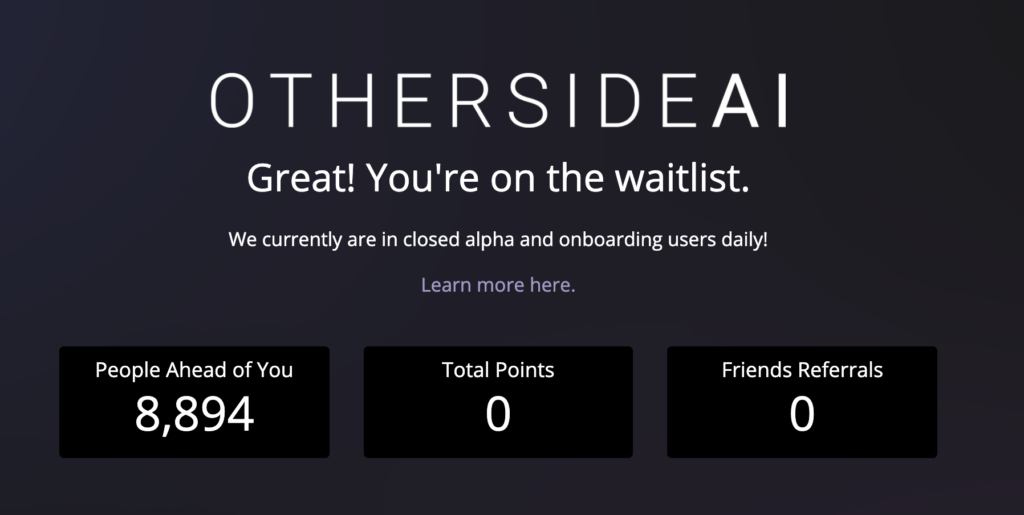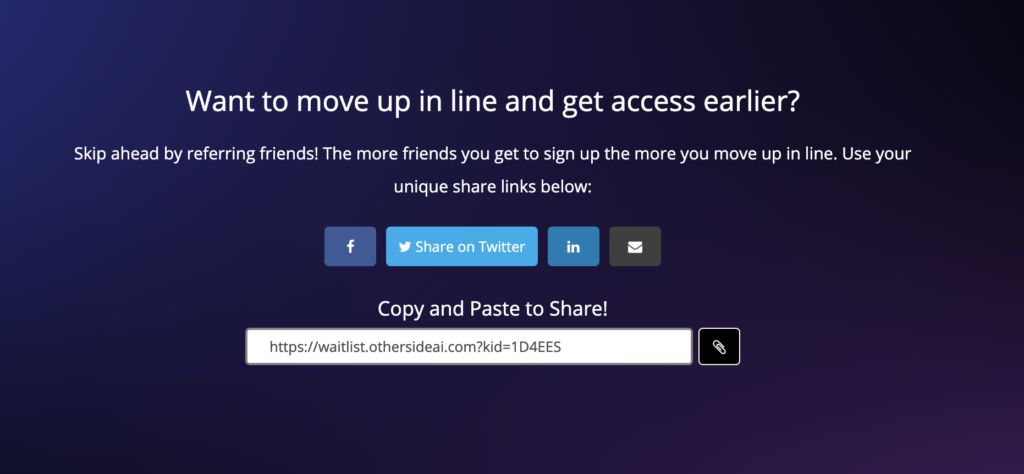 They have a waitlist over 8k-people long. But they allow you to earn points by referring others to join the waitlist. That in turn moves you up on the waitlist and closer to being onboarded.
Email client Superhuman reported over 300k people on their waitlist leading into the official launch.
But CEO Rahul Vohra said it wasn't about creating faux FOMO.
Superhuman's use of a waitlist was not a marketing technique in his eyes. His team worked through the waitlist as fast as possible.
But part of their continued customer experience strategy includes a live concierge onboarding process.
That takes the form of a 30-minute one-to-one call for each new user. It helps to personalize the experience. And shows the value to each customer by walking them through how to achieve inbox zero quickly.
That's ultimately why they used the waitlist method.
According to Rahul, "I think a lot of folks misunderstand the nature of our waitlist. They assume it's some kind of FOMO-generating technique or some kind of false scarcity. Nothing could be further from the truth. The real reason we have the waitlist is that I want everyone who uses Superhuman to be deliriously happy with their experience."
Have you ever signed up for a product waitlist? Share your experience with me!
Want more tips and recommendations on marketing strategy? Sign up for my newsletter and get fresh insight delivered to you weekly.