B2B Advertising: 5 Tips To Improve Paid Ads, Conversions & ROI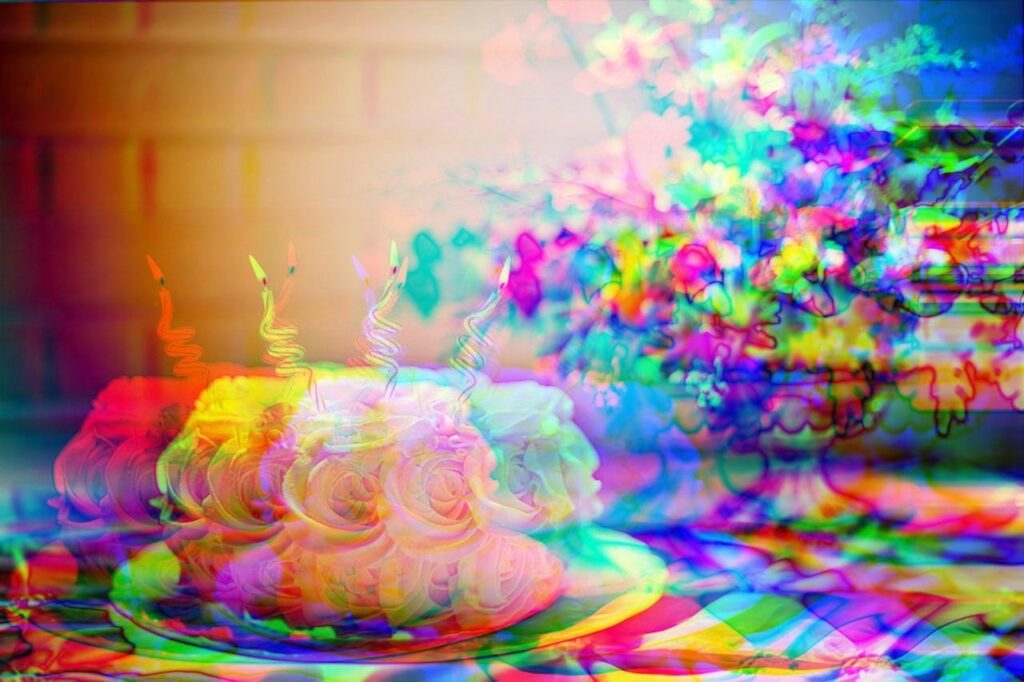 Digital advertising continues to grow in priority as a marketing channel. And B2B advertising trends show no difference in following that pattern.
One survey revealed 78% of global direct brand marketers consider digital marketing to be an important part of their marketing strategy, compared to only 39% who said that about offline marketing and advertising campaigns. And 84% of brands use paid distribution to support content marketing strategy.
Total spend on paid ads dropped in 2020 due to the effect of the pandemic on marketing budgets and attitudes. And changes to digital privacy policies are expected to create new challenges for targeting audiences.
But projections show brands are ready to start taking advantage of this valuable marketing channel again. Projections estimate an 18% jump in digital ad spend this year. And online advertising will account for more than half of all ad spend for the first time ever.
That said, if you're not currently running a paid acquisition strategy that includes B2B advertising, you're still not too late.
Whether you're just getting started or just looking to be more efficient and successful, here are 5 tips to improve your online B2B advertising strategy.
1. B2B advertising doesn't have to be "safe" or traditional.

LinkedIn is the top B2B advertising platform, and it refers 4 out of 5 B2B social media leads.
But while Linkedin is fantastic, don't be afraid to test out other channels.
Despite its popularity for B2B advertising, LinkedIn ads tend to have the highest cost per acquisition (CPA) on average in my experience. Admittedly, the value of those leads is usually strong, since the buyer intent is usually most relevant on that social media platform. That generally translates to a higher return on ad spend (ROAS).
Still, platforms like Facebook, Google and other social media platforms have larger volume and, with the right strategy, usually have lower cost per lead (CPL) or acquisition.
Social media is a source for 84% of B2B executives looking to make buying decisions.
So it makes a lot of sense to expand your brand's reach beyond just your organic content to maximize potential returns from social media use.
For future reference, I recommend you bookmark these resources outlining guidelines and best practices for each advertising platform:
2. Invest in compelling creative assets.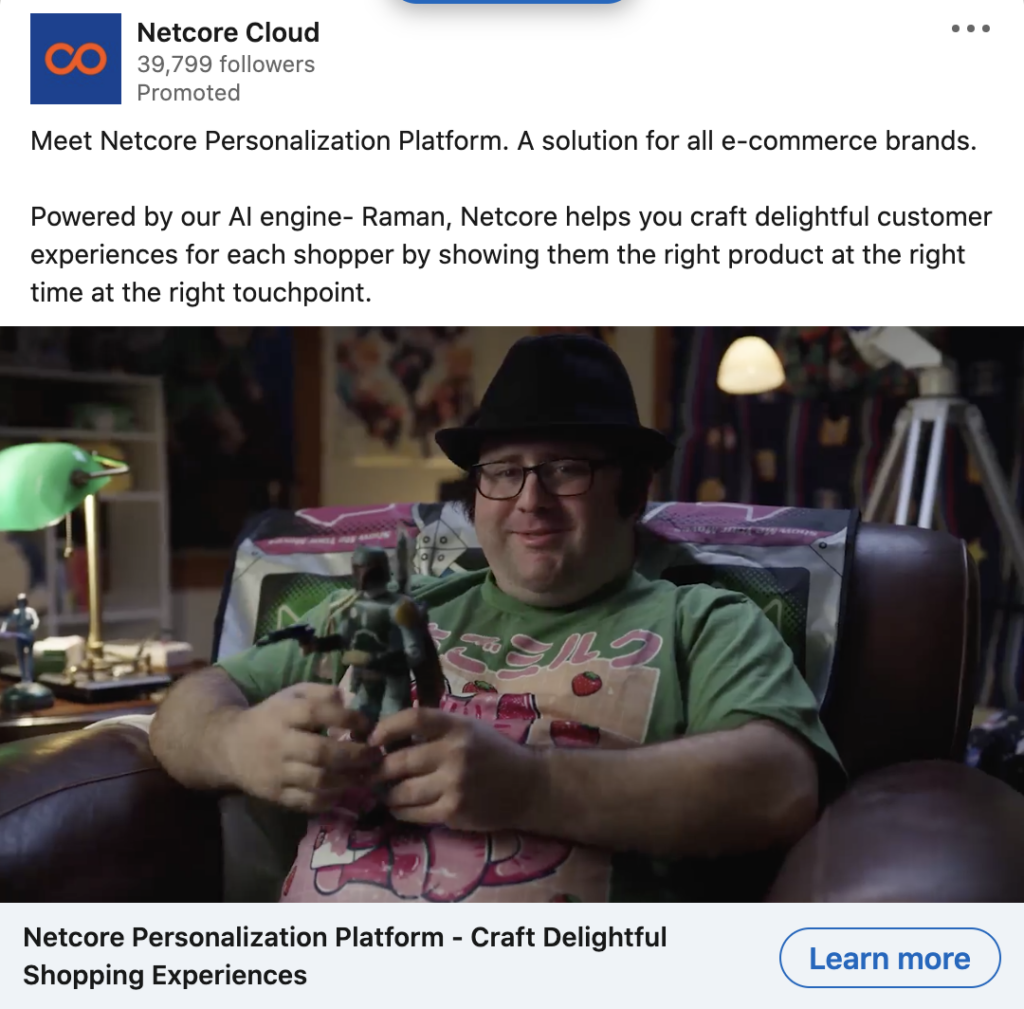 Visual elements play a determining role in conversions on many online ad platforms. Unless you're just using Google search ads, which are entirely text based.
The right graphic will help your brand stand out from the rest of the content in a user's feed. It's the first impression a user will get and will help them decide whether to give you any time or not.
I really recommend exploring outside the box in this department. Don't just clone what your competitors are doing.
Study the broader trends taking place in organic content on the target platform.
B2B advertising assets should still be creative if you want to be competitive.
By the way, did you know there's an official library of Facebook ads where you can see ad creative for different companies? Check it out for inspiration.
3. Become an expert on one B2B advertising platform, then grow strategically.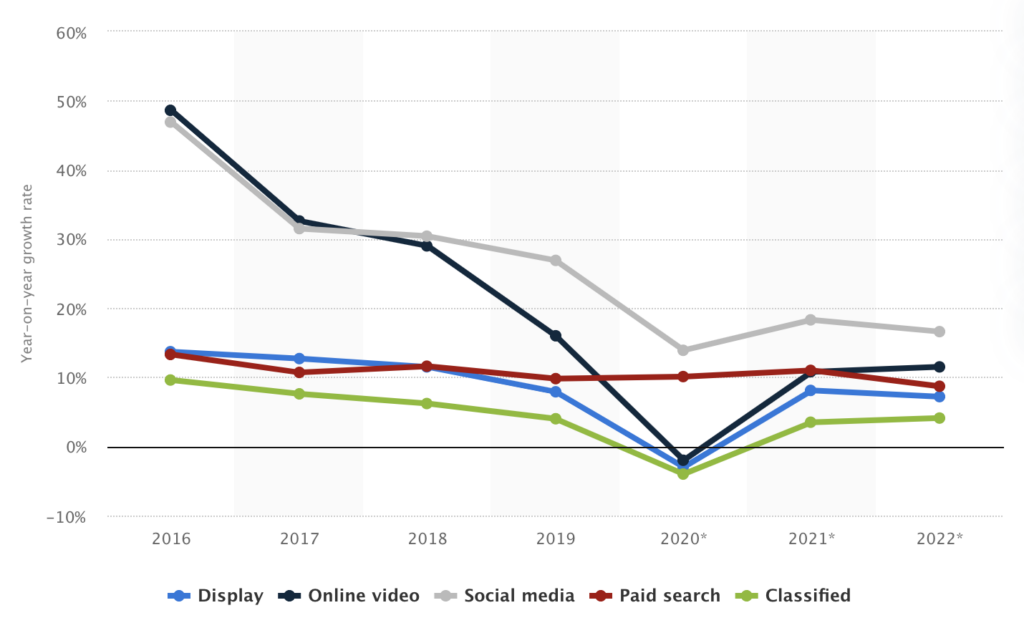 Ensure your ad content fits the culture and guidelines of the platform you're advertising on. Each channel has its own tone, style and "rules" for content. You won't be as successful trying to launch identical campaigns with identical assets in every place.
For that reason, you should pick one channel to focus on first.
Once you've optimized your paid ads and grown momentum there, you can evaluate other online advertising channels to expand to.
And what you've learned advertising on your primary channel serves as the foundation for building out starting tests in new spaces.
4. Create a data template to measure performance in advance.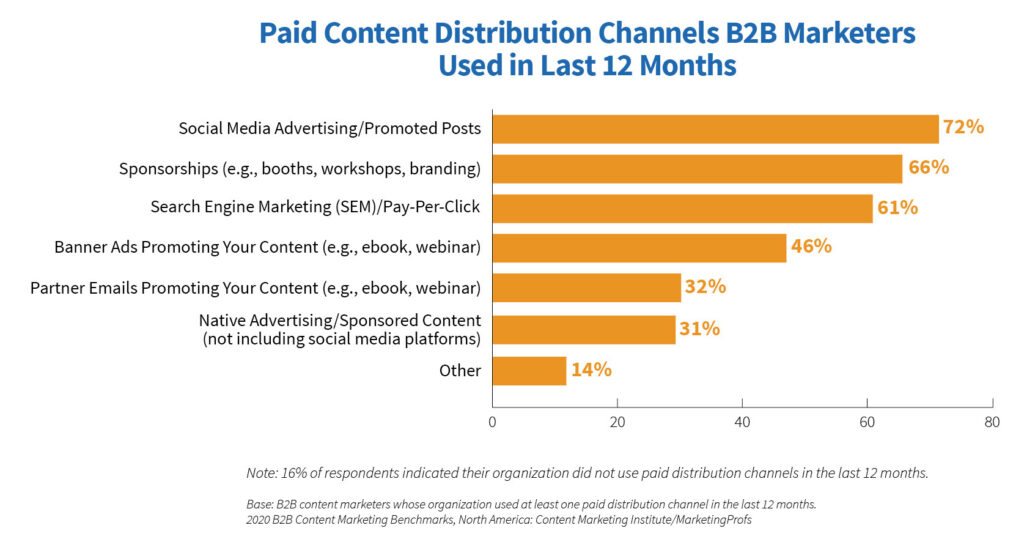 Know what your marketing goals are and which metrics you need to track to measure progress.
Most digital media platforms offer you an abundance of analytics. Honestly much of it only serves as a distraction. And the majority of it only gives you part of the story you need.
About 78% of B2Bs use lead conversions as a performance metric, according to CMI.
In my experience, some of the most important digital ads performance data points are:
Click-through Rate (link clicks): This indicates how compelling the ad itself is. When people see your ad, are they driven to click on it?
Conversion Rate: Once people click, are they actually taking the action you want them to on your website? If not it could mean there's a disconnect between what your ad promises and the actual landing page offer.
Return On Ad Spend (ROAS): What's the actual ROI of your advertising? How much are you benefiting from your investment?
Frequency: What's the estimated number of times a single user sees the same ad content? The higher this gets, the more stale your content probably is. A higher frequency (usually over 6) indicates you need to refresh your paid ads.
Ultimately the metrics you track should be tied to the goals of your online advertising campaigns.
If you're looking for brand awareness, you should be looking at reach, frequency and impressions.
If you want to generate revenue, you should be building out direct response campaigns and measuring conversions on your site.
Here are some great digital advertising resources to help you determine benchmarks for your industry:
An Overview of Industry Benchmarks for LinkedIn Ads
5. ABC – Always Be Carrying out an A/B test.

The "trick" to online B2B advertising lies with your ability to change ad content quickly in response to the data.
The first version of your ad usually won't be a slam dunk.
Even if it is, you should still be looking for ways to optimize and improve your results. The fastest and most efficient way to do this is through A/B testing.
I make it a policy to run at least 2 different versions of every ad.
The differences between them can be small. Here's a sample of what I recommend running tests on:
Refining the call to action language
Posing a question in ad copy versus making a statement
Using a basic stock image versus a branded one
Using images of real people versus illustrations
Different color themes
Letting the advertising platform automatically pick placements for your ad content versus limiting placements to measure specific results (ex: Facebook Stories versus Instagram Stories versus Facebook Feed)
Then I monitor the performance and gather insights to improve future iterations based on the "winning" outcome in each set.
To note, you'll want to let your test run for a fair, set amount of time rather than stopping it as soon as you get back the first results.
Many of the ad platforms will put newly launched paid ads content into what's called a "Learning" phase.
This means the platform algorithm is running your content to a segment of the target audience to gauge the quality and potential response. If initial performance data indicates strong ad content, the platform will release your paid ads into the wild. If not, your ad will be placed into a "Limited" state. You usually want to review and revise any "limited" ad content.
Once your ad is out of the "Learning" phase, you can usually call the end of a test. But that's entirely up to you and what you find is best for your B2B advertising strategy!
Interested in getting more content like this? Sign up for my newsletter and get fresh insight delivered to you weekly.